Austin Peay State University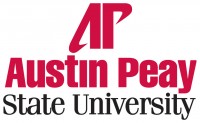 Clarksville, TN – Austin Peay State University geosciences major Kayla Pendergrass and biology majors Megan Hart and Rob Shepard have been awarded full scholarships to attend the 22nd Annual North American Dendroecological Fieldweek (NADEF) held at the Valles Caldera National Preserve in New Mexico.
These scholarships, funded by the National Science Foundation, cover the cost of tuition, room and board, equipment and laboratory consumables and transportation during the 10-day course.
The NADEF is an intensive 10-day field study course that teaches techniques in tree ring analysis. Participants in this course, ranging from undergraduate and graduate students to faculty members and non-academic professionals, will assist instructors in completing an entire research project from sampling through analysis.
This helps the participants develop critical thinking skills through this experiential learning course.
In addition to the educational benefits, participants will have the opportunity to network with students and faculty from other institutions, professionals from outside academia and top researchers in the field of dendrochronology and biogeography.
Additional information on the North American Dendroecological Fieldweek can be found at http://dendrolab.indstate.edu/nadef.
Sections
Education
Topics
APSU, Austin Peay State University, Biology, Clarksville TN, Megan Hart, National Science Foundation, New Mexico, scholarships