APSU Sports: Austin Peay Women's Tennis

Clarksville, TN – Austin Peay State University women's tennis team takes a modest two-match win streak on the road for its final Ohio Valley Conference regular-season weekend.

It starts with a 1:00pm, Saturday match at Eastern Kentucky, followed by a 1:00pm, Sunday match at Morehead State.

Austin Peay enters the weekend with a 5-2 OVC mark, sitting fourth in the standings behind Eastern Kentucky (7-0) and UT Martin (6-1). Morehead State is sixth, slated to the be the last team in the OVC Tournament, which starts next week.

"We have to get four players going at the same time," head coach Malik Tabet said. "As far as the tournament goes, we can't worry about seeding or anything like that. We have to play well, take each opponent and each match as it comes, and it will work itself out."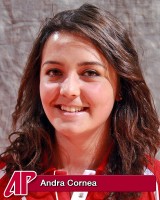 The Lady Govs swept OVC matches last weekend against Tennessee State and Jacksonville State, with sophomore Andra Cornea being named the OVC's Player of the Week. Cornea proved to be a vital part of the Lady Govs lineup, winning matches at Nos. 3 and 4 singles and both matches at No. 2 doubles. Freshman Ornella Di Salvo has anchored the APSU lineup at No. 2 singles, while fellow freshman Alison Carre has a perfect 7-0 league mark.
It also will be the final regular-season matches for Lady Govs standout senior Vanja Tomic at No. 1 singles. Tomic has a 17-match win streak on the line when she faces Eastern Kentucky's Amandine Faouzi. Tomic has been flawless in OVC play this season, sporting an unbeaten 6-0 mark.
"This is a big match for Vanja," Tabet said. "She's played very well up to this point, but she really can't overlook anyone. She's going to have to stay focused on the task at hand."
Eastern Kentucky has posted similar results to the Lady Govs, the only difference being better play at the bottom of the lineup. The Lady Colonels are coming off a 4-3 win against UT Martin and a 5-2 win against Murray State. Faouzi is 7-1 at No. 1 singles, while Kristina Labeja is 7-0 at No. 2. EKU has an overall 33-8 record at Nos. 5 and 6 singles.
Morehead State has lost four straight OVC matches. They play host to Murray State, 11:00am, Saturday before facing the Lady Govs, Sunday.
Sections
Sports
Topics
Alison Carre, Andra Cornea, APSU, APSU Athletics, APSU Sports, APSU Tennis, APSU Women's Tennis, Austin Peay State University, Clarksville TN, Eastern Kentucky, Jacksonville State, Kristina Labeja, Lady Colonels, Lady Govs, Malik Tabet, Morehead State, Murray State, Ohio Valley Conference, Ornella Di Salvo, OVC, OVC Player of the Week, OVC Tournament, Tennessee State, UT-Martin, Vanja Tomic