APSU Sports: Austin Peay Men's Golf

Dickson, TN – A rough front nine dropped Austin Peay State University men's golf team to second place after 36 holes at the 2012 Ohio Valley Conference Men's Golf Championships, played at Dickson's GreyStone Golf Club.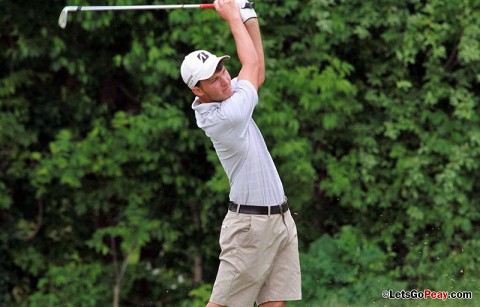 Jacksonville State was ten shots better than the Govs, Friday, taking a four shot lead. The Gamecocks (571), Austin Peay (575) and Murray State (581) will make up Saturday's final pairing. APSU's Anthony Bradley remained the tournament's individual leader with a second-round 71, entering the final round with a three-shot lead.
Bradley (66-71) leads the Govs at 137, while junior Dustin Korte (70-72) is in third overall at 142 and sophomore Marco Iten (71-75) is tied for 14th at 146. Sophomore Trey Tarpley (66-67) is 32nd at 153 and freshman Tucker Wallace (73-81) is tied for 33rd at 154.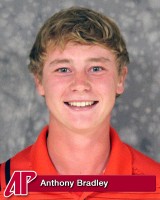 "We made the golf course a lot more difficult than it is today," head coach Kirk Kayden said. "We put ourselves in tough situations time and time again. It's hard to make up-and-downs when you don't get in the right position on the approach."
Much like the first day, Austin Peay battled its own demons on the front nine only to play catch up on the back. It was a litany of difficult lies and missed putts plaguing the Govs and erasing the six-shot lead generated during the first round.
Only Bradley seemed to escape the front nine intact, going birdie-bogey-birdie on Nos. 2-4, and making the turn at one-under par. He was the only Govs player to get through nine holes under par. Korte and Tarpley each turned at three-over, while Iten was four-over thanks to a double-bogey on No. 7. Wallace made five bogeys, but hit a putt on No. 9 to turn at six-over.
With the early lead gone, the Govs seemed to find a rhythm on the back. Korte made five-straight birdies and would finish with seven total for the round. Despite several missed putts, Bradley made 14 consecutive pars to end the round. Iten made three birdies on the back nine and Tarpley played the final three holes even.
The strong finish leaves a championship within striking distance. Just as the Govs six-shot lead evaporated during the second round, the Gamecocks will have to secure a four-shot lead over the final 18 holes.
"The ball just didn't roll our way today," Kayden said. "We have to forget about this round and come out ready to go tomorrow. Four shots are not very many in team golf, but we need to have a much better start than we did the first two days. It's going to be an interesting finish."
OVC Men's Golf Tournament – Round 2
| | | | | | | |
| --- | --- | --- | --- | --- | --- | --- |
| 1 | 2 | Team | R 1 | R 2 | Scores | Par |
| 2 | 1 | Jacksonville State | 286 | 285 | 571 | -5 |
| 1 | 2 | Austin Peay State | 280 | 295 | 575 | -1 |
| 5 | 3 | Murray State | 293 | 288 | 581 | +5 |
| 3 | 4 | Tennessee-Martin | 290 | 293 | 583 | +7 |
| 4 | 5 | Eastern Kentucky | 291 | 293 | 584 | +8 |
| 6 | 6 | Eastern Illinois | 294 | 297 | 591 | +15 |
| 7 | 7 | Morehead State | 302 | 292 | 594 | +18 |
| T 8 | 8 | Tennessee Tech | 305 | 300 | 605 | +29 |
| T 8 | 9 | Tennessee State | 305 | 310 | 615 | +39 |
| | | | | |
| --- | --- | --- | --- | --- |
| Position | School – Players | Round 1 | Round 2 | Total |
| 2 | Austin Peay State University | 280 | 295 | 575 |
| 1 | Anthony Bradley (1) | 66 | 71 | 137 |
| 3 | Dustin Korte (2) | 70 | 72 | 142 |
| T 14 | Marco Iten (3) | 71 | 75 | 146 |
| 32 | Trey Tarpley (4) | 76 | 77 | 153 |
| T 33 | Tucker Wallace(5) | 73 | 81 | 154 |