"Train Wreck" single continues its move up the charts, dance remix now available on iTunes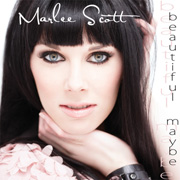 Nashville, TN – Big Ride Entertainment artist Marlee Scott is set to release her full-length debut album, titled "Beautiful Maybe", on Tuesday, June 19th.

Nearly a year in the making, "Beautiful Maybe" is a polished and diverse collection of songs that reflects a maturity rarely found on an artist's debut release. Included among the 12 tracks are Marlee's uplifting 2011 single, "Beautiful Maybe," the thought-provoking "Jane Doe" and the understated "I'm Not Your Baby Anymore," the groove-inspired "Planet Of Your Own" and Marlee's current single, the humorous bad relationship anthem "Train Wreck."

Award-winning Nashville producer David Kalmusky delivers an edgy, Pop-infused production to Beautiful Maybe, while an impressive list of chart-topping songwriters contributes material to the project, including Desmond Child, Blair Daly, Marcus Hummon, Hillary Lindsey, Aimee Mayo and Troy Verges, among others. Marlee co-wrote two songs on the album: "Kiss of Coming Home" and "I Love Hating You."

"Beautiful Maybe is something I am so proud of," says Marlee. "This is my debut album, but I really feel like I have come into my own on this project musically. I think the diversity of these songs offers something unique to my fans that will keep them coming back and listening to this record over and over again. It's relatable, fun and emotional, and I feel like each song has a message that will truly touch people in so many different ways. In the end, that's what making Country music is all about."

Beautiful Maybe is Marlee's debut release for Nashville-based label Big Ride Records. Her current single "Train Wreck" (written by Marcus Hummon, Jedd Hughes and Sarah Buxton) features a guest vocal from Country legend Vince Gill and is gaining momentum not only at Country radio, but also in the dance clubs. The bluegrass-tinged, Pop-Country track has translated well on the dance floor, inspiring a "Train Wreck" remix version and a custom choreographed "Wreck'd" line dance. Allen Morgan produced and remixed the dance version, which is now available for purchase at iTunes.

In between her 2012 radio tour visits, Marlee continues to make a number of high-profile sporting event appearances. On April 26th, Marlee performed an acoustic set and the national anthem at the Chicago White Sox/Boston Red Sox baseball game in Chicago, IL. She appeared a week later at the Unbridled Eve Gala in conjunction with the Kentucky Derby in Louisville, KY, and on August 12th she will sing the national anthem live on ESPN at the NASCAR Sprint Cup Series race in Watkins Glen, NY. Marlee will also headline the August 10th fan concert held on the Watkins Glen International infield.

In 2011, Marlee launched her "Make It or Bake It" webisode cooking series, which has helped boost her Facebook following to more than 30,000 likes. The humorous video clips feature some of Marlee's favorite food and drink recipes.  Her latest installment is a rum-based drink called "Super Hot Chocolate."  View episodes here.

View Marlee's official "Train Wreck" music video directed by CMT award-winning director Roman White here.  Visit www.MarleeScott.com for music, tour dates, "Make It or Bake It" episodes and more.
About Marlee Scott
Country artist Marlee Scott is set to release her debut album, Beautiful Maybe, through Big Ride Records on June 19th. Her current single, "Train Wreck," is quickly rising up the Country charts. The music video world premiered in March 2012 to great success across numerous CMT platforms.  She released her debut single, "Beautiful Maybe," in 2011 and scored an international No. 1 in 2010 with "Here To Heaven."
For more information, visit www.MarleeScott.com.
Sections
News
Topics
Beautiful Maybe, Big Ride Entertainment, Chicago IL, CMT, ESPN, Kentucky Derby, Louisville KY, Marlee Scott, Nashville TN, Train Wreck, Vince Gill, Watkins Glen NY