After Police unraveled a tangled web of deception, they discover that a woman is married to two men at the same time.

Clarksville, TN – On May 17th, 2012, around 1:30am, Police were called to 643 Riverside Drive about a woman who had been assaulted and forced into a room and had been held against her will. Clarksville Police Officer Dennis Honholt arrived and began an investigation into the allegations.
According to the Krystal Schurtz, her husband, Andrew Roberts came to the Riverside Drive residence and started taking some of her items.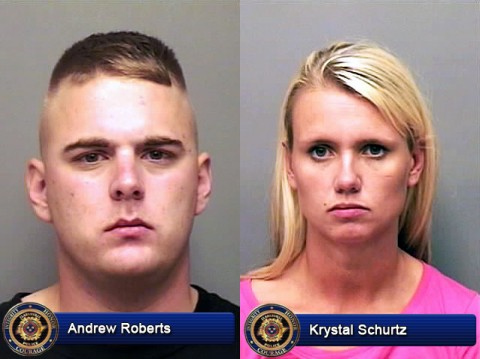 She further alleged that she was in a physical confrontation with Roberts who forced her into a room, held the door shut, and would not let her out. She eventually got out of the room and called Police.
During the course of the investigation, Roberts told officers that Schurtz had married another man in Kentucky and, even though Schurtz had filed for divorce, they were still married. As Officer Honholt continued the investigation and queried Schurtz about the marriage allegation, she denied on three separate occasions marrying someone else while currently married.
With assistance from Sgt Dave Galbraith, the truth finally was revealed and Krystal Schurtz had, in fact, married another man in Kentucky over a month ago while still being married to Roberts.
Additionally, Schurtz had an unlabelled bottle containing fourteen pills which were determined to be a narcotic.
Andrew Roberts
Name: Andrew Russell Roberts (W/M)
DOB: 3/19/88
Given Address: 3926 Tanglewood Drive, Hopkinsville, KY
Arresting Officer: Dennis Honnolt
Charged With: Domestic Assault and False Imprisonment
Booked Into: Montgomery County Jail
Bond: $1,000.
Krystal Schurtz
Name: Krystal Rayanne Schurtz (W/F)
DOB: 4/1/86
Given Address: 1269 Judge Tyler Drive, Clarksville, TN
Arresting Officer: Dennis Honnolt
Charged With: Bigamyt, False Report, and Simple Possession
Booked Into: Montgomery County Jail
Bond: $7,000.