Austin Peay Baseball vs. ??
Thursday-Sunday, May 24th-27th, 2012
Jackson, TN | Pringles Park (1,100)

Clarksville, TN – Austin Peay's baseball team, the 2012 Ohio Valley Conference regular-season co-champion, begin s postseason play with a 7:00pm, Thursday contest in Jackson, Tennessee, as part of the OVC Baseball Championship at Pringles Park. The Govs will not know their opponent for Thursday's contest until the conclusion of Wednesday's opening-round action.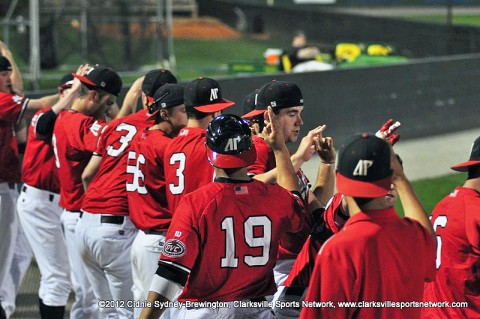 After an up-and-down 9-7 mark in April, the Govs have won eight of 12 games in May. Austin Peay's 19 OVC wins tied for second most in program history (2007) and its .731 OVC win percentage is third-best since the end of divisional play in 1989.
In OVC play shortstop Reed Harper led the Govs with 42 hits and a .378 batting average. Third baseman Greg Bachman batted .336 and led the team with nine home runs and 38 RBI. Second baseman Jordan Hankins (.371) and center fielder Michael Blanchard (.370) also batted above .300 in league action.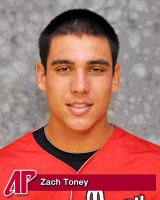 Game 1 starter Zach Toney posted a 4-1 record and 2.12 in seven OVC starts, but suffered his first OVC loss at Tennessee Tech, last Thursday. Andy Cox made Game 3 appearances in each of the last two weeks, posting wins both times and a 2.77 ERA.
Overall, Harper leads the Govs with a .333 batting average and 15 doubles. Bachman has 15 home runs – the most by a Govs hitter since 2002 – and led the OVC with 60 RBI at regular season's end… Hankins is third in the OVC RBI race with 57 and is batting .332 this season.
Designated hitter Jon Clinard enters the postseason with a 7-game hit streak and has reached base safely in 16 consecutive games. First baseman Tyler Childress has reached base safely in a team season-best 23 consecutive games entering the postseason.
Austin Peay will enter the postseason with four possible starters. Toney, the Govs No. 1, missed two weeks due to an injury but is 3-1 with a 1.99 ERA and has held opponents to a .176 batting average in his six starts since returning.
Junior Casey Delgado won his last two conference outings, posting a 3.37 ERA in those outings. Senior Andy Cox moved into No. 3 spot for the regular season's final two weeks and posted a 2-0 record and 2.45 ERA in those outings.
Sophomore Ryan Quick, who started the season's first 12 weeks, did not start in the final two OVC weekends for precautionary reasons (arm fatigue) but appeared in relief at Tennessee Tech, throwing a scoreless inning.
Austin Peay Tournament Notes
In addition to its 2011 crown, the Govs won the 1996, 2005 and 2007 titles and have finished runner-up four times. The Govs won the regular-season series against four of the five teams in the 2012 field and hold a 10-4 mark against those six teams. Austin Peay's only series loss came to No. 3 seed Jacksonville State.
The Govs swept both No. 5 seed Morehead State and No. 6 seed Southeast Missouri. APSU posted a 2-1 series win against No. 2 seed Eastern Kentucky. The Govs split a weather-shortened two-game series with No. 4 seed Eastern Illinois, including a 17-inning affair APSU won.
Austin Peay is 32-34 in its previous 21 OVC Tournament appearances. It is the Govs second visit to the tournament at Pringles Park – the third-year host of the tournament – where they won the 2011 tournament crown.
Austin Peay returns 10 position players and two pitchers from that 2011 squad. The 2012 tournament will be the third postseason appearance for third baseman Greg Bachman, who also started in the 2007 and 2011 versions.
Govs Win Seven OVC Series, Claim Share of 2012 Crown
For the second consecutive year, Austin Peay won seven OVC series, including three series sweeps, en route to a 19-7 OVC record that was good enough to claim a share of the OVC crown with Eastern Kentucky. It was APSU's second consecutive title. The Govs only non-winning series were against Jacksonville State (a 2-1 series loss) and at Eastern Illinois (a 1-1 series tie).
Bachman Ends Regular Season with OVC RBI Lead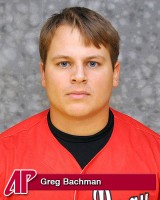 Senior third baseman Greg Bachman posted nine RBI in the Tennessee Tech series and finished the regular season with an OVC-leading 60 RBI. If he ends the season at the league's RBI leader – all postseason games count – it will be the second consecutive year an APSU hitter led the league in RBI after John Hogan posted 63 RBI to lead the league last season.
Bachman isn't the only APSU player battling for the lead, sophomore second baseman Jordan Hankins brings 57 RBI, third most in the OVC, into the post season.
Hudson Takes OVC Steals Lead Into Postseason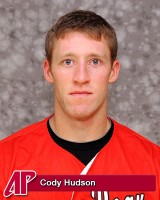 Junior outfielder Cody Hudson stole two bases in the regular-season finale at Tennessee Tech, Saturday, and will bring an OVC leading 21 stolen bases into the postseason.
He finished last season with 18 steals and ranked fourth among OVC base stealers, behind senior outfielder Michael Blanchard who won the 2011 title with 29 stolen bases.
Govs Survive Strikeout Bug, Win TTU Series
Austin Peay suffered through a strikeout-fest in its series opener at Tennessee Tech, May 17th, but recovered to win the regular season's final two games and won the series, 2-1.
The Govs could not solve Tennessee Tech starter Tristan Archer, who sat down 13 Govs on strikes in a Game 1 victory. Austin Peay rallied to post 31 hits in the final two games, scoring 10 runs each time.
McClure First To Record 300 OVC Victories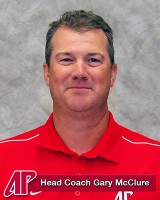 Austin Peay head coach Gary McClure became the first head coach to record 300 OVC wins with the Govs' 8-7, 17-inning victory at Eastern Illinois, April 7th.
He also is ranked second among OVC coaches with 744 career victories, 32 behind Murray State's Johnny Reagan.