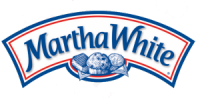 Nashville, TN – Does your summer cookout menu need a flavor boost? Cheesy Chile Corn Muffins may be just the touch you need. With two kinds of cheese, corn, jalapeno and green chiles, these muffins will add a spicy punch to your summer get-together.
"You might even want to bake some of the batter in miniature muffin cups to pass around as an appetizer while the steaks are cooking," advises Martha White® baking expert Linda Carman. "But, be sure to bake plenty because you'll want to keep them coming to serve with dinner, too."
Cheesy Chile Corn Muffins are made with a sweet yellow cornbread mix and have a nice sweet and spicy flavor. Sure to become a year-round favorite to serve with soups and stews, these muffins offer a nice change when served with ribs, chicken, brisket and even steak right off the grill at your summer cookouts.
For more cornbread recipes to serve with fresh summer vegetables, go to www.marthawhite.com and click on the Recipes link.
Cheesy Chile Corn Muffins
Ingredients
Crisco Original No-Stick Cooking Spray
2 large eggs
1 cup milk
1/4 cup butter, melted
2 (7 oz.) pkgs. Martha White Sweet Yellow Cornbread and Muffin Mix
1 cup fresh or frozen corn kernels (if frozen, thawed)
1/4 cup sliced green onion
1 (4 oz.) can chopped green chiles
2 to 4 tablespoons chopped pickled jalapeno chiles
1 cup (4 oz.) coarsely shredded Cheddar cheese
1/2 cup grated Parmesan cheese + 2 tablespoons for topping
Directions
1. Heat oven to 400° F. Spray 18 standard (3-inch) muffin cups or 48 miniature (2-inch) muffin cups with no-stick cooking spray. Beat eggs in large bowl. Stir in milk, butter and muffin mix until smooth. Add corn, onion, green chiles, jalapenos, cheddar cheese and 1/2 cup Parmesan cheese. Stir until blended.
2. Fill muffin cups 3/4 full. Sprinkle batter with remaining parmesan cheese. Bake 17 to 20 minutes for standard muffins or 10 to 12 minutes for miniature muffins, or until golden brown. Cool in pan 5 minutes. Serve warm or at room temperature.
Makes 18 standard or 48 miniature muffins
---
Crisco is a registered trademark of The J.M. Smucker Company.