Clarksville, TN – On July 14th, 2012 around 8:45pm, Clarksville Police were called to a hotel in the 3400 block of Fort Campbell Boulevard in reference to a young child being left in a motel room alone.
A woman had seen the parents leave the motel without the child accompanying them, became concerned, and called the front desk to see whether anyone was in the room with the child.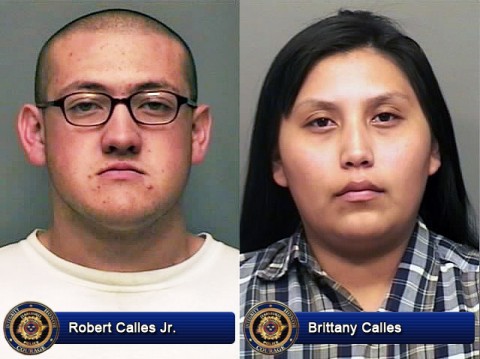 When there was no response, the clerk went to the room along with the woman, found a "Do Not Disturb" sign on the door, knocked repeatedly on the door, at which time, she thought she heard a child cry.
The clerk opened the door and found a small female child alone, wrapped in a blanket on the bottom right corner of the bed. The room was in disarray with empty food cups, trash, and soiled diapers.
The child was safeguarded until Police arrived. The parents, of the nine month old, Robert and Brittany Calles, arrived at the motel about 30 minutes later.
When Officer Jason Smock spoke to the parents individually, they varied in their explanations of  why and how long the child had been left alone.
They were taken into custody and charged with Child Abuse/Neglect. Bond was set at $10,000, but later reduced to $2,500.
The child was turned over to the Department of Children's Services custody.
Robert Calles Jr.
Name: Robert Louis Calles Jr. (W/M)
DOB: 11/3/92
Given address: 3430 Fort Campbell Boulevard, Room 216, Clarksville, TN
Arresting Officer: Jason Smock
Charged With: Child Abuse/Neglect
Booked Into: Montgomery County Jail
Bond: $2,500
Brittany Calles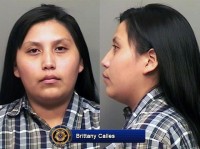 Name: Brittany Faith Calles (I/F)
DOB: 2/24/93
Given address: 3430 Fort Campbell Boulevard, Room 216, Clarksville, TN
Arresting Officer: Jason Smock
Charged With: Child Abuse/Neglect
Booked Into: Montgomery County Jail
Bond: $2,500