Clarksville, TN – As the line of storms moved through Clarksville yesterday evening most people were hunkered down safely in their homes waiting for it to pass. However for Jeff and Kathy Sayle and their children, it was soon going to turn into a very scary moment.
They were gathered together on the ground floor of their home at 299 Ellsworth Court, when around 9:15pm when they heard a bolt of lighting hit. "Boom! It shook the house" said Jeff Sayle. "We didn't know that our home had actually gotten struck by the lightning, we just thought it was close. Five minutes later my wife went up stairs to the attic, when she opened the door smoke came billowing out." She alerted the family and they evacuated the already doomed structure.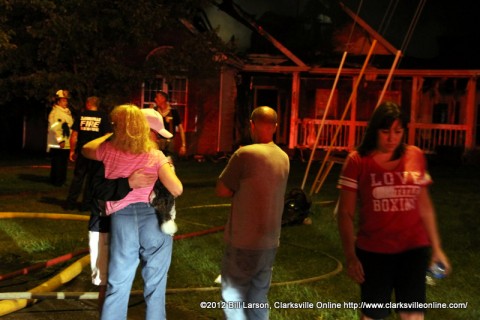 "We got the kids out of the house, I pulled the van out of the garage got the kids loaded, and by time I got to the end of the driveway I saw fire coming up out of my vent. I took the kids to safety up at one of our neighbor's house, and called the Fire Department," he said.
Clarksville Fire Rescue was dispatched and arrived on scene shortly thereafter. Engines 1, 20, 30, and 40 were the primary responding units with support provided by Rescue 1 and Rescue 3. Engine 10 was dispatched towards the end of the fire to bring in fresh firefighters.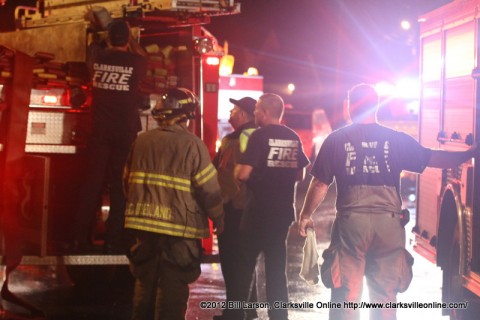 "There wasn't that much flame showing at the front of the home when we arrived," said District Chief Jim Cain, however the severity of the blaze quickly became apparent. "I did my 360, and when I got around the back you could tell that the home was 100% involved in the roof area and it was already starting to collapse within a minute of the time that we got here. So the home had taken a good lick from the lightning. Since everybody was already out of the structure when we arrived, we launched a defensive attack on the fire, as there was no possibility of saving the home.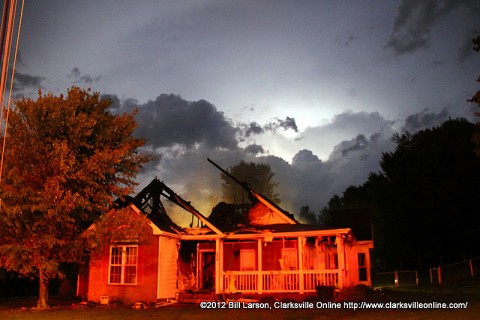 Sayle said the family plans to rebuild their home, "We've lived in this home for 11 years, and are going to rebuild here. We love this neighborhood, we love this life. Our neighbors have already been phenomenal, they have all offered us a place to stay, money if we need it. This is a great neighborhood, and there are a lot of great people here, our families are here as well and so we are going to be okay"
The home looked to have been totally gutted from the fire.
Photo Gallery