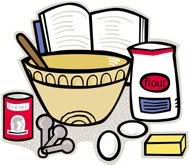 Palmyra, TN – The Taste of Shiloh event opened Saturday, August 25th, 2012, at the Shiloh Cumberland Presbyterian Church Fellowship Hall with an overwhelming display of pinwheel appetizers, chicken stuffing with giblet gravy, barbecue, enchiladas, and double ricotta lasagna entrees, followed by gingerbread berry shortcake, caramel pie, and double chocolate cookies for dessert.
Two long counters were filled with too many foods to list.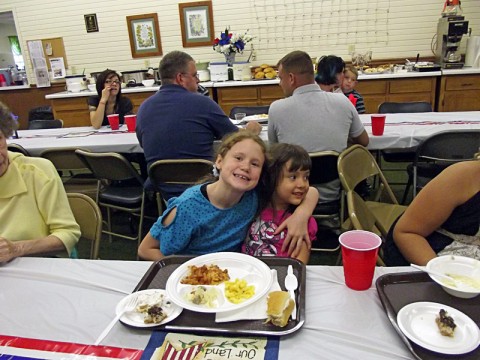 Rebecca Hudson of the Taste of Shiloh Cookbook committee opened the event, inviting guests to join in the raffle, cookbook sales, and especially food.  Reverend Greg Jones blessed the food and guests were encouraged to try the various food offerings.
Reverend Jones performed a few songs for the crowd, starting with a cover of the Taj Mahal classic, "Goin' Fishin."
Then, John Sims-Jones, lead singer for the Resistance House Band and Dark Horse Forest, did a mixed acoustic set that included a Johnny Cash cover, "God's Going to Cut You Down," a couple of softer Resistance House Band songs, and ended with "I Will Lift Your Name on High."
Later in the evening, Reverend  Jones  invited all the children in the crowd to join him on the stage for songs like "She'll Be Coming Round the Mountain," and "Old McDonald."
State Representative John Tidwell joined the gathering and spoke briefly, introducing himself to the group as their representative, even though they didn't vote for him. As a result of redistricting, he is now the representative for the Palmyra area and is making an effort to get to know the residents and invite them to contact him if they have any concerns.
Finally, a raffle was conducted, where guests won prizes such as embroidered aprons, baked cooks, gift baskets, and tickets to a John Michael Montgomery concert.
The event concluded with final words by Rebecca Hudson.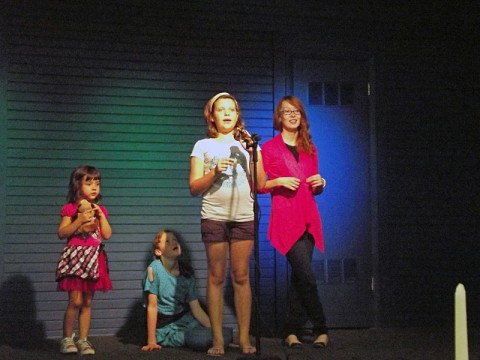 The "Taste of Shiloh" celebrated the upcoming cookbook with a smorgasbord of the recipes featured in the cookbook.
For those that could not attend, contact  Lana Sims at 931.387.4244 to order the" Taste of Shiloh" cookbook.