APSU Sports: Austin Peay Volleyball

Nashville, TN – Austin Peay State University's volleyball team ran into a hungry Lipscomb squad and fell in three sets (22-25, 15-25, 22-25), Tuesday night at Allen Arena.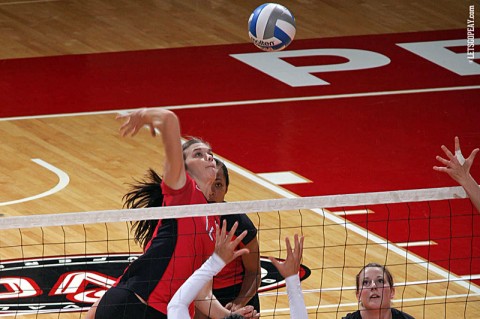 Lipscomb dominated the offensive battle, posting a 52-27 advantage in kills. The Lady Govs hurt their cause with four block errors, punctuating a frustrating night on defense as they recorded on 20 digs in the three-set affair.
In the opening set, Lipscomb (2-5) started out strong with a 6-2 run. The Lady Bisons built that lead to as large as eight points, 16-8. Austin Peay would rally back with a 14-7 run to close within one point, 23-22, but could not close the gap. Lipscomb scored back-to-back kills to end the set.
Austin Peay (2-8) stuck close in the early going of Set 2, thanks to Lipscomb miscues and trailed by one point as late as 9-8. The Lady Bisons slowly gathered the momentum, leading 14-10 then 17-12 and later 19-12. Lipscomb struck a final blow with a final 5-0 run to win the set, 25-15.
Lipscomb broke out of the gate again in the third set, building a 5-2 lead. Austin Peay showed its mettle and used a 4-0 run to take a 9-8 lead later in the set. However, neither team could build a significant advantage the set's remainder. Ultimately, Austin Peay surrendered points on a reception error and a service error to give Lipscomb control late in the frame which it used to pull off a 25-23 victory.
"The story is the same tonight as it was this weekend," said Lady Govs head coach Taylor Mott. "We have to do a better job blocking and playing defense. When you don't get the job done in those two aspects of the game the little mistakes are even more costly. We will keep working at it, we have a big weekend coming up."
Sophomore outside hitter Jada Stotts led Austin Peay with nine kills. Junior middle blocker Lauren Henderson added six kills.
Lipscomb's Jewell Dobson and Kaycee Green each had 14 kills to lead all hitters.
Austin Peay returns to action at the Bama Bash, Friday-Saturday, hosted by Alabama.
Box Score
Austin Peay vs Lipscomb
(September 4th, 2012 at Nashville, TN)
Austin Peay
ATTACK
SET
SERVE
SRV
DEF
BLOCK
GEN
##
Player
SP
K
E
TA
PCT
A
SA
SE
RE
DIG
BS
BA
BE
BHE
Points

1

FIELDS, Cami

3

0

0

0

.000

21

0

0

0

2

0

1

1

0

0.5

8

LANDON, Liz

3

4

0

5

.800

0

0

0

0

0

0

1

0

0

4.5

9

DOYLE, Nikki

3

5

0

21

.238

1

0

2

1

3

1

0

1

0

6.0

12

HENDERSON, Lauren

3

6

2

11

.364

0

0

1

0

5

0

0

1

0

6.0

14

STOTTS, Jada

3

9

6

30

.100

0

0

1

3

0

1

0

0

0

10.0

15

PLYBON, Hillary

3

3

2

12

.083

0

0

1

0

0

0

0

0

1

3.0

2

HULL, Calyn

1

0

1

2

-.500

0

0

0

0

2

0

0

1

0

0.0

3

ADAMS, April

3

0

0

0

.000

0

0

0

1

7

0

0

0

0

0.0

5

SAIN, Alex

1

0

0

0

.000

0

0

0

0

0

0

0

0

0

0.0

7

MARSELLIS, Aubrey

2

0

0

0

.000

0

0

0

0

1

0

0

0

0

0.0

Totals

3

27

11

81

.198

22

0

5

5

20

2

2

4

1

30.0

TOTAL TEAM BLOCKS: 3.0
TEAM ATTACK BY SET
Set
K
E
TA
Pct
Sideout
Pct

1

12

2

26

.385

12-24

50%

2

5

6

24

-.042

12-25

47%

3

10

3

31

.226

13-24

54%

37-73

50%

SET SCORES
1
2
3
TEAM RECORDS

Austin Peay

(0)

22

15

22

2-8

Lipscomb

(3)

25

25

25

2-5
Lipscomb
ATTACK
SET
SERVE
SRV
DEF
BLOCK
GEN
##
Player
SP
K
E
TA
PCT
A
SA
SE
RE
DIG
BS
BA
BE
BHE
Points

2

DOTSON, Caitlin

3

0

1

3

-.333

44

1

1

0

7

0

0

0

0

1.0

3

DOBSON, Jewell

3

14

1

18

.722

1

1

4

0

2

1

0

2

0

16.0

5

SPITZNAGLE, Molly

3

10

1

16

.562

0

0

0

0

0

1

2

0

0

12.0

9

HUSTON, Jordan

3

3

2

11

.091

2

0

0

0

1

0

2

0

0

4.0

11

STOUT, Megan

3

0

0

0

.000

0

1

1

0

6

0

0

0

0

1.0

15

FORD, Lauren

3

12

5

21

.333

1

0

4

0

9

0

0

0

0

12.0

1

REED, Rachel

1

0

0

0

.000

0

0

0

0

0

0

0

0

0

0.0

6

KELLERMAN, Sophie

3

0

0

0

.000

0

1

0

0

2

0

0

0

0

1.0

7

REX, Stephanie

3

0

0

0

.000

1

1

2

0

7

0

0

0

0

1.0

10

GREEN, Kaycee

3

14

5

28

.321

0

0

0

0

2

0

0

0

0

14.0

Totals

3

53

15

97

.392

49

5

12

0

36

2

4

2

0

62.0

TOTAL TEAM BLOCKS: 4.0
TEAM ATTACK BY SET
Set
K
E
TA
Pct
Sideout
Pct

1

20

4

36

.444

13-23

56%

2

15

4

23

.478

12-15

80%

3

18

7

38

.289

14-23

60%

39-61

63%

Site: Nashville, TN (Allen Arena)
Date: Sep 04, 2012 Attend: 162 Time: 1:15
Referees: Donnie Goodwin, Courtney Goodwin


| | | | | |
| --- | --- | --- | --- | --- |
| | 1 | 2 | 3 | Total |
| Tie scores | 2 | 4 | 9 | 15 |
| Lead changes | 1 | 1 | 5 | 7 |