Nashville, TN – Fall in the South is a season to celebrate. The trees are turning beautiful colors and there's a nip in the air – a great time to get together with friends and family.
Whether you gather round the TV to watch sports, tailgate or take a picnic to a park, the pleasure comes from being together, cooking good food and telling lots of stories.
Of course, sports will be the impetus for a lot of entertaining from now until the end of the fall season and has created a whole new culture for food and fun. "I am so happy that folks are getting to experience the joy that comes from cooking food to share with their friends, and everyone is getting in on the fun – male, female, young and old," says the
Martha White®
baking expert Linda Carman. "Many homemade dishes or snacks are easy to do when using a convenience mix."
Tasty Treats
We are constantly on the lookout for fun new foods that will satisfy hungry fans. As the weather gets cooler, hearty dishes like chili, soup, stew and barbecue are always welcome. And you will want to have some pick-up food around to snack on. If you feel stuck serving the same thing over and over, it's easy to liven up the menu with tasty little cheese breads.
Instead of the usual chips and dip, Roasted Corn and Red Pepper Corn Cakes with Avocado Salsa will certainly be a hit. If roasting corn sounds like a lot of work, don't worry. All you have to do is cook frozen whole kernel corn in a hot oven for about 10 minutes. When the corn is finished, the corn cake batter is easy to stir up using self- rising corn meal. Delicious with Avocado Salsa, you can also serve corn cakes topped with barbecue for a heartier version.
Sweet Cheese and Chile Corn Muffins will warm up cool days and are great to eat with soup or chili. Made with a convenient cornbread mix, mild green chiles and Cheddar cheese, you can have a batch ready to eat in no time. For the hotter version, add chopped pickled jalapeno. The vinegary flavor of the pickled peppers adds a nice sharp flavor contrast to the sweet muffins.
For appetizers, nothing can beat crisp little drop biscuits. They are easy to make, delicious warm or at room temperature, and may be frozen for later use. Sausage and Cheese Appetizer Biscuits put a fresh spin on the ever popular sausage ball. Crisp and flavorful, these little biscuits are perfect for brunch or as a snack or appetizer later in the day.
To freeze, drop dough onto a baking sheet and place uncovered in the freezer. When frozen, seal dough in plastic bags and store until needed. To bake, do not thaw. Place frozen dough on baking sheet and bake according to the recipe. Or go ahead and bake, cool and seal in plastic bags. To reheat, do not thaw. Place on baking sheet; lightly mist with water and heat at 350° F. for 15 minutes.
Fall Party Tips
The great thing about casual fall entertaining is that everyone can enjoy the party. A little planning will make things run smoothly and everyone will be more relaxed.
Decorate with nature's bounty. If you're just getting together with good friends, it's certainly not necessary, but fall offers some beautiful options for doing a little decorating. Pumpkins, squash and colorful leaves piled in a big bowl or arranged on the serving table is all it takes.
Make it easy on yourself. Set up self-service drink and food areas, so that you don't have to be serving all the time. There are lots of nice, disposable items for serving. Provide well marked cans for recyclable trash.
Make everyone comfortable. Check out the room where people will be eating. If that's a den or living room, make sure every seat is close to a place for guests to set down drinks while they are eating. You may need to set up a few extra little tables.
When transporting food away from home, remember to keep hot foods hot and cold foods cold. There are so many great coolers and insulated containers these days that this is much easier than it used to be.
If you're tailgating or picnicking, be sure to take wipes for sticky fingers, as well as garbage bags and paper towels for clean-up.
Roasted Corn and Red Pepper Corn Cakes with Avocado Salsa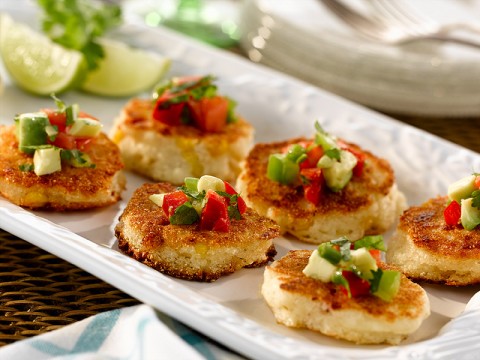 Avocado Salsa
2 ripe avocadoes, peeled and chopped
1/4 cup sliced green onions
1/2 cup red and/or green bell pepper, chopped
3 to 4 Roma tomatoes
1/2 cup chopped fresh cilantro
Juice of one lime
Salt to taste
Corn Cakes
1 cup frozen sweet yellow corn kernels, thawed and patted dry
1/4 cup + 2 teaspoons Crisco® Canola Oil
1 egg, beaten
1 cup buttermilk
1 1/2 cups Martha White® Self-Rising Corn Meal Mix
2 teaspoons sugar
1/4 cup roasted red pepper, drained and chopped
1 cup (4 oz.) shredded Monterey Jack cheese
Crisco® Canola Oil, for frying
Directions
Combine avocado, green onion, bell pepper, tomatoes and cilantro in small bowl. Add lime juice, toss to coat evenly. Add salt to taste. Refrigerate until needed.
Heat oven to 475° F. Combine corn and 2 teaspoons canola oil in a shallow pan. Bake for 10 to 12 minutes or until corn is lightly browned, stirring occasionally. Cool.
Combine egg, buttermilk, 1/4 cup canola oil, corn meal and sugar in large bowl; stir until blended. Stir in roasted corn, roasted red pepper and cheese.
Heat about 1 tablespoon oil in large skillet over medium high heat. Spoon batter into hot oil by tablespoonfuls. Cook until brown, turn and brown on the other side. Cook in batches, adding more oil as needed. Drain on paper towels. Serve with salsa.
Makes 20 corn cakes
Sweet Cheese and Chile Corn Muffins
Crisco® Original No-Stick Cooking Spray
2 eggs, beaten
1/4 cup milk
1 cup sour cream
2 (7 oz.) pkg. Martha White® Sweet Yellow Cornbread Mix
1 (4 oz.) can chopped green chiles, undrained
1 cup (4 oz.) shredded Mexican Blend cheese
2 tablespoons chopped pickled jalepeños, optional
Directions
Heat oven to 400° F. Spray 12 muffin cups with no-stick cooking spray.
Combine eggs, milk, sour cream and cornbread mix in large bowl; stir until smooth. Stir in green chiles, cheese and jalepeño peppers. Fill prepared muffin cups about 3/4 full.
Bake 15 to 18 minutes or until golden brown.
Makes 12 muffins
Sausage and Cheese Appetizer Biscuits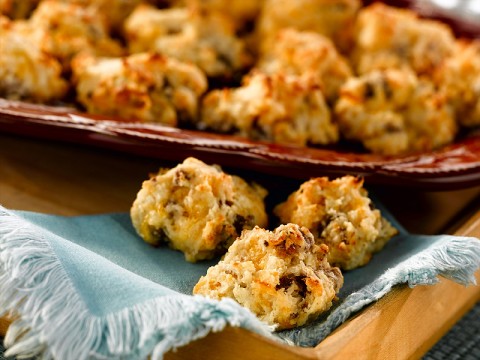 Crisco® Original No-Stick Cooking Spray
1/2 pound bulk pork sausage
2 cups Martha White® Self-Rising Flour
1/4 teaspoon ground red pepper (cayenne)
1/4 cup Crisco® All-Vegetable Shortening
1 cup (4 oz.) shredded sharp Cheddar cheese
3/4 cup + 2 tablespoons milk
2 tablespoons butter, melted
Directions
Preheat oven to 450° F. Spray baking sheet with no-stick cooking spray. Cook sausage in large skillet until brown and crumbled. Remove from skillet; drain.
Combine flour and ground red pepper in large bowl; mix well. Cut in shortening with pastry blender or fork until mixture resembles coarse crumbs. Stir in sausage and cheese. Add milk; stir with a fork until moist dough forms.
Drop dough by heaping teaspoonfuls onto prepared baking sheet. Bake 12 to15 minutes or until golden brown. Brush hot biscuits with melted butter.
Makes 40 biscuits
---
Crisco is a registered trademark of The J.M. Smucker Company.