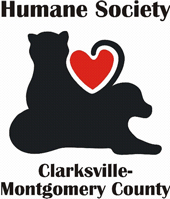 Clarksville, TN – The Humane Society of Clarksville-Montgomery County is proud to announce the addition of North Stewart Veterinary Clinic (Dover, TN) to its already seven-strong list of high-quality low-cost spay-neuter veterinary partners.
Current veterinary partners are the Animal Hospital (downtown), Animal House (Dover Road), Tiny Town Animal Clinic (Exit 1), Pet Calls Mobile Clinic, Southside Veterinary Clinic (Hwy. 48/13), Family Pet Hospital (Exit 11), and Houston County Animal Clinic (Erin, TN).
Each veterinary partner's participation enables the Humane Society to offer affordable spay-neuter surgeries to families that would not or could not spay or neuter their pets otherwise.
Since the spay-neuter program's inception in 2004, the Humane Society has continued to combine veterinary discounts with generous spay-neuter grants awarded to the Humane Society each year to provide free or low-cost spay-neuter options to families in need.
Currently, the Humane Society continues to offer $25.00 dog neuters and $30.00 dog spays with no weight restrictions and no extra charges for in-heat, pregnancy or cryptorchid. Additionally, clients who can provide an ID along with a lease, water or electric bill showing a 37042 zip code will benefit from an additional $10.00 off of each voucher.
Cat vouchers are also available at reduced rates.
To buy vouchers, stop by the Humane Society office, 940 Tennessee Avenue (blue building on the hill behind Arby's off Riverside Drive) during office hours: Mon/Tues/Fri/Sat 9:00am-2:00pm or Wed/Thur 4:30pm-7:30pm. Cash or credit/debit accepted.
For more info, call the Humane Society of Clarksville-Montgomery County at 931.648.8042