Ball State vs. Austin Peay Lady Govs
Saturday, December 1st, 2012 | 5:15pm (CT)
Clarksville, TN | Dunn Center (7,257)

Clarksville, TN – Austin Peay women's basketball team seeks an end to its three-game losing streak when it hosts Ball State in a 5:15pm, Saturday contest at the Dunn Center.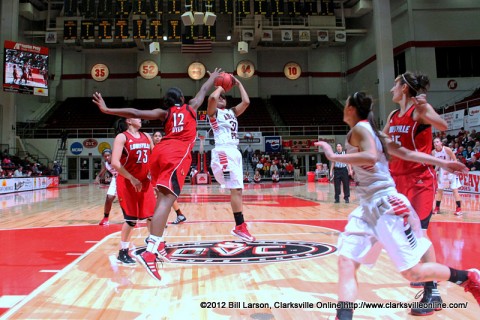 The Lady Govs return home following a stunning second-half letdown that allowed host Vanderbilt to escape with a 67-36 victory, Wednesday.
Ball State, under the tutelage of former Eastern Illinois head coach Brady Sallee, wraps up a four-game road trip with a visit to Clarksville. The Cardinals have lost their last two outings, including a 63-53 loss at Murray State, Thursday.
Lady Govs Season To Date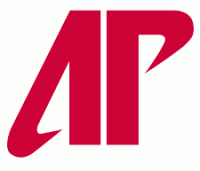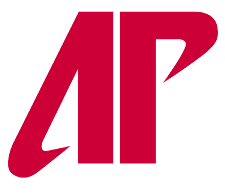 Austin Peay's current three-game losing streak has been characterized by poor shooting and rebounds. While the Lady Govs haven't shot the ball well this season, they have made just 34.9 percent of their shots during the losing streak.
Rebounding also has been a concern through six games, but a 56-24 rebounding loss to Vanderbilt pushed Austin Peay's margin to -15 per game during the losing streak. Nine APSU players have played in all six contests.
Austin Peay head coach Carrie Daniels made a change to the starting lineup at Vanderbilt, inserting freshman Jennifer Nwokocha for senior Kaitlyn Hill – it was the first change to the starting five this season. Austin Peay has won the turnover battle in its last four outings and now owns a plus-2.7 turnover margin.
The Lady Govs have not won a rebounding battle this season and are suffering a minus-15.3 rebounding margin through six games. Seven players are averaging five points per game, but only one player is averaging more than 10 points per game (Leslie Martinez, 10.5 ppg).
Cardinals Call
Ball State has played four of its last five on the road, posting a 1-3 mark in those contests. Four of the Cardinals starting five have logged 30-plus minutes per game and they have eight players who have played in all seven contests.
In the loss at Murray State, junior Katie Murphy posted a 20-point, 14-rebound double-double, making 50 percent (6-of-12) of her shots.
Ball State's three leading scorers are also the team's three leading rebounders – freshman Nathalie Fontaine, a 6-2 guard, leads the team with 11.9 points per game and ranks second in rebounding (6.6 rpg); junior Katie Murphy, a 6-0 forward, leads the team with 7.7 rebounds per game and ranks third in scoring (10.3 ppg); junior Brandy Woody, a 5-4 guard, is second in scoring (11.0 ppg) and third in rebounding (4.6 rpg).
An Austin Peay Win Would
Be its second straight home win… end its three-game losing streak… be its first victory against Ball State… make it 2-1 at the Dunn Center this season… improve Daniels' record to 74-121 overall… make the Lady Govs 427-594 overall since 1976-77.
An Austin Peay Loss Would
Be its fourth consecutive loss… make it 1-2 at the Dunn Center this season… keep it winless against Ball State all-time (0-3)… drop Daniels' record to 73-122 overall… make the Lady Govs 426-595 overall since 1976-77.
Lady Govs Add St. Catharine To Schedule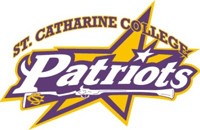 Austin Peay women's basketball team has added St. Catharine College to its 2012-13 schedule in a game to be played at 4:00pm, Sunday, December 9th at the Dunn Center. The game replaces the December 15th contest against Christian Brothers which was cancelled due to a scheduling conflict.
Austin Peay season ticket holders who have a ticket for the December 15th contest may use that ticket for the December 9th game.
Freshman Trio Eating Up Minutes Early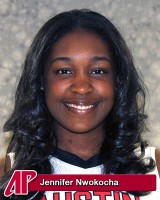 The freshman trio of Tiasha Gray (20.5 mpg), Jennifer Nwokocha (13.7 mpg) and Alexis Hardaway (22.8 mpg) have found themselves heavily involved this season, combining for 342 minutes (28.5 percent). Hardaway posted a 10-point, six-rebound effort against Binghamton, November 18th.
Nwokocha was the next to break through with a double-digit scoring performance, scoring 12 points against William & Mary, November 24th, and was tapped to make the first start by a freshman (at Vanderbilt, November 28th).
Gray showed a glimpse at her potential with a nine-assist effort against William & Mary and followed it with a team-high 12 points against Vanderbilt.
Charity Stripe
After opening the season making just 16 of its first 30 free throws (53.3 percent), Austin Peay has made its opponents pay in the more recent stretch of games, converting 61-of-88 (69.3 percent) during that span. The burst has helped the Lady Govs push their season free-throw percentage to 65.3 percent, but still ranks 10th among OVC teams.
Previous Meeting Against Ball State
December 11th, 2011
Muncie, IN – Austin Peay women's basketball team dominated the game's final nine minutes but could not complete a come-back effort in a 59-55 nonconference loss to Ball State, last season at Worthen Arena.
Ball State (5-5) built a nine-point, 52-43, lead on Brittany Carter's three-pointer with 9:17 remaining. It was the last field goal the Cardinals would make in the contest as they missed on their final seven attempts – only a 7-of-12 effort at the free throw line prevented a complete collapse the game's remainder.
Austin Peay (2-8) had plenty of opportunities in those final nine-plus minutes as it dominated every aspect of the game. The Lady Govs posted a 16-6 rebounding edge down the stretch, including eight offense rebounds. However, Austin Peay could not find the bottom of the net making just four field goals in 15 tries and scoring four of its seven free throws.
The Lady Govs closed to within one point, 56-55, on Shyra Brown's layup with 2:41 left but could not covert on their next three possessions – committing two turnovers and missing a jumper. Ball State made one of two free throws with 19 seconds remaining to extend its lead to two points. On the ensuing possession, Austin Peay lost control of the ball eight feet from the basket and fouled with 1.3 seconds remaining. Ball State's Mercedes Miller converted on each of the free throws to seal the victory.
Austin Peay opened the game with two three pointers and led by seven points, 19-12, with 10:30 remaining in the opening period. But Ball State erased that lead with a 15-3 run over the next 5:44 to take a 27-22 lead at the 4:46 mark. The Cardinals would nurse that advantage to halftime and led 34-29 at the break.
Senior Whitney Hanley led the Lady Govs with 22 points on 7-of-15 shooting and a 6-of-6 effort from the free-throw line. However, she was unavailable over the final 1:02 after fouling out of the contest. Junior Leslie Martinez overcame a slow start to record her season's second double-double – a 10-point, 11-rebound performance.
Carter led Ball State with 17 points, including four three pointers. Suzann Grossnickle added a 14-point, 11-rebound effort off the bench. Ball State won despite making just seven second half field goals.
Last Time Out
Vanderbilt Downs Lady Govs
November 28th, 2012
Nashville, TN – Austin Peay State University women's basketball team suffered through one of its worst halves in recent history, scoring nine second-half points in a 67-36 loss to Vanderbilt, Wednesday night at Memorial Gymnasium.
Austin Peay (1-5) was just 3-of-28 (10.7 percent) from the floor in the second half and had two stretches where it missed 13 consecutive shots. Only four Lady Govs scored in the period, including freshman Tiasha Gray who hit one of her four three-pointers in the period.
Despite the Lady Govs shooting woes, Vanderbilt (4-3) could only build an 11-point lead in the opening 10 minutes. It took a 16-0 run over a stretch of four minutes later in the half to expand its lead to 28 points.
Austin Peay's second half woes overshadowed a first-half performance that saw it keep pace with homestanding Vanderbilt. The Lady Govs did trail by nine points with 5:13 left in the period, but Gray hit two of her three point shots in that final stretch, the latter cutting the deficit to two points, 27-25, with 1:27 left.
The Lady Govs tied the game on its next possession thanks to senior Kaitlyn Hill's turnaround hook shot. However, the Commodores took a 29-27 halftime lead after Clair Watkins' layup.
Gray led Austin Peay with a career-best 12 points, making 4-of-6 from three point range. Hill was next on the Lady Govs scoring list with six points.
Tiffany Clarke led Vanderbilt with 19 points and seven rebounds. The Commodores shot just 39.6 percent from the floor, but easily outpaced the Lady Govs 23.2 percent shooting effort.
Head Coaches
Austin Peay – Carrie Daniels (Austin Peay, 1996) is 73-121 (.376) in her seventh season as a head coach at Austin Peay.
Ball State – Brady Sallee (Thomas More, 1993) is 2-5 (.400) in his first season at the school and 138-114 (.548) in his 12th season as a head coach.
Series
Ball Stats leads, 2-0 (1st meeting in Clarksville) | Streak: Ball State, two wins | Daniels vs. BSU: 0-1
Radio
Governors Sports Network (David Loos, play-by-play and Van Stokes, analyst)
Live Stats
www.LetsGoPeay.com | Live Audio: www.LetsGoPeay.com | ipTV: www.OVCDigitalNetwork.com
Next Game
The Austin Peay Lady Govs travel to Murfreesboro, TN to take on the Middle Tennessee Blue Raiders Tuesday, December 4th.
Tip off is at 11:00am