Clarksville, TN –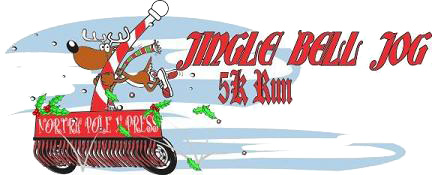 On Saturday, December 1st, 2012 downtown Clarksville was packed with over 429 runners adorned in Christmas themed outfits for the fourth annual Jingle Bell Jog. The City of Clarksville and Run for a Reason founded by Eddie Ferrell and Casey Jenkins hosted a one mile fun run and a 5k to raise money for a local charity.
This year all proceeds are going to The Food Initiative. The Food Initiative is a non-profit organization that hires high school students from Montgomery County and Fort Campbell to plant and harvest food for local organizations.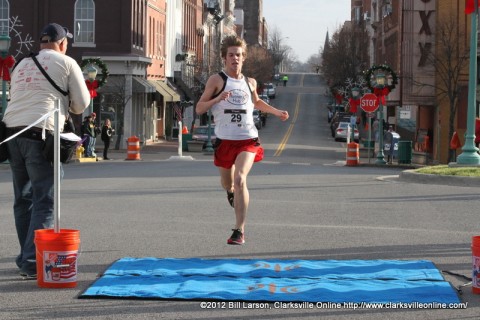 "We hope to raise in the ballpark of $8000 for The Food Initiative," the race director Eddie Ferrell said. "I'd like to thank the runners, sponsors, Parks and Recreation, downtown businesses and volunteers especially Clarksville Running Club for making this event successful."
The winner of the Jingle Bell Jog 5k was 18 year old Alex Haycraft with an impressive time of 17:03. The race organizers handed out awards to the winner of the one mile, winner of overall 5k race and top three finishers of each age group. They also handed out awards to Best Head Gear, Best Socks and Best Costume. One participant ran the 5k dressed as a Christmas tree dropping garland and ornaments along the route.
Photo Gallery
Results
Here are the unofficial results of 2012 Jingle Bell Jog:
Male Open Winners

Alex Haycraft – 17:03
Humberto Ruiz – 18:14
Travis Spahr – 18:19

Male 19 & under

John Knopf – 20:04
Blake Davis – 20:39
Carlos Cabello – 20:52

Male 20-24

Gerald Morgan – 19:00
Alex Deets – 19:51
Brandon Faubion – 30:32

Male 25-29

Taylor Murphy – 19:47
Michael Lepkowski – 20:45
Spencer Shimon – 23:02

Male 30-34

Aurelio Varela – 21:09
Jon Pojanowski – 21:23
Jan Salcedo – 22:14

Male 35-39

Shanon Gayheart – 21:19
Paul Kahle – 21:34
David Claybrook – 23:54

Male 40-44

Kurt Kowalski – 20:08
James Williams – 21:05
Phil Rueff – 22:27

Male 45-49

Grant Carrol – 25:29
Thom Spigner – 25:50
Rick Hackwell – 28:58

Male 50-54

John Knopf – 21:16
Robert Black – 21:21
James McGar – 29:54

Male 55-59

Michael Boisseau – 24:54
John Waddle – 48:48

Male 60 & over

Rudy Johnson – 28:13
Greg Troupe – 32:06
Mark Kelly – 37:00

Female Open Winners

Jill Standley – 20:42
Aprile Denny – 21:37
Shannon Barger – 22:35

Female 19 & under

Gabby Rueff – 22:36
Anna Thomsen – 22:40
Whitney Kaiser – 24:08

Female 20-24

Christine Devlin – 24:07
Emily Eayre – 25:33
Rebecca Kunz – 30:31

Female 25-29

Fran Glass – 24:11
Jamie Throgmorton – 24:24
Shauna Manghelli – 24:40

Female 30-34

Hilary Camphouse – 24:01
Kelli Elliott – 24:24
Staci Martin – 24:46

Female 35-39

Janel Rambo – 22:41
Angel Whidden – 23:06
Yvette Dwyer – 23:54

Female 40-44

Marlene Deem – 27:17
Jennifer Harper – 27:37
Kelly Galbraith – 28:59

Female 45-49

Kelly Bontrager – 24:23
Stacy Mcgaha – 25:40
Shannan Miller – 26:39

Female 50-54

Mary Baumgarten – 25:02
Marsha Zenker – 26:09
Debra White – 28:58

Female 55-59

Alice Thompson – 24:13
Beverly Taylor – 35:53
Valerie Hunter-Kelly – 37:12

Female 60 & over

Kyong Craig – 33:08