Austin Peay Governors vs. UT Martin
Saturday, January 5th, 2013 | 6:00pm
Elam Center| Martin, TN

Martin, TN – After three straight excruciating defeats, including the last two by two points, Austin Peay will attempt to find that winning formula, 6:00pm, Saturday when it plays UT Martin at the Elam Center.

The Governors are coming off an 86-84 defeat at Southeast Missouri that saw the visitors control much of the second half. But in a span of a little more than three minutes the Govs watched a six-point lead become a seven-point deficit with 2:30 left in the game.  APSU valiantly rallied down the stretch but SEMO made 10 straight free throws to hang on in APSU's first OVC contest.

It was another difficult defeat in the Govs' current seven-game losing streak, a streak that has seen the Govs lose in a variety of ways.  It was a game that saw both Travis Betran (30 points) and Will Triggs (29 points and 11 rebounds) record career scoring highs.

But APSU will have little time to digest its most recent loss. And they will have to attempt to bounce back against a team in UT Martin that also is amidst a seven-game losing streak. The Skyhawks are coming off an 11-point loss to heavily favored Murray State, also on Thursday.
Fastbreak
This will be the fifth of five straight games played by the Govs away from Dave Aaron Arena. The Govs return home, 7:00pm, Wednesday, to play Morehead State.
APSU enters the game seeking to snap a seven-game losing streak after losing 86-84, Thursday, to Southeast Missouri. It was APSU's second straight two-point defeat.
UT Martin also comes in amidst a seven-game losing streak. The Skyhawks are 0-3 after losing at home to Murray State, 73-62, Thursday night.
Jason James is in his fourth season at UT Martin, owning a 23-85 record. The UTM position is his first as a head coach.
Sophomore forward Myles Taylor leads UTM in scoring, averaging 16.3 ppg along with 7.3 rpg. He also is shooting an impressive 82.5 percent at the free throw line.
Although he comes off the bench, career 1000-point scorer Mike Liabo is averaging 12.9 ppg.
Guard Terrence Smith, who got off to quick start as a freshman two years but since has battled health issues, played in his third game since returning from a broken ankle and scored 10 points against Murray State.
What You Should Know
The Series: This is the 92nd meeting between the two Ohio Valley Conference foes, Austin Peay and UT Martin, with the Govs holding a decisive 67-24 advantage. The Governors swept last season's two meetings and have won the last six games in the series.
Deeper Meanings
What A Win Would Mean: The Govs would snap a seven-game losing streak, improving to 5-11…they would go to 1-1 in OVC play…they would even their January record at 1-1…it would be the Govs' first road victory of 2012-13…they would go to 68-24 all-time against UT Martin… it would make Dave Loos 7-0 against UTM coach Jason James…. it would be Loos' 450th career victory.
What A Loss Would Mean: The Govs would drop eight games below the .500 mark at 4-12…the Govs lose their eighth straight game…the Govs would open OVC play with consecutive losses for a second straight year…the Govs would drop to 0-7 on the road this season…the Govs would fall to 0-2 in January… it would be Dave Loos' 322nd APSU loss and 375th all-time.
Triggs-Onomics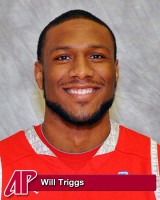 Junior Will Triggs scored a career-high 29 points against Southeast Missouri, on 14-of-17 shooting (career-best 14 shots made, season-high 82.4 percent shooting from the field), and pulled down a career-high tying 11 rebounds for his season's first double double (career's third).
Triggs' previous career high was 25 as a freshman.
Assisted Living
The Govs' 23 assists against SEMO were the most Austin Peay tallied against a Division I foe this season.
B-Train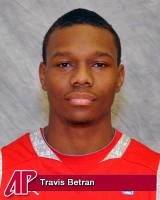 Junior Travis Betran scored 12 of the Govs' first 21 points. He finished with a career-high 30 points, his first as a Gov and the first 30-point outburst by an Austin Peay player since John Fraley's 31-point performance against Tennessee Tech, February 2nd, 2012.
Betran also hit a career high 12 shots from the floor, including a career-high tying six three-pointers, and tied a career high with five assists.
Anomaly
When APSU lost to SEMO, Thursday, it was the third time this season the Govs have lost when shooting 50 percent of better. APSU also lost games to Memphis and Arkansas State when making at least half their shots.
Over the previous two seasons the Govs lost just six times when shooting 50 percent or better from the floor.
11 And Counting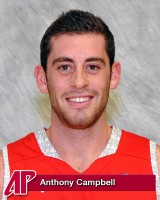 In the previous two seasons, forward Anthony Campbell never got to play in Game No. 11. After game No. 10 of 2010-11, he tore the ACL in his left knee during practice. In 2011-12, Campbell tore the ACL in the same knee in Game No. 10 against Arkansas State.
He celebrated No. 11 this season by scoring a career-high 25 points, including a trio of three pointers against Lipscomb. But he followed that up with three more 20-point outings against Illinois State, including five three pointers; Utah Valley and High Point, a game in which he also was one rebound shy of a double-double.
His 20-point streak stopped at SEMO when he was held to 11 points, but his one three pointer moved him past Vincent Brooks into sole possession of seventh place for all-time APSU three pointers made.
Matt-er Of Fact
After not attempting a three-pointer in the first 39 games of his college career, junior center Matt Hasse
is 2-for-2 from beyond the arc over the last two games. He also has played 29 minutes in the last two games.
From Walk On To Starter
With senior point guard Jerome Clyburn out indefinitely with a hamstring injury and APSU's other point guards struggling with turnovers, APSU's coaching staff turned to a player against Lipscomb who joined the Govs practice sessions a little more than a week earlier.
Jeremy Purvis, who played at Clarksville's Northeast High School before playing junior college basketball for two seasons at Jackson State, got the starting nod against Lipscomb. He ended up playing 32 minutes and dishing out five assists. More importantly, he had just one turnover against the Bisons.
He then started and played 34 minutes against Illinois State, scoring his first points. He also started both games of the Dr. Pepper Classic scoring nine points versus Utah Valley while dishing out four assists against High Point.
After a slow start versus SEMO, he finished with four assists and two steals. In going 2-of-3 from three-point range, he is now 7 of-14 from three in his abbreviated college career.
Top 10 Travis
In going 6-of-10 from three-point range against Southeast Missouri, junior guard Travis Betran has moved up to seventh place nationally in three-point percentage at 49.5 percent. His six three pointers also tied his previous season best against Utah Valley and matched freshman Cory Arentsen, who had six against Berea.
Media Center
Radio: Governors Radio Network
Play-by-Play: Greg Walker
Analyst: David Loos
Statistics: Patrick Miller
WVRY 105.1-FM
Sections
Sports
Topics
Anthony Campbell, APSU, APSU Athletics, APSU Basketball, APSU Dunn Center, APSU Men's Basketball, APSU Sports, Arkansas State, Austin Peay State University, Berea, Bisons, Cory Arentsen, Dave Aaron Arena, Dave Loos, David Loos, Dr Pepper Classic, Elam Center, Governors, Governors Radio Network, Govs, Greg Walker, High Point, Illinois State, Jackson State, Jason James, Jeremy Purvis, Jerome Clyburn, John Fraley, Lipscomb, Martin TN, Matt Hasse, Memphis, Mike Liabo, Morehead State, Murray State, Myles Taylor, Northeast High School, Ohio Valley Conference, OVC, Patrick Miller, Redhawks, SEMO, Skyhawks, Southeast Missouri, Tennessee Tech, Travis Betran, UT-Martin, Utah Valley, Will Triggs, WVRY 105.1 FM