Nashville, TN – Senior Chantelle Grey made it two wins in the 800m run at Vanderbilt this season and two school records fell for Austin Peay State University women's track and field team at Saturday's Vanderbilt Invitational.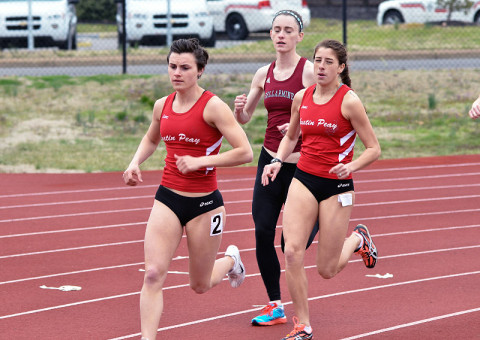 Grey's season-best 2:07.18 mark extended her lead in the OVC to more than two seconds over SIU Edwardsville's Aftan Noon. She won the event by more than a second over Vanderbilt's Kristen Findley and moved her into 31st in the NCAA East region rankings.
"Chantelle continues to impress," said head coach Doug Molnar. "She ran a solid 800m in a really strong field."
Two Austin Peay records fell in late Friday action. Junior Kendra Kirksey placed seventh in the 3000m steeplechase with an 11:21.60 run, breaking her own school record, while junior Xiamar Richards broke Bertha Castillo's 2007 mark in the 5000m run with a 17:35.94 mark, placing 15th.
Freshman Breigh Jones had a phenomenal Saturday as well, posting a personal-best 54.87 mark to take fifth in the 400m run. That moves her into third among OVC competitors in the event, right behind Tennessee State's Ashontae Jackson – who placed fourth ahead of Jones at Vanderbilt.
Erika Adams continues to run well during the outdoor campaign. She finished 10th in the 100m dash (12.20) and joined Jones and freshmen Anotonia Stevenson and Lamontra Robinson to take sixth in the 4x100m relay with a 47.60 mark.
"I'm very proud of Breigh," Molnar said. "She had a personal-best in the 400 and 200 and led us in the relay. She gets better each week."
In 4x400m action Jones, Grey, sophomore Natalie Olberding and freshman Taelor Slaughter teamed up for a fourth-place, 3:47.12 run.
Senior Nichole Bressner hit 3.46m in the pole vault, her second-best career mark, en route to a sixth-place finish, while senior Jasmine Foster took eighth in the discus with a personal-best 39.44m toss.
In late Friday action, senior Cenitra Hudson built on last week's sixth-place finish at the Hilltopper Relays with a fifth-place, 5.38m mark. Saturday, the Memphis native earned a fourth-place tie in the triple jump with a season-best 11.91m leap.
Austin Peay hosts a tri-match with Tennessee Tech and Murray State, 2:00pm, Tuesday, at Governors Stadium. The event is free and open to the public.
"I think we had an outstanding weekend, top to bottom," Molnar said. "We had a number of great performances. We're excited to go into Tuesday's meet and get ready for conference."