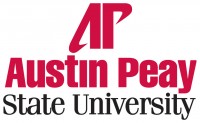 Clarksville, TN – Four Austin Peay State University professors were singled out Monday by their students and peers as exceptional teachers this year, earning them one of the University's top distinctions for tenure-track faculty members.
Dr. Lynn Sims, assistant professor of languages and literature; Dr. Eric Branscome, assistant professor of music; Dr. Grace Moodt, associate professor of nursing; and Dr. Rebecca Johansen, associate professor of biology, were named this year's Socrates Award winners, an honor bestowed by APSU annually to teachers who have excelled in motivating and inspiring their students.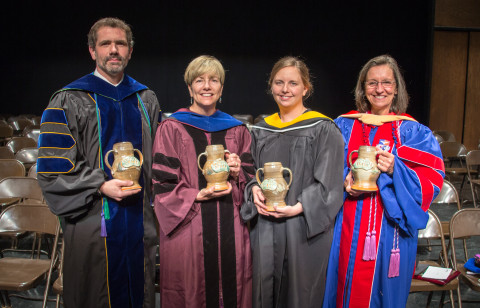 Sims joined the faculty in 2008 to teach both English and linguistics courses, and she has quickly gained a reputation as a demanding and accomplished teacher.  By her second semester on campus, students began making their way to Dr. David Guest's office, asking him as chair of the languages and literature department to establish a minor in linguistics. On one occasion, six students crowded into Dr. Guest's office to make the request.
"Linguistics had long been a part of the department's curriculum," Guest said, "but students often treated it as something they were obligated to study rather than as a subject to pursue. The increased demand for linguistics courses after Dr. Sims arrived on campus led to dramatic changes in both her schedule and in the department's curriculum."
Branscome joined the APSU faculty two years ago, but he has already established strong connections with the Clarksville community. He developed an annual children's concert in cooperation with the Gateway Chamber Orchestra, and he has initiated a successful summer music education program for children through the Community School for the Arts, titled "Camp Granada."  He also hosted monthly music education classes at the public library, and he involves APSU music education students in these programs. All of these programs give APSU students invaluable teaching experience.
"In observing Dr. Branscome," Dr. Douglas Rose, chair of the music department, said, "our students are provided with an excellent role model for teaching music at the primary and elementary levels."
Dr. Patty Orr, director of the APSU School of Nursing, praised Moodt for researching new teaching methods and incorporating active learning into classrooms.
"Dr. Moodt makes the classroom come alive," Orr said, "and her preparation for her classes is outstanding in order to assure the student is actively thinking and applying problem analysis to all theory presented in the classroom."
Moodt is the course coordinator for a sophomore-level Concepts of Professional Nursing class, which oversees 52 first-semester nursing students. She also coordinates a senior-level maternal child-nursing course, which is an eight-hour clinical class that includes lectures, labs and clinical experiences for approximately 50 students. Moodt has also recently developed a master's in nursing-level course, titled Maternal and Prenatal Nursing, which is part of the University's M.S.N. program.
After a two-year postdoctoral appointment at the Florida Museum of Natural History, Johansen joined the APSU Department of Biology in August 2009. The position required Johansen to split her time as a teacher for the department and as a researcher for the Center of Excellence for Field Biology. She has earned more than $100,000 in grants and contracts, and her extensive publication and presentation history left little doubt about her skills as a researcher. What initially concerned Dr. Steve Hamilton, director of the center, was her limited teaching experience. He soon realized he had nothing to worry about.
"Having chaired on the search committee for her position," Hamilton said, "I am very proud to brag about the fine choice we made when we offered the position to Dr. Johansen. In the three and half years at Austin Peay, she has proved herself a great teacher, a model for undergraduate and graduate research mentorship, and a leader at all levels of the University. She does this while continuing to maintain a stellar research program in ichthyology."
The four faculty members were presented with their awards during a ceremony on April 29th.