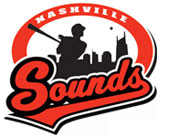 Round Rock, TX – The Nashville Sounds dropped game three to the Round Rock Express Sunday afternoon at Dell Diamond, unable to recover from a five-run fourth inning put up by the home team. The 5-1 loss is Nashville's ninth consecutive and 11th road loss in a row.
After making quick work of the Express through the first three innings, starting pitcher Johnny Hellweg (1-4) ran into trouble in the fourth, allowing Round Rock five runs.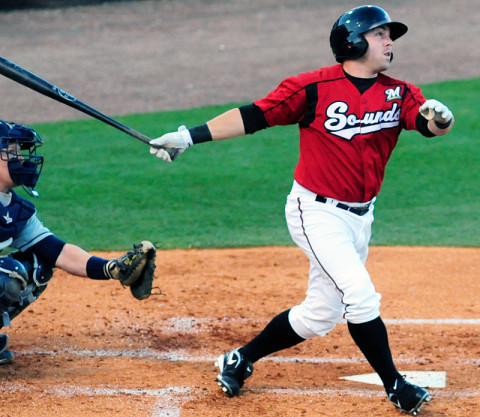 The 6-foot-9 hurler loaded the bases before recording the first out on a double play. The two-out play tied the game for Round Rock, scoring Jurickson Profar from third and moving Chris McGuiness to third.
A wild pitch from Hellweg plated the go-ahead run for Round Rock and a double from Greg Miclat scored two runs to end Hellweg's day at 75 pitches. Reliever Kyle Heckathorn entered to close the inning, but not before Miclat scored on Eli Whiteside's base hit to make it 5-1 in favor of the Express.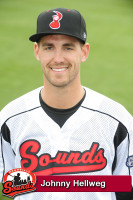 Hellweg took the loss, his fourth, charged with all five runs on three hits through 3 2/3 innings of work. He fanned two and walked five, marking the most free bases offered in a game by a Sounds pitcher this season. Four of the five walks came in the fourth inning.
Sounds relievers worked a clean second half of the game as Heckathorn went 2 1/3 innings without allowing a run while striking out four. Jesus Sanchez followed up with two scoreless frames of his own, limiting the Express to one hit and fanning two.
Nashville plated the first run of the game off the bat of Hunter Morris to grab the 1-0 lead in the second inning. The shallow single landed just fair in left field to drive in Sean Halton, who tripled to the corner in right to reach base.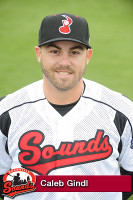 Caleb Gindl, Blake Davis and Stephen Parker recorded Nashville's only other hits, each with a single. The base knock by Parker in the eighth inning extended the infielder's hit streak to eight games, his longest of the year, batting .281 (9-for-32) in that time.
Also of note, the Sounds second baseman Scooter Gennett drew a walk in his final at-bat of the day to allow the 23-year-old to reach base safely in all 24 of his starts this season.
Notching the win for Round Rock was reliever Richard Bleier (1-1), who limited Nashville to one hit through 3 1/3 innings, striking out three and walking one.
The Sounds wrap their second road trip with the series finale against Round Rock on Monday for a midday 12:05 start, looking to avoid going 0-for-8 on the trip. Nashville sends RHP Tyler Thornburg (0-3, 5.59) to the hill against Round Rock's RHP Josh Lindblom (4-0, 1.42). Baseball returns to Greer Stadium Tuesday, May 7, as the Sounds host the Fresno Grizzlies (AAA-Giants).
Box Score
Round Rock Express (18-12) 5, Nashville Sounds (7-21) 1
May 5th, 2013
1
2
3
4
5
6
7
8
9
R
H
E
Nashville Sounds
0
1
0
0
0
0
0
0
0
1
5
0
Round Rock Express
0
0
0
5
0
0
0
0
x
5
7
0
 BATTING
3B: Halton (1, Wolf).
TB: Halton 3; Davis, B; Parker, S; Gindl; Morris, H.
RBI: Morris, H (13).
Runners left in scoring position, 2 out: Davis, B 3.
GIDP: Prince.
Team RISP: 1-for-5.
Team LOB: 7.BASERUNNING
CS: Prince (2, 2nd base by Wolf/Whiteside), Gennett (3, 3rd base by Meek/Whiteside).FIELDING
DP: (Davis, B-Gennett-Morris, H).
BATTING
2B: Miclat (3, Hellweg).
TB: Whiteside 2; Adduci; Miclat 3; Cunningham, A; Profar.
RBI: Miclat 2 (6), Whiteside (7).
2-out RBI: Miclat 2; Whiteside.
Runners left in scoring position, 2 out: Solarte; Whiteside.
GIDP: Cunningham, A.
Team RISP: 2-for-5.
Team LOB: 7.BASERUNNING
CS: Adduci (2, 2nd base by Hellweg/De La Rosa, A).FIELDING
DP: 2 (Solarte-Miclat-McGuiness, Whiteside-Solarte).
Round Rock Express
Player
IP
H
R
ER
BB
SO
HR
ERA
Ross Wolf
3.2
3
1
1
4
1
0
1.77
Richard Bleier (W, 1-1)
3.1
1
0
0
1
3
0
4.02
Evan Meek
1.0
1
0
0
1
1
0
3.48
Cory Burns
1.0
0
0
0
0
2
0
0.00
Totals
9.0
5
1
1
6
7
0
3.42
WP: Hellweg.
Balk: Hellweg.
Pitches-strikes: Hellweg 75-37, Heckathorn 43-26, Sanchez, Je 36-24, Wolf 69-34, Bleier 39-24, Meek 16-8, Burns 8-8.
Groundouts-flyouts: Hellweg 3-3, Heckathorn 2-1, Sanchez, Je 0-1, Wolf 5-3, Bleier 4-1, Meek 0-0, Burns 1-0.
Batters faced: Hellweg 17, Heckathorn 11, Sanchez, Je 8, Wolf 17, Bleier 11, Meek 4, Burns 3.
Inherited runners-scored: Heckathorn 1-1, Bleier 3-0.
Umpires: HP: Scott Mahoney. 1B: Blake Davis. 2B: D.J. Reyburn. 3B: Stephen Barga.
Weather: 68 degrees, sunny.
Wind: 12 mph, L to R.
T: 2:52.
Att: 7,920.