Tempe, AZ – Austin Peay State University has ground to gain if the Governors are going to be one of the five teams to advance from the NCAA Tempe Golf Regional, Saturday.
The Governors, who for the most part kept out of trouble from the tees, could not get many putts to drop, Friday, and, as a result, shot a second-round 286 and find themselves in a eighth-place tie with a two-day 564 total, six shots out of fifth place. UCLA, as expected, is running away with it, shooting a second-round 273 for a 541 total on the par-70 ASU Karsten Golf Club.
Central Florida is second (280-272=552), with Georgia third (280-274-554), followed by Texas A&M (280-277=557). Duke (278-280=558) and host Arizona State (284-274=558) are tied for fifth.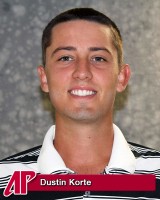 "We couldn't make any putts…that was the theme today," APSU coach Kirk Kayden said. "We hit a lot of good shots, we were competing hard. A number of them knocked it in there close but we were just not able to capitalize."
"Sometimes that's just golf. You give yourself opportunities and they just slide by the edges. We had a couple of high numbers there near the end that cost us a few shots but we have proven all year we can come back."
Senior Dustin Korte, who played bogey-free golf In shooting 64, Thursday, could not muster the same performance, Friday. Still he scrambled for a 1-over 71. He didn't record his first bogey until No. 6 on Friday. Thursday's co-leader now is tied for third overall at 5-over 135.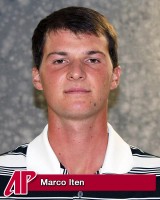 In fact, he is tied with teammate Marco Iten, who put together his second impressive round, shooting an impressive bogey-free 67, Friday. It included birdies on Nos. 6, 14 and 16, with the first and last being par 3s and No. 14 being a par 5.
"Marco played just super solid golf today," Kayden said. "I watched him play five or six holes and he had many more opportunities to go even lower. He buzzed the edge (of the cup) all day long.
"He hit the ball phenomenally all day—he hit a lot of fairways and a lot of greens. If he gets that putter rolling, he is really tough."
Kayden has been impressed with the maturity the junior from Niederglatt, Switzerland has displayed since arriving in Arizona, Monday.
"He has really been able to embrace the situation this week as far as pressure and everything else," Kayden said. "He has just gone about his business just doing his thing. A tremendous job in carrying us today and keep us with some hope for tomorrow."
Korte and Iten were selected All-Ohio Valley Conference performers as was junior Anthony Bradley, who has shown flashes of that ability this week. He finished at 2-over 72 on Friday, making him 5-over 145 for the two days.
The 18th hole got to freshman Chris Baker and sophomore Tucker Wallace. With a narrow fairway bordered by a lake to the left and pothole bunkers on the right, Baker ended with a triple bogey, finishing at 77, while Wallace doubled the hole, ending at 75.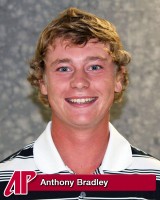 Only Bradley was able to escape trouble from the tee at No. 18. Korte's tee shot hit the cart path, ending in the bunker while Iten's shot rolled through the bunker and settled on a steep slope. Both made near miraculous recovery shots to avoid bogeys.
As a result, the Governors still remain within striking distance of the program's first NCAA championship berth. The tourney will be played May 28th-June 2nd, at the Capital City Club/Crabapple Course in Atlanta, GA.
"We have played in tournaments where we have been down 9, 10, 11 shots and gone out and had a phenomenal day and won. We definitely have something to play for tomorrow. Seven shots is very doable if we can get some putts to drop and have a great day."
Box Score
2013 NCAA SW Region
Karsten Golf Course
Par 70 – 7036 Yards
Current
Position
Team
Scoring
Rounds
Total
Score
to par
thru
today
1
2
1
-19
F
-7
268
273
541
2
-8
F
-8
280
272
552
3
-6
F
-6
280
274
554
4
-3
F
-3
280
277
557
T5
-2
F
-6
284
274
558
T5
-2
F
E
278
280
558
The top 5 teams advance to the Championship
(Ties will be resolved.)
7
+1
F
+1
280
281
561
T8
+4
F
-1
285
279
564
T8
+4
F
+5
279
285
564
10
+8
F
-4
292
276
568
11
+9
F
+6
283
286
569
12
+14
F
+14
280
294
574
13
+18
F
+10
288
290
578
14
+36
F
+15
301
295
596
| | | | | | |
| --- | --- | --- | --- | --- | --- |
| Currently | School – Players | Round 1 | Round 2 | | Totals |
| T 8 | Austin Peay State University | 279 | 285 | | 564 |
| T 3 | Marco Iten (3) | 68 | 67 | | 135 |
| T 3 | Dustin Korte (2) | 64 | 71 | | 135 |
| T 49 | Anthony Bradley (1) | 73 | 72 | | 145 |
| T 63 | Tucker Wallace (5) | 74 | 75 | | 149 |
| T 71 | Chris Baker (4) | 77 | 77 | | 154 |
| | | | | | |