Nashville's Hellweg Throws Six Scoreless; Khris Davis Homers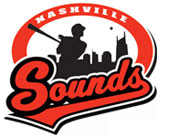 Salt Lake City, UT – The Nashville Sounds enjoyed a 7-2 victory over the Salt Lake Bees Thursday night at Spring Mobile Ballpark, highlighted by a five-run fifth inning and a quality start from pitcher Johnny Hellweg (2-4). The win snapped Nashville's five-game losing streak.
Silencing the Bees early was Hellweg, who scattered four hits over six scoreless innings for the Sounds en route to his second win of the year and first since April 6th. The 6-foot-9 hurler walked six and fanned one, at times touching 101 mph on the in-park radar gun.
The win is the first by a Nashville starting pitcher in the club's last 33 games, dating back to Frankie De La Cruz's quality-start win versus Oklahoma City on April 8th. Hellweg escaped a bases-loaded two-out jam in the sixth to notch the Sounds first quality start since Mike Fiers' six-inning stint on May 3rd at Round Rock.
Offensively, the Sounds struck first in the third inning with second baseman Scooter Gennett's RBI-triple into centerfield. The liner was driven just over a diving Trent Oeltjen and rolled to the track. Right-fielder Scott Cousins was there to back up the play, which prevented Gennett from trying for an inside-the-park home run.
The three-bagger marks the 31st game in 32 starts in which Gennett has reached base safely. The drive scored Blake Davis, who had singled down the left-field line.
In the fourth inning, right-fielder Khris Davis drew a lead-off walk, stole second base, and moved to third on Stephen Parker's groundout before scoring on a single from catcher Anderson De La Rosa. The knock made it 2-0 Sounds and extended De La Rosa's hitting streak to eight games, matching his previous best this season.
Salt Lake starting pitcher Kip Wells (1-3) gifted a run for the Sounds in the 5th with three consecutive walks to lead-off the inning and one balk that scored Blake Davis. Outfielders Caleb Gindl and Khris Davis added to Wells' struggles by tacking on a pair of two-run hits.
Gindl hit a bases-clearing double to put the Sounds up 5-0 and Khris Davis launched a home run to left-center field for a 7-0 advantage. Khris Davis, who went 1-for-4, has nine hits with the Sounds this season and five are home runs. He has recorded four homers over his last four games.
At the end of the 7th inning, Sounds first baseman Sean Halton was ejected from the game by home plate umpire Gerard Ascani, after arguing a called strike three on his check swing. Halton finished 0-for-3 with a walk. Blake Lalli, optioned to Nashville from the Milwaukee Brewers the night before, manned first for Nashville's final three defensive innings.
The Bees spoiled the Sounds hopes of recording their third shutout of the season by plating a run in the seventh inning off reliever Travis Webb. Salt Lake drew a one-out walk and cashed in the run on Brad Hawpe's double into left field.
Relievers Kyle Heckathorn and Mike Olmsted each logged one inning on the bump for Nashville. Heckathorn fanned two and walked one in the eighth. Olmsted entered in the ninth to surrender one run on two hits and one walk before closing out the game with a strikeout. Oeltjen's RBI-single off Olmsted scored Cousins.
The Sounds try for back-to-back wins Friday night at 7:35pm against the Bees in game two of the four-game series. RHP Tyler Thornburg (0-4, 5.59) gets the nod for Nashville against a Salt Lake's A.J. Schugel (0-2, 5.59).
Baseball returns to Greer Stadium on Friday, May 24th, as the Sounds host the Albuquerque Isotopes (AAA-Dodgers) to a four-game set. The game will feature a postgame fireworks show.
Box Score
Nashville Sounds (11-27) 7, Salt Lake Bees (19-22) 2
May 16th, 2013
| Final | 1 | 2 | 3 | 4 | 5 | 6 | 7 | 8 | 9 | | R | H | E |
| --- | --- | --- | --- | --- | --- | --- | --- | --- | --- | --- | --- | --- | --- |
| Nashville Sounds | 0 | 0 | 1 | 1 | 5 | 0 | 0 | 0 | 0 | | 7 | 9 | 0 |
| Salt Lake Bees | 0 | 0 | 0 | 0 | 0 | 0 | 1 | 0 | 1 | | 2 | 7 | 0 |
BATTING
2B: Gindl (9, Wells, K).
3B: Gennett (3, Wells, K).
HR: Davis, K (5, 5th inning off Wells, K, 1 on, 0 out).
TB: Prince; De La Rosa, A 2; Gennett 3; Davis, B 2; Davis, K 4; Statia; Gindl 2.
RBI: Gennett (10), De La Rosa, A (8), Gindl 2 (20), Davis, K 2 (12).
2-out RBI: De La Rosa, A.
Runners left in scoring position, 2 out: Gindl 2; Prince 2.
Team RISP: 3-for-11.
Team LOB: 7.BASERUNNING
SB: Davis, K (1, 2nd base off Wells, K/Carlin), Davis, B (3, 3rd base off Wells, K/Carlin).FIELDING
DP: 2 (Gennett-Davis, B-Halton, Hellweg-Davis, B-Halton).
a-Flied out for Young, M in the 8th.
BATTING
2B: Hawpe 2 (6, Hellweg, Webb).
TB: Cousins; Hawpe 4; Hall; Oeltjen; Romine, A; Long, M.
RBI: Hawpe (16), Oeltjen (11).
2-out RBI: Hawpe; Oeltjen.
Runners left in scoring position, 2 out: Rodriguez, L 3; Hall; Young, M 2; Oeltjen; Long, M 2.
GIDP: Oeltjen, Cousins.
Team RISP: 1-for-10.
Team LOB: 13.BASERUNNING
SB: Romine, A (4, 2nd base off Hellweg/De La Rosa, A).
Wells, K pitched to 5 batters in the 5th.
WP: Olmsted.
Balk: Wells, K.
HBP: Young, M (by Hellweg).
Pitches-strikes: Hellweg 99-53, Webb 19-11, Heckathorn 19-12, Olmsted 23-15, Wells, K 70-28, Berg 39-27, Carpenter, D 20-13, Cabrera 10-7.
Groundouts-flyouts: Hellweg 10-3, Webb 0-1, Heckathorn 0-1, Olmsted 0-1, Wells, K 4-3, Berg 1-3, Carpenter, D 1-0, Cabrera 1-0.
Batters faced: Hellweg 27, Webb 5, Heckathorn 4, Olmsted 6, Wells, K 22, Berg 10, Carpenter, D 6, Cabrera 3.
Ejections: Nashville Sounds first baseman Sean Halton ejected by HP umpire Gerard Ascani (7th)
Umpires: HP: Gerard Ascani. 1B: Joel Hospodka. 3B: Tom Woodring.
Weather: 76 degrees, cloudy.
Wind: 14 mph, Out to RF.
T: 3:18.
Att: 10,048.