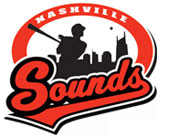 Nashville, TN – Despite twice rallying to tie the game Sunday at Greer Stadium, the Nashville Sounds were unable to keep up with the New Orleans Zephyrs, who defeated the home team by the score of 8-5. The Nashville loss gives New Orleans the series win with still one game to go.
Knotted up at four runs apiece in the seventh inning, the Zephyrs worked a run off reliever Johnnie Lowe (0-1), who was in to pitch his fourth inning and final inning, as Kyle Skipworth connected for a two-out, RBI-double that gave New Orleans a lead they never relinquished.
Lowe was charged with the loss, despite limiting the Z's to one run on three hits across four innings. Travis Webb entered in the eighth to face three batters, who he allowed to reach base via two hits and one walk.
Rob Wooten came in with the bases loaded and allowed all three inherited runners to score. Kevin Kouzmanoff hit a ground out to score Kevin Mattison; then with two outs, a fourth-ball wild pitch plated Donovan Solano. After fielding the pitch that caromed up the backstop netting, catcher Blake Lalli through errantly to Wooten, who was covering home, to give the Zephyrs their final run of the game.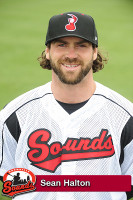 The Z's started out with three runs in the first inning off starter R.J. Seidel, but the Sounds quickly responded as outfielder Sean Halton continued his impressive hitting display by cranking a home run off the guitar scoreboard in left field.
The homer scored three runs to tie the game and extended Halton's hit streak to 12 games, which ties a career-best from the slugger. He finished the day a triple shy of the cycle.
The Zephyrs retook the lead in the fourth inning as Mattison opened the frame with a triple to right field before scoring on Solano's single. The RBI-knock ended Seidel's afternoon, finishing with four runs on four hits over three innings of work. The right-handed pitcher fanned two and walked a career-high seven batters.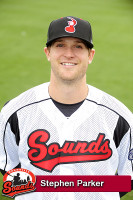 Seidel loaded the bases before recording an out to begin his troublesome first inning, and let in the first run by beaning Kouzmanoff. A fielder's choice ground out scored the Z's second run, which was followed by Gil Velazquez's RBI-single to make it 3-0.
The Sounds leveled the game for a second time in the home half of the sixth inning, using Khris Davis and Stephen Parker singles to move around Hunter Morris, who reached base on balls.
Only pitching 2/3 innings, New Orleans' James Leverton (1-1) picked up the win for New Orleans, while Jonathan Albaladejo recorded his third save.
The Sounds will wrap their homestand Monday night at Greer Stadium looking to avoid the series sweep to the New Orleans Zephyrs (AAA-Marlins). LHP Zach Kroenke (3-8, 4.53) gets the nod for Nashville opposite the Z's LHP Brad Hand (2-3, 3.19). Fans attending can enjoy $1.00 hot dots as a part of Dollar Dog Night.
Box Score
New Orleans Zephyrs (36-35) 8, Nashville Sounds (23-45) 5
June 16th, 2013
| Final | 1 | 2 | 3 | 4 | 5 | 6 | 7 | 8 | 9 | | R | H | E |
| --- | --- | --- | --- | --- | --- | --- | --- | --- | --- | --- | --- | --- | --- |
| New Orleans Zephyrs | 3 | 0 | 0 | 1 | 0 | 0 | 1 | 3 | 0 | | 8 | 9 | 0 |
| Nashville Sounds | 3 | 0 | 0 | 0 | 0 | 1 | 0 | 1 | 0 | | 5 | 9 | 1 |
a-Flied out for Leverton in the 7th. b-Popped out for Smith, J in the 9th.
BATTING
2B: Solano, D (1, Seidel), Mathis (1, Lowe), Skipworth (5, Lowe).
3B: Mattison (5, Seidel).
TB: Solano, D 4; Velazquez, G; Skipworth 2; Mahoney; Mattison 4; Mathis 2.
RBI: Kouzmanoff 2 (20), Mahoney (1), Velazquez, G (8), Solano, D (7), Skipworth (9).
2-out RBI: Skipworth.
Runners left in scoring position, 2 out: Skipworth 2; Kouzmanoff; Velazquez, G; Mattison; Smolinski; Hernandez, Go.
GIDP: Mathis, Kouzmanoff.
Team RISP: 4-for-17.
Team LOB: 11.BASERUNNING
SB: Hernandez, Go (18, 2nd base off Seidel/Lalli), Mahoney (1, 2nd base off Seidel/Lalli), Velazquez, G (1, 2nd base off Lowe/Lalli).FIELDING
Outfield assists: Mattison (Davis, K at 2nd base).
DP: (Solano, D-Velazquez, G-Mahoney).
a-Flied out for Lowe in the 7th. b-Grounded out for Wooten in the 9th.
BATTING
2B: Halton (16, Smith, J).
HR: Halton (8, 1st inning off Mathis, 2 on, 1 out).
TB: Lalli; Halton 7; Parker, S; Davis, K 2; Statia 2.
RBI: Halton 3 (29), Parker, S (19), Davis, K (19).
Runners left in scoring position, 2 out: Morris, H; Lalli.
SF: Davis, K.
GIDP: Parker, S.
Team RISP: 2-for-5.
Team LOB: 6.BASERUNNING
CS: Statia (2, 2nd base by Smith, J/Skipworth).FIELDING
E: Lalli (3, throw).
DP: 2 (Statia-Prince-Morris, H, Prince-Statia-Morris, H).
Seidel pitched to 2 batters in the 4th.
Webb pitched to 3 batters in the 8th.WP: Wooten.
Balk: Mathis.
HBP: Kouzmanoff (by Seidel).
Pitches-strikes: Mathis 97-55, Leverton 5-4, Smith, J 20-15, Albaladejo 16-10, Seidel 90-44, Lowe 63-39, Webb 12-6, Wooten 21-15.
Groundouts-flyouts: Mathis 5-1, Leverton 0-0, Smith, J 3-2, Albaladejo 2-1, Seidel 6-0, Lowe 6-3, Webb 0-0, Wooten 3-1.
Batters faced: Mathis 24, Leverton 2, Smith, J 8, Albaladejo 4, Seidel 20, Lowe 16, Webb 3, Wooten 7.
Inherited runners-scored: Leverton 2-1, Lowe 1-0, Wooten 3-3.
Umpires: HP: Kellen Levy. 1B: Shaun Lampe. 3B: Stu Scheurwater.
Weather: 88 degrees, overcast.
Wind: 8 mph, R to L.
T: 3:14.
Att: 3,406.
Venue: Herschel Greer Stadium.
June 16, 2013