Clarksville, TN – The Roxy Regional Theatre is currently staging their production of the Marvelous Wonderettes, a musical revue featuring some of the best music from the 1950's and 1960's. In Act I, the show takes back to 1958 where you attend the Springfield High School prom, and the four Wonderettes are providing the musical entertainment for the evening.
The lovely ladies performing as the Wonderettes at the Roxy Regional Theatre are Heather Gault as Betty Jean, Taylor Galvin as Cindy Lou, Ashley Harris as Missy, and Elena Pascullo as Suzy; four girls with hopes and dreams as big as their crinoline skirts!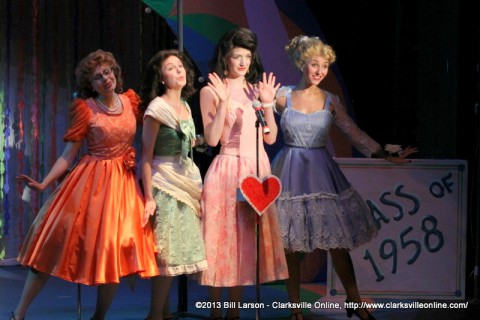 As the evening progresses we learn about their lives and loves, through the use of over 20 classic rock and roll songs from the '50s and '60s! Included in the show are "Lollipop," "Dream Lover," "Stupid Cupid," "Lipstick on Your Collar," "Hold Me, Thrill Me, Kiss Me," "It's My Party." You will find yourself unable to resist clapping and singing along with the Wonderettes as they perform these signature numbers. Directed and choreographed by Tom Thayer, "The Marvelous Wonderettes" is written by Roger Bean, creator of such audience-pleasing jukebox hits as "The Andrews Brothers" and "Route 66?.
"This has been such a great experience! We've had so much fun working at the Roxy while putting the show together," said Elena Pascullo. "We all have been living together and it's been great fun getting to know the girls! I've had a wonderful time!"
"My favorite part of the show has been, I think, has been finding little things that we can make a joke out of in between whatever it is that we're doing, finding those little moments where we connect together as characters or with the audience; basically just having the opportunity to make our characters that much more refined," said Ashely Harris. "I think living together has helped us get along both offstage and on, and it has really helped us to fully develop our characters."
"It's definitely a shortcut to having a strong friendship when you spend as much time together as we have, and as far as our rivalry goes, she (Taylor Gavin) is just delightful! We get along together like peas in a pod." said Heather Gault. "But it's funny because she's played this role before so she has actually seen how you do both sides of the rivalry"
"I didn't enjoy it," quipped Taylor Gavin; who then added, "I love this town, I love the people who run the Roxy Regional theatre, I'm having a blast. We definitely feel the support of the community when they come out. We have a great staff backstage that makes all the magic happen. Tom and John really have a great thing going down here in Clarksville!"
I then asked the girls if they had anything they wished to add, "Come on down and see the show," replied the girls in unison.
"The Marvelous Wonderettes" continues through June 29th, playing Wednesdays and Thursdays at 7:00pm and Fridays and Saturdays at 8:00pm. This production is made possible in part through the generous support of Publix.
Tickets are $20.00 (adults) and $15.00 (ages 13 and under) and may be purchased online at www.roxyregionaltheatre.org, by phone at 931.645.7699, or at the theatre during regular box office hours (9:00am to 2:00pm, Monday through Friday, and one hour prior to curtain).
The Roxy Regional Theatre is located in Downtown Clarksville at 100 Franklin Street.
Photo Gallery
Synopsis
Act I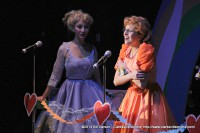 At the 1958 Springfield High School prom, the lights come up on the evening's special entertainment: The Marvelous Wonderettes (Mr. Sandman). These four best friends (Betty Jean, Cindy Lou, Missy and Suzy) launch into the "Sugar & Spice Medley: Lollipop/Sugartime" and we learn that the Wonderettes are also the trophy-winning varsity song leaders for Springfield High—"Go Chipmunks!" While Betty Jean excitedly runs out front to put their new trophy in the school's display case, her best friend, Cindy Lou, steals her solo (Allegheny Moon) and cracks in their friendship begin to appear. After Missy and Suzy break up the squabble, we hear the real reason the girls are performing tonight: they are the replacement act for tonight's originally scheduled group, the Crooning Crabcakes. Billy Ray Patton, the lead Crab, got suspended from school for smoking behind the girls' locker room. They reveal the theme of tonight's super senior prom (Marvelous Dreams Medley: All
I Have to Do Is Dream/Dream Lover) and with the help of Missy's special dreamcatcher, each girl gets to dedicate a song to her very own "dream lover." Suzy sings to her boyfriend, Richie, who is also running the lights (Stupid Cupid). Betty Jean sings to her boyfriend Johnny (Lipstick on Your Collar), discovering that Johnny and Cindy Lou have been making out behind her back, and Cindy Lou sings of her special talents in "Lucky Lips." After Suzy squelches another fight between Cindy Lou and Betty Jean—"L-O-V-E, that spells love…!"—Missy reveals her own "Secret Love," the girls' music teacher (Man of My Dreams Medley: Mr. Lee/Born Too Late/Teacher's Pet). The talent competition is next, followed by the vote for the 1958 Queen of Your Dreams—"That's the Prom Queen!" The Wonderettes sing farewell (Goodnight & Goodbye Medley: Sincerely/Goodnight Sweetheart, Goodnight), followed by the crowning of the 1958 Queen of Your Dreams and her spotlight song (Hold Me, Thrill Me, Kiss Me).
Act II
A decade later, at the Springfield High School Class of '58 10-Year Reunion, the Marvelous Wonderettes take the stage with "Heatwave." During the reunion, we learn about each girl and the different roads they've traveled since graduation. Missy has been dating the same man for the past five years—"Every Monday night, more pizza…"—and needs to know exactly where it's headed (It's in His Kiss, Wedding Bell Blues). The girls try to help Missy stay strong and independent (You Don't Own Me) but she soon melts under the spell of a surprise onstage proposal (With This Ring). Betty Jean steps up and tells us about her love for Johnny (I Only Want to Be With You) and how their recent marriage has gone awry (That's When the Tears Start). She rebuffs Cindy Lou's attempt to restore their friendship with "It's My Party." When Cindy Lou takes the spotlight, we learn she fled to Hollywood right after high school, only to return to Springfield years later to meet up with the lead singer of the Crooning Crabcakes (Son of a Preacher Man). Billy Ray indeed changed her life in many ways (Leader of the Pack, Maybe) and Cindy Lou's journey brings about a heartfelt reconciliation with Betty Jean. A very-pregnant Suzy must now tell her story, fraught with a philandering husband—Richie, once again running the lights—and raging hormones (Maybe I Know). The girls buoy her up (Needle in a Haystack) and with their unwavering support, Suzy finds much-needed strength and resolve with "Rescue Me" and "Respect." With the reunion drawing to a close, the Marvelous Wonderettes thank everyone for an amazing evening of wonderful memories (Thank You and Goodnight/Sincerely).
About the Cast
Ashley Harris (Missy)
Ashley Harris is a New York City based performer who was born and raised in Southern California. She is thrilled to make her Roxy debut with such a marvelous group of talented girls! Ashley earned a B.A. in Communication from the University of California, Santa Barbara and a Master's degree in Education from the University of California, Riverside. Off-Broadway: A Christmas Carol (Ghost of Christmas Past), Hollow (Anna U/S). Off-Off Broadway: Parade (Monteen/Ensemble). Regional: Nine (Carla), My Fair Lady (Eliza Doolittle), Chicago (Roxie), Once Upon a Mattress (Lady Larken). When not on stage, Ashley enjoys tutoring teens, dining out and traveling. Much love to my family and to my best friend (and husband) Kyle.
Taylor Gavin (Cindy Lou)
Taylor Gavin is simply tickled to be making her Roxy debut alongside such a talented cast of ladies. This is Taylor's 3rd time with The Marvelous Wonderettes, having recently finished swinging all four roles in the first national tour, and playing Missy at New Stage Theatre. Favorite credits include: Johanna (Sweeney Todd), Cinderella (Cinderella) and Zerbinette (Scapin). Love and thanks to Mom, Mr. Frank, Clark, Eli, Tom, John and the Roxy Family. Ps 30:10.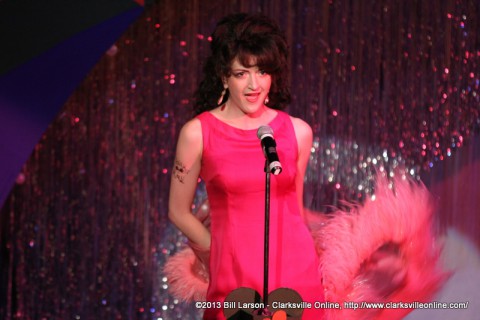 Heather Gault (Betty Jean)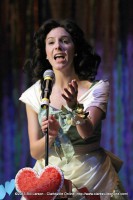 Heather Gault is thrilled to be making her debut at the Roxy! She recently hit the stage with the Crooning Crab Cakes as "Lois" in Roger Bean's musical Life Could Be A Dream. Other regional credits include 9 to 5, The Producers, The Graduate, and Sisters of Swing. Film/TV credits include Sleepwalk With Me (Sundance Film Festival), In The Night (New York Musical Theatre Festival), English Vinglish (Toronto Int'l Film Festival), and the Emmy Award-winning PBS series "BizKid$". NY theatre credits include The Bolshoi Ballet's The Pharaoh's Daughter at the Metropolitan Opera House, the People's Improv Theater, and Radiotheatre's King Kong. A Connecticut native, she studied acting at the University of Southern California. Heather is actually skipping her 10-year high school reunion to celebrate instead with the Wonderettes! www.heathergault.com
Elena Pascullo (Suzy)
Elena Pascullo is thrilled to be performing in The Marvelous Wonderettes, following her Roxy debut as Tiger Lily and Mrs. Darling in Peter Pan! Some past favorites include Les Miserables (Cosette), Into The Woods (Cinderella) and A Chorus Line (Diana). Following The Marvelous Wonderettes, Elena will be performing in South Pacific and Spamalot. She would love to thank this wonderful cast and crew for making her Roxy experience a great one, and her family and friends for their endless support.
Musical Numbers
Act I
| | | |
| --- | --- | --- |
| "Mr. Sandman" | | Ensemble |
| "Lollipop" | | Ensemble |
| "Sugartime" | | Ensemble |
| "Chipmunk Cheer" | | Ensemble |
| "Allegheny Moon" | | Ensemble |
| "All I Have to Do Is Dream" | | Ensemble |
| "Dream Lover" | | Ensemble |
| "Stupid Cupid" | | Suzy |
| "Lipstick On Your Collar" | | Betty Jean |
| "Lucky Lips" | | Cindy Lou |
| "Secret Love" | | Missy |
| "Mr. Lee" | | Missy, Ensemble |
| "Born Too Late" | | Ensemble |
| "Teacher's Pet" | | Ensemble |
| "Sincerely" | | Ensemble |
| "Goodnight, Sweetheart, Goodnight" | | Ensemble |
| "Hold Me, Thrill Me, Kiss Me" | | Suzy, Ensemble |
| "Teacher's Pet" | | Ensemble |
| "Sincerely" | | Ensemble |
Act II
| | | |
| --- | --- | --- |
| "Hold Me, Thrill Me, Kiss Me" | | Suzy, Ensemble |
| "Heatwave" | | Ensemble |
| "Mr. Sandman" Reprise | | Ensemble |
| "It's In His Kiss" / "Wedding Bell Blues" | | Missy, Ensemble |
| "You Don't Own Me" | | Ensemble |
| "With This Ring" | | Missy, Ensemble |
| "I Only Want To Be With You" | | Betty Jean, Ensemble |
| "That's When the Tears Start" | | Betty Jean, Ensemble |
| "It's My Party" | | Betty Jean, Ensemble |
| "Son of a Preacher Man" | | Cindy Lou, Ensemble |
| "Leader of the Pack" | | Cindy Lou, Ensemble |
| "Maybe" | | Cindy Lou, Ensemble |
| "Maybe I Know" | | Suzy, Ensemble |
| "Needle in a Haystack" | | Missy, Cindy Lou, Betty Jean |
| "Rescue Me" | | Suzy, Ensemble |
| "Respect" | | Suzy, Ensemble |
| "Thank You and Goodnight" / "Sincerely" | | Ensemble |