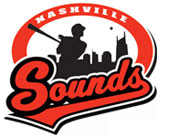 Nashville, TN – Hiram Burgos threw five scoreless innings and the Sounds got homers from Khris Davis and Josh Prince during Nashville's 5-2 victory over Oklahoma City on Thursday evening at Greer Stadium in the opener of a five-game series.
Burgos (1-2) turned in an impressive effort during the fourth start of his rehabilitation stint (second for Nashville) while recovering from a right shoulder impingement. The right-hander worked five scoreless innings, allowing three hits while striking out five batters while throwing 64 pitches (35 strikes).
Khris Davis (2-for-4) gave the Sounds a 1-0 lead in the second when he belted his ninth homer of the year, a one-out solo shot to center off RedHawks starter Asher Wojciechowski.
Prince extended the Nashville advantage to 3-0 in the fifth when he drove a deep two-run homer to left that careened high off the light pole. The blast, which came against Wojciechowski and also plated Scooter Gennett (walk), was the outfielder's seventh of the season.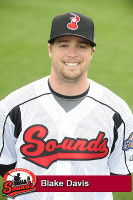 The Sounds tacked on another run in the sixth when Blake Davis' two-out triple off the right-center wall scored Stephen Parker, who had singled earlier in the frame.
Wojciechowski (3-4) absorbed the loss for the visitors after allowing four runs on five hits in his 5 2/3 frames of action.
Davis ripped his second RBI knock of the night in the seventh to make it a 5-0 contest. The outfielder's two-out double to right off Eric Berger brought in Blake Lalli, who had doubled earlier in the inning.
Oklahoma City got on the scoreboard in the eighth against R.J. Seidel, piecing together three consecutive hits to open the frame culminating with Carlos Perez's RBI infield single.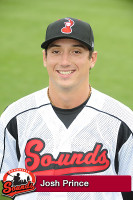 In the RedHawks' ninth, Jimmy Paredes hit an opposite-field, one-out solo homer to left off Michael Olmsted, his fifth roundtripper of the year, to bring the score to its final 5-2 standing.
The teams continue the series with a 6:05pm doubleheader on Friday evening that will consist of a pair of seven-inning games. The twinbill makes up an April 11th rainout.
Right-hander Jimmy Nelson (0-2, 3.00) will make the start for the Sounds to face Oklahoma City left-hander Brett Oberholtzer (5-6, 4.90). Left-hander Zach Kroenke (4-9, 4.08) will toe the slab for Nashville in the nightcap to oppose RedHawks right-hander Jake Buchanan (NR).
Box Score
Nashville Sounds 5, Oklahoma City RedHawks 2
June 27th, 2013
1
2
3
4
5
6
7
8
9
R
H
E
Oklahoma City RedHawks
0
0
0
0
0
0
0
1
1
2
9
0
Nashville Sounds
0
1
0
0
2
1
1
0
x
5
9
0
BATTING
2B: Laird (16, Seidel).
HR: Paredes (5, 9th inning off Olmsted, 0 on, 1 out).
TB: Laird 3; Villar 2; Gonzalez, M 2; Martinez, Jo; Paredes 4; Perez, C.
RBI: Perez, C (17), Paredes (21).
Runners left in scoring position, 2 out: Grossman 2.
GIDP: Martinez, Jo 2, Paredes.
Team RISP: 2-for-6.
Team LOB: 3.BASERUNNING
CS: Martinez, Jo (3, home by Sanchez, Je/De La Rosa, A).
BATTING
2B: Gennett (8, Wojciechowski), Lalli (7, Berger), Davis, Kh (8, Berger).
3B: Davis, B (3, Berger).
HR: Davis, Kh (9, 2nd inning off Wojciechowski, 0 on, 1 out), Prince (7, 5th inning off Wojciechowski, 1 on, 1 out).
TB: Lalli 2; Prince 4; Davis, B 4; Parker, S; Gennett 2; Davis, Kh 6; Morris, H.
RBI: Davis, Kh 2 (24), Prince 2 (30), Davis, B (18).
2-out RBI: Davis, B; Davis, Kh.
Runners left in scoring position, 2 out: Morris, H; Gennett; De La Rosa, A.
Team RISP: 1-for-6.
Team LOB: 8.FIELDING
DP: 4 (Gennett-Davis, B-Morris, H 2, Morris, H, Davis, B-Gennett-Morris, H).
WP: Berger.
Pitches-strikes: Wojciechowski 99-60, Berger 24-18, Chapman, K 14-10, Burgos, H 64-35, Sanchez, Je 26-19, Seidel 11-7, Webb 3-2, Olmsted 19-13.
Groundouts-flyouts: Wojciechowski 7-4, Berger 0-0, Chapman, K 3-0, Burgos, H 3-2, Sanchez, Je 1-1, Seidel 1-0, Webb 1-0, Olmsted 0-0.
Batters faced: Wojciechowski 26, Berger 7, Chapman, K 4, Burgos, H 16, Sanchez, Je 7, Seidel 4, Webb 1, Olmsted 4.
Inherited runners-scored: Berger 1-1, Webb 1-0.
Umpires: HP: Ryan Blakney. 1B: Scott Mahoney. 2B: Jordan Baker. 3B: Blake Davis.
Weather: 92 degrees, clear.
Wind: 5 mph, R to L.
T: 2:38.
Att: 6,136.
Venue: Herschel Greer Stadium.
June 27, 2013