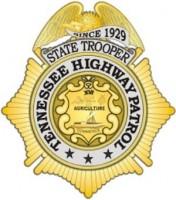 Nashville, TN – A Tennessee State Trooper arrested three suspects on drug charges following a traffic stop and subsequent pursuit in Decatur County on Friday morning.
Trooper Brad Atkinson charged Sam Splawn, 29, of Witchita Falls, Texas with felony possession of schedule VI with intent to distribute/transport, felony evading, and several misdemeanor traffic violations, while his brother Shaun Splawn, 26, and Nathan Avila, 26, both of Witchita Falls, were charged with conspiracy to distribute marijuana and aggravated assault (intent). All three suspects were transported to the Decatur County Jail.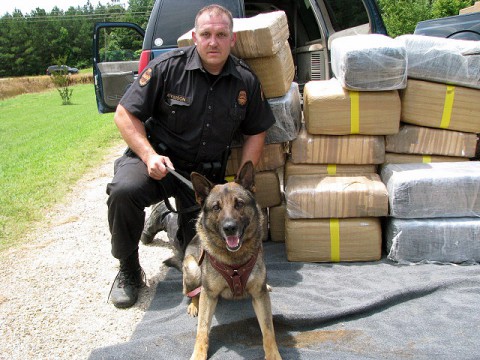 Trooper Atkinson stopped a 1994 Chevrolet Suburban with Texas registration for following a commercial motor vehicle too close and a seat belt violation on Interstate 40 near mile marker 125 at approximately 11:12am today.
Upon approaching the vehicle, he detected the odor of marijuana coming from inside the automobile.  At the same time, Atkinson also observed a 1997 Oldsmobile with Texas tags pass by at an unusually slower speed.
Trooper Atkinson requested the driver license from the lone occupant of the Suburban, Sam Splawn, but he sped away.
Atkinson then initiated a pursuit of the vehicle. He observed the Suburban leaving the interstate at the exit that leads to Highway 69. By the time Trooper Atkinson reached the ramp, the driver of the Oldsmobile (Shaun Splawn) – who slowed down during the traffic stop on the Suburban – pulled in front of Atkinson's patrol unit and attempted to block the pursuit. Atkinson used evasive maneuvers and continued chasing the Suburban south on Highway 69 for approximately four miles.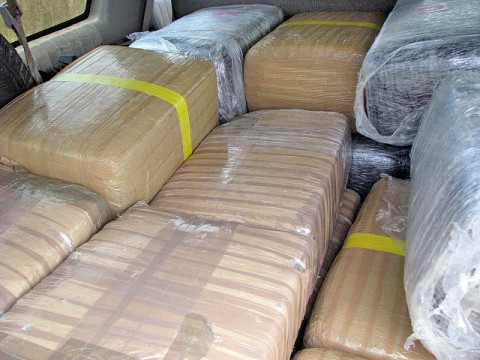 The Suburban then made a U-Turn to go back north on Highway 69. Trooper Atkinson was also able to turn around and head north, despite another attempt from the Oldsmobile driver to disrupt the chase. The Suburban exited the roadway and entered a field, where the driver fled on foot. The Oldsmobile driver passed Atkinson and pulled in to a dead end on Adams Lane.
Trooper Atkinson then ordered the Oldsmobile's two occupants (Splawn & Avila) out of the vehicle and on to the ground. He and his K-9 "Charlie" guarded the suspects until backup arrived on the scene. Trooper Atkinson then utilized K-9 "Charlie" to track the fleeing felon. The suspect and former driver of the Suburban surrendered as the K-9 closed in.
Further investigation revealed the rear cargo area of the Suburban contained 20 bundles of shrink wrapped marijuana weighing 457 pounds.
The Drug Enforcement Administration is assisting in this case.
About the Tennessee Department of Safety and Homeland Security
The Tennessee Department of Safety and Homeland Security's (www.TN.Gov/safety) mission is to ensure that our state is a safe, secure place in which to live, work and travel; enforce the law with integrity; and provide customer-focused services professionally and efficiently.