Clarksville, TN – This weekend was the Clarksville Department of Parks and Recreation's sixth year doing Doggie Palooza, a celebration of all things dog!
The event is held each year At Heritage Park's Bark Park, and features a day full of demonstrations, contests, prizes, and much more! But more importantly it is an opportunity for dogs and their owners to socialize with other dogs and their owners.
This was Paula Harrington's first year coordinating this doggie spectacular, and she did a wonderful job! "I was so excited about getting the chance to coördinate Doggie Palooza this year," she said. "We have a such a wonderful turnout, I couldn't be happier!"
The event featured 15 informational and vendor booths, each one featuring a dog related business or area nonprofit such as animal rescue groups. "We are super glad that Montgomery County Animal Control was able to come out and bring their new rescue trailer! I just talked to them a little bit ago and have already adopted out two of the animals needing new homes. So it's really been a good day for them," said Harrington.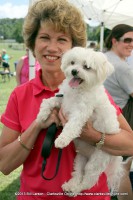 Some of the sponsors this year include Clarksville Family Magazine, The Leaf Chronicle, and Lamar Advertising.
The activities included a best kisser contest with a representative from the Montgomery County Animal Control serving as one of the judges; the Fastest Tail-Wagger Contest, and we have just given out some of the prizes for that; we're also going to do the Sit on Command Contest, it's kind of like a musical chairs but for dogs.
Unfortunately the wooden stage where the events were normally held was too hot for the doggie's feet so the contest were held on the somewhat cooler grass.
Hundreds of pet owners showed up to take part in the doggie festivities including Clarksville city mayor Kim McMillan and her dog Stevie Ray, a Maltese. "Doggie Palooza is such a great event," said Mayor Kim McMillan. "I look forward to it every year! If you own a dog and live in the Clarksville area, it something that you should be looking forward to as well."
Photo Gallery