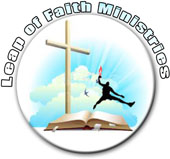 Clarksville, TN – With our critical thoughts surrendered to God, we must give Him our tongue as well and ask Him to control it. How many times have you said something you wish you hadn't?
The tongue has put people in trouble since the beginning of time. "…the tongue is a small thing, but what enormous change it can do… And the tongue is set on fire by hell itself, and can turn our whole lives into a blazing flame of destruction and disaster… but no man can tame the tongue. It is always ready to pour out its deadly poison. (James 3:5,6,8)
Well-meaning parents feel compelled to give their teenage children the same good advice over and over again, even if they know it does no good. In at least 65% of the cases their talking only makes their kids worse!
The disastrous effect of too many words even though they are well meant is most apparent in family relationships, but we do the same thing with our friends on the job, on the phone, and in the pulpit. Christians who over talk have turned many people away from God.
It is possible to say good and true things and still be wrong in saying them. "Don't speak in the hearing of a fool, for he will despise the wisdom of your words." (Proverbs 23:9 NKJV) Perhaps a fool needs to be told a thing or two, but as long as he won't listen, you are wrong in telling him.
The compulsion to tell others what we think they ought to know doesn't come from God, but from our attitude of self-righteous criticism, and every word we speak to "set them straight" sows resentment, hurt, and discord. Jesus never over talked. He knew when to speak and when to show His love in other ways.
He told His followers "I tell you that you will have to answer at the Day of Judgment, for every careless word they utter for it is your words that will acquit you and your words that will condemn you." (Matthew 12:36,37 AMP) "If anyone can control his tongue, it proves he has perfect control over himself in every other way." (James 3:2 AMP) If we let our mouths run off with anything that comes into our hearts, our actions are probably just as undisciplined.
Whether you are a person of few or many words, if you have misused them, God forgives you. He can change our critical words into loving and encouraging words. Our rambling chatter or helpless stuttering can become meaningful, clear expressions. Let David's prayer become yours! "Let the words of my mouth and the meditation of my heart be acceptable in Your sight, O Lord, my strength and my Redeemer." (Psalms 19:14 NKJV)
Surrender your tongue to God, ask Him to tame and use it. When the urge to speak comes over you ask God "Is what I want to say really necessary?" If we quietly wait on God, He will give us the right words to say; kind, encouraging, uplifting words speaking directly to people's needs in a way we could never do on our own. Think of what we could do if we let God control our tongues. Then the people we speak to will actually listen to us instead of tuning us out. God will be speaking through us and they will hear Him.
From now on you can be someone who always lifts up people by the way you speak. When they see you coming they will be glad, because they know you always have a kind and loving word. The oneness Christ promised becomes more and more real as we surrender our hidden sins, our thoughts, and our words to Him. The Holy Spirit can continually be filling these new areas of our lives.
With a cleansed heart and yielded tongue praise takes on a much deeper meaning. Now we can join David in saying, "I will praise thee with uprightness of heart, when I shall have learned thy righteous judgments." (Psalm 119:7 NKJV) "Be glad in the Lord and rejoice, you righteous. And shout for joy, all you upright in heart!" (Psalm 32:11 NKJV) Righteousness and uprightness are conditions for true praise, but we can never achieve them on our own. They are God's generous gifts to a repentant heart.
Excerpt from Created To Believe: The Power of Praise Through Practical Biblical Truths written by Richard "Reason" Garrett
Copyright © 2011 Liberated Publishing Inc