Nashville's Hot Bats Crank 16 Hits including Three Home Runs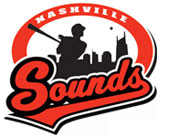 Nashville, TN – The Nashville Sounds extended their season-best winning streak to six games with a 10-6 victory over the Tucson Padres in front of 8,731 fans on Saturday evening at Greer Stadium.
The series opener victory on Star Wars Night featured 16 hits by the Sounds (44-71), including one by every member of the starting lineup. Red-hot hitters Robinzon Diaz and Eugenio Velez each went 3-for-4 to pace Nashville, which posted a double-digit run total for the sixth time this season. Blake Lalli, Josh Prince, and Hainley Statia also contributed multi-hit efforts.
Tucson grabbed an early lead against Sounds starter Aaron Laffey, plating three runs in the top of the first inning. The T-Pads loaded the bases with one out on a Dan Robertson game-opening walk and a pair of singles by Dean Anna and Mike Wilson before Gregorio Petit put the visitors on the board with a two-run single to left. After re-loading the bases with another single, Tucson plated its third run on a Jesus Merchan grounder.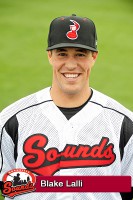 Anna (4-for-4) upped the Tucson advantage to 4-0 in the second when he belted his ninth home run of the year, a one-out solo shot to right off Laffey.
Lalli (2-for-4) put the Sounds on the board in the bottom of the second inning with a one-out solo homer to right off Tucson starter Jason Lane, the backstop's ninth big fly of the year.
The Sounds pulled within a run at 4-3 in the fourth on Diaz's two-run homer to left off Lane, his third roundtripper of the year. Hunter Morris, who preceded Diaz with a double off the batter's eye to extend the Sounds' longest active hitting streak to six games (8-for-25, .320), also scored on the bomb. On the Morris double, Sean Halton was thrown out at the plate by a perfect Padres relay as he attempted to score from second following his team-leading 24th double of the year.
After Tucson tacked on a run in the top of the fifth on a Petit RBI grounder, Nashville squared the contest at 5-5 in the home half of the frame. Statia (2-for-4) led off with a solo homer to left, his fifth tater of the season. Laffey followed with a double down the right field line and scored two  batters later on a Baltimore chop infield single off the bat of Velez, who has hit safely in six of his last seven contests at a .458 clip (11-for-24).
Nashville took a 6-5 lead in the sixth with a run off T-Pads reliever Ryan Kelly. Diaz — who is batting .391 (25-for-64) over his last 18 games — led off with a double to left, moved to third on a Lalli single, and score the go-ahead run on Josh Prince's RBI single to right-center. Prince was thrown out on the play as he tried to extend the knock to a double.
Laffey took a no-decision for the Sounds after allowing five runs on six hits over six frames of action. The southpaw walked two batters and struck out four during his 89-pitch outing.
Tucson knotted the contest at 6-6 in the top of the seventh against Sounds reliever Tim Dillard. Anna ripped his PCL-leading 37th double of the year, a one-out ground-rule two-bagger to left-center, and scored on Wilson's two-out single.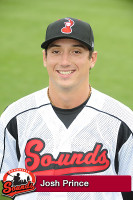 The back-and-forth affair continued in the eighth as Nashville reclaimed a 10-6 lead by sending nine batters to dish to plate four runs against reliever Kevin Quackenbush.
Prince had the game-winning RBI with his second go-ahead knock of the night, a single to right that plated Diaz. Pinch-hitter Stephen Parker contributed an RBI fielder's choice before  Velez drew a bases-loaded walk to up the lead to three. Halton followed with a fly ball to right that dropped but Velez was forced at second on the play, leaving the Nashville right fielder with only an RBI fielder's choice for his efforts.
Dillard (2-2) picked up the win for the Sounds after allowing one run in his two innings of work, while Quackenbush (6-2) was saddled with the loss after giving up four runs in his lone frame of action.
The teams continue the series with another 6:35pm meeting on Sunday evening. Right-hander Johnny Hellweg (10-4, 2.28), a winner in his last eight starts, will toe the slab for the Sounds and face Tucson right-hander Anthony Bass (2-5, 6.79).
Box Score
Tucson Padres (59-56) 6, Nashville Sounds (44-71) 10
August 3rd, 2013
1
2
3
4
5
6
7
8
9
R
H
E
Tucson Padres
3
1
0
0
1
0
1
0
0
6
8
1
Nashville Sounds
0
1
0
2
2
1
0
4
x
10
16
1
a-Struck out for Layne in the 8th.
BATTING
2B: Anna (37, Dillard).
HR: Anna (9, 2nd inning off Laffey, 0 on, 1 out).
TB: Petit, G; Wilson, M 2; Anna 8; Decker, C.
RBI: Petit, G 3 (48), Merchan (17), Anna (59), Wilson, M (22).
2-out RBI: Wilson, M.
Runners left in scoring position, 2 out: Lane, J 2; Wilson, M.
Team RISP: 4-for-13.
Team LOB: 7.FIELDING
E: Anna (9, throw).
Outfield assists: Robertson 2 (Halton at home, Prince at 2nd base), Wilson, M (Velez at 2nd base).
a-Grounded out for Laffey in the 6th. b-Grounded into a forceout for Dillard in the 8th.
BATTING
2B: Halton (24, Lane, J), Morris, H (19, Lane, J), Laffey (1, Lane, J), Diaz, R (3, Kelly, R).
HR: Lalli (9, 2nd inning off Lane, J, 0 on, 1 out), Diaz, R (3, 4th inning off Lane, J, 1 on, 1 out), Statia (5, 5th inning off Lane, J, 0 on, 0 out).
TB: Velez 3; Prince 2; Lalli 5; Diaz, R 7; Halton 2; Laffey 2; Statia 5; Morris, H 2; Davis, Ke.
RBI: Lalli (25), Diaz, R 2 (15), Statia (19), Velez 2 (3), Prince 2 (42), Parker, S (28), Halton (37).
Runners left in scoring position, 2 out: Morris, H 3; Chavez, O.
Team RISP: 8-for-15.
Team LOB: 6.BASERUNNING
SB: Halton (6, 2nd base off Quackenbush/Rodriguez, E).FIELDING
E: Diaz, R (5, fielding).
Nashville Sounds
Player
IP
H
R
ER
BB
SO
HR
ERA
Aaron Laffey
6.0
6
5
5
2
4
1
5.46
Tim Dillard (BS, 1)(W, 2-2)
2.0
2
1
1
0
1
0
3.55
Michael Olmsted
1.0
0
0
0
2
0
0
5.94
Totals
9.0
8
6
6
4
5
1
4.40
WP: Laffey 2.
Pitches-strikes: Lane, J 64-43, Kelly, R 20-13, Layne 16-11, Quackenbush 33-19, Laffey 89-56, Dillard 27-20, Olmsted 24-12.
Groundouts-flyouts: Lane, J 4-3, Kelly, R 2-0, Layne 2-1, Quackenbush 2-1, Laffey 9-4, Dillard 3-2, Olmsted 2-0.
Batters faced: Lane, J 20, Kelly, R 7, Layne 4, Quackenbush 9, Laffey 27, Dillard 8, Olmsted 5.
Inherited runners-scored: Kelly, R 1-0.
Umpires: HP: Kolin Kline. 1B: Cory Blaser. 2B: Chris Segal. 3B: Jordan Ferrell.
Weather: 82 degrees, overcast.
Wind: 1 mph, R to L.
T: 2:53.
Att: 8,731.
Venue: Herschel Greer Stadium.
August 3, 2013