Nashville's Sean Halton Hits Three-Run Bomb In Loss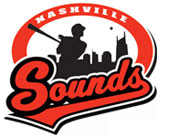 Reno, NV – The Nashville Sounds were no match for the Reno Aces Tuesday night at Aces Ballpark, and gave up a season-high 14 runs in the 14-3 loss.
Trailing 3-2 in the sixth, the Aces batted around to hang six runs on the Sounds. In his first at-bat for Reno, Jake Fox lifted a pinch-hit single into centerfield off of reliever Tim Dillard to give the Aces a one-run lead. Both of the scoring runners reached base off of Zach Kroenke (5-14), who began the inning.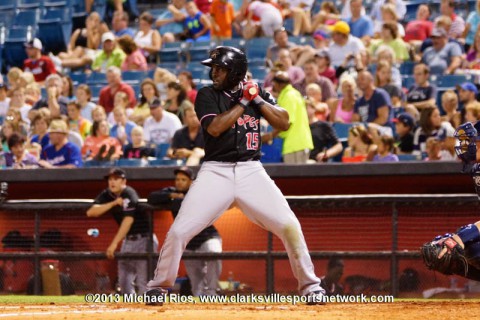 Dillard was touched for an infield bunt single and offered a walk to Tyler Bortnick to load the bases for Reno. Catcher Ed Easley cashed in with a bases-clearing three-run double that dropped just between two charging outfielders.
Easley scored on the following single by Mike Jacobs before Dillard closed out the inning. The side-armed pitcher allowed four runs on four hits and one walk.
Reno initially cut into the Sounds' lead in the fourth inning, with the bases loaded, when shortstop Josh Wilson drove a two-run base-hit to left field off Kroenke, who allowed a total of four runs on the night to be charged his 14th loss.
Sounds outfielder Sean Halton, 2-for-3, got Nashville on the board in the first inning with a three-run home run to left-center field. The jack, Halton's 11th of the year, scored Kentrail Davis, 2-for-3, and Eugenio Velez, 3-for-5, whom both reached base on singles to lead off the frame.
Right-hander R.J. Seidel made the start for Nashville, following 15 days of rest, and delivered two scoreless innings. He allowed two hits to start the game, but retired the side in the first inning to work out of a bases-loaded jam. After a 1-2-3 second inning and 34 total pitches, Seidel called it a night, giving way to Zach Kroenke.
Reliever Travis Webb pitched a scoreless seventh inning for Nashville, but Michael Olmsted was unable to follow suit in the eighth, letting the Aces bat around for the second time and plate six runs on four hits and three walks. It is the first time in nine appearances that Olmsted has allowed a run. Brent Leach recorded the inning's final two outs.
Pitcher Michael Bolsinger (5-5) picked up the win for Reno, allowing three runs on six hits and five walks over six innings of work. The right-hander fanned nine Sounds en route to his fifth victory of the season.
The Sounds play game three of four against Reno Wednesday night at Aces Ballpark. Throwing for Nashville will be LHP Aaron Laffey (5-6, 5.81) opposite the Aces RHP Charles Brewer (5-9, 5.15).
Baseball returns to Greer Stadium on Friday, August 16th, for Elvis Night and postgame fireworks.
Box Score
Nashville Sounds (48-76) 3, Reno Aces (50-74) 14
August 13th, 2013
1
2
3
4
5
6
7
8
9
R
H
E
Nashville Sounds
3
0
0
0
0
0
0
0
0
3
9
1
Reno Aces
0
0
0
2
0
6
0
6
x
14
15
0
a-Struck out for Webb in the 8th.
BATTING
2B: Lalli (12, Bolsinger).
HR: Halton (11, 1st inning off Bolsinger, 2 on, 0 out).
TB: Velez 3; Lalli 2; Halton 5; Morris, H; Davis, Ke 2.
RBI: Halton 3 (44).
Runners left in scoring position, 2 out: Parker, S 3; Morris, H; Kroenke; Prince 2; Lalli.
Team RISP: 1-for-12.
Team LOB: 11.BASERUNNING
SB: Prince 2 (21, 2nd base off Bolsinger/Easley, 3rd base off Bolsinger/Easley), Statia (6, 2nd base off Bolsinger/Easley).
CS: Davis, Ke (2, 2nd base by Bolsinger/Easley), Halton (2, 2nd base by Bolsinger/Easley), Statia (4, 2nd base by Bolsinger/Easley).
PO: Halton (1st base by Bolsinger), Statia (1st base by Easley).FIELDING
E: Prince (11, fielding).
DP: (Velez-Parker, S-Morris, H).
a-Singled for Bolsinger in the 6th.
BATTING
2B: Snyder, B (21, Kroenke), Easley (20, Dillard).
TB: Jacobs 2; Bortnick; Snyder, B 4; Fox; Marte, A; Wilson, Jo 2; Campana 2; Harbin; Easley 3.
RBI: Wilson, Jo 2 (13), Fox 2 (2), Easley 3 (43), Jacobs 3 (51), Snyder, B 2 (47), Harbin (33), Hernandez, Da (1).
2-out RBI: Fox 2; Easley 3; Jacobs.
Runners left in scoring position, 2 out: Snyder, B 2; Campana; Bortnick 2.
GIDP: Jacobs.
Team RISP: 8-for-17.
Team LOB: 9.BASERUNNING
SB: Bortnick (16, 2nd base off Seidel/Lalli).FIELDING
Pickoffs: Bolsinger (Halton at 1st base), Easley (Statia at 1st base).
HBP: Halton (by Bolsinger), Halton (by Paterson), Easley (by Olmsted).
Pitches-strikes: Seidel 34-21, Kroenke 61-40, Dillard 15-9, Webb 7-4, Olmsted 29-12, Leach 10-3, Bolsinger 99-57, Paterson 24-16, Hernandez, Da 28-18.
Groundouts-flyouts: Seidel 2-1, Kroenke 5-2, Dillard 2-0, Webb 1-2, Olmsted 0-0, Leach 1-1, Bolsinger 6-0, Paterson 1-0, Hernandez, Da 1-3.
Batters faced: Seidel 9, Kroenke 16, Dillard 7, Webb 3, Olmsted 9, Leach 3, Bolsinger 27, Paterson 6, Hernandez, Da 8.
Inherited runners-scored: Dillard 2-2, Leach 3-1.
Umpires: HP: Greg Stanzak. 1B: Nick Bailey. 3B: Jeff Morrow.
Weather: 90 degrees, clear.
Wind: 8 mph, Out to RF.
T: 3:16.
Att: 3,921.
Venue: Aces Ballpark.
August 13, 2013