The 113th meeting.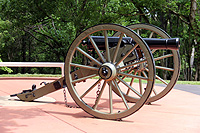 Clarksville, TN – The next meeting of the Clarksville (TN) Civil War Roundtable will be on Wednesday, August 21st, 2013 at the Bone & Joint Center, 980 Professional Park Drive, right across the street from Gateway Medical Center. This is just off Dunlop Lane and Holiday Drive and only a few minutes east of Governor's Square mall.
The meeting begins at 7:00pm and is always open to the public. Members please bring a friend or two – new recruits are always welcomed.
Topic: "Serving Uncle Sam in the 50th Ohio Infantry"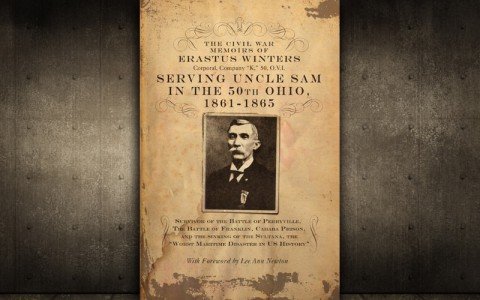 Erastus Winters was a corporal in Company K, 50th Ohio Infantry. He joined the 50th Ohio Infantry in Cincinnati in the Summer of 1862. He moved with the regiment into Kentucky and fought his first major battle at Perryville in October 1862 as part of Don Carlos Buell's Army of the Ohio.
The regiment was posted in Kentucky after this even taking part in chasing John Hunt Morgan during the last phases of his famous Christmas Raid. In early 1864, the regiment was sent to Knoxville, Tennessee before being forwarded on to Georgia in May 1864. They then took part of the Atlanta Campaign.
Remaining in Georgia for a time, the regiment returned to Tennessee as part of the Union forces dispatched there to deal with John Bell Hood's Tennessee Campaign. At the battle of Franklin, Winters was taken prisoner. Sent to Cahaba Prison in Alabama, Winters remained there until the end of the war.
In March 1865, prisoners from that camp were joined with those from Andersonville and sent to Vicksburg, Mississippi where they awaited shipment back home. As luck would have it, Winters was placed in the steamboat Sultana and survived its explosion. He was one of the few lucky ones that did.
Fortunately for students of the Civil War, Winters left behind a memoir that was found behind an old piece of furniture. Editor Lee Ann Newton found it and thankfully has edited it into a book which was released in 2011. Ms. Newton will be our speaker this month telling us about the memoir and the story of Erastus Winters.
This will be a story of a soldier and how he coped with adversity. Lee Ann will have copies of the book for sale at the meeting.
Lee Ann Newton's passion is to make sure that no veteran past, present or future is forgotten by the country and the citizens they served. In 2011 she received the AMVETs highest award for veteran service – The Silver Bayonet. In 2006 she founded Uncle Sam's Heroes after a friend's son lost both legs in an IED in Iraq.
Operation Christmas Care is the premier outreach for Uncle Sam's Heroes – an annual card and gift drive for wounded heroes currently in a military hospital. In 2012 she sent over 60,000 cards and 500lbs of gift items collected from citizens across Tennessee and some as far away as the Boys Home in North Dakota.
Lee Ann is the co-author of two books – a Civil War historical novel – "Beneath The Shadows" and a primary source non-fiction memoir of Corporal Erastus Winters of the 50th Ohio Volunteer Infantry Regiment. This memoir has been called the Union contemporary to Sam Watkins – Company Aytch. Lee Ann spent 10 years getting Erastus' memoir typed, edited and published – so he would no longer be a forgotten hero and it is this story that she will share with us.
How the memoir came to Lee Ann is a story you won't want to miss – some call it coincidence – Lee Ann calls it fate and it all started with a crumpled manuscript found behind an ancient bookcase that hadn't been moved in a hundred years.
Lee Ann is a member of The Civil War Trust and all proceeds from Erastus Winter's memoirs goes to support battlefield preservation. Lee Ann lives in Murfreesboro, TN with her retired MSGT husband and their teenage son. They also have two grown daughters who continue the tradition of service in their respective fields.