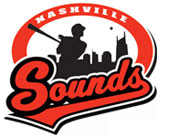 Nashville, TN – The Nashville Sounds treated 9,501 fans to a 4-3 win over the Round Rock Express Saturday night at Greer Stadium, scoring all of their runs in the fifth inning and surviving a late Express rally.
After four scoreless innings, the Sounds attacked Express starter Scott Richmond (4-6) for four runs in the fifth inning.
Hunter Morris led off the frame with a double to the right-field corner and scored on Hainley Statia double in the following at-bat. Blake Lalli singled to move Statia to third and set the table for Josh Prince, who reached on an RBI-fielder's choice.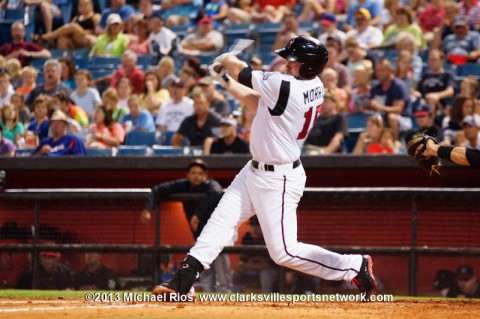 Stephen Parker continued the big inning with a single to the gap in left-center field, scoring Lalli, and Kentrail Davis' groundout plated the final run for the 4-0 advantage that proved to be all the Sounds would need.
Right-hander Kyle Heckathorn pitched three scoreless frames to start the game for Nashville, after lefty Chris Narveson was scratched from the lineup at game time. Heckathorn allowed Round Rock only one hit and fanned three batters before Tim Dillard took over in the fourth.
Dillard worked two scoreless but ran into trouble in the sixth. A pair of two-out singles and a walk loaded the bases for Dillard, who was touched by Joey Butler for an RBI infield single that made it a 4-1 game.
Dillard (3-2) was awarded the win, increasing his franchise-leading wins total to 38. Richmond was charged the loss, his sixth.
Reliever Dustin Molleken entered to close out Dillard's frame with a strikeout to Aaron Cunningham, stranding three inherited runners. The right-handed pitcher continued to pitch a perfect seventh.
Brent Leach logged a 1-2-3 eighth before closer Jesus Sanchez finished the game for Nashville to pick up his sixth save. Sanchez allowed Round Rock a two-run rally with two hits and a walk, but secured the victory for Nashville.
Sounds pitchers racked up 12 strikeouts in the game to only two walks.
Offensively, designated hitter Blake Lalli led the team with two hits. Outfielder Caleb Gindl recorded a single in the fourth inning to extend his hit Triple-A streak to eight games, which matches his season-best with the club.
The Sounds play the middle game of the five-game series on Sunday night at Greer Stadium. Throwing for Nashville will be RHP Alfredo Figaro, making a debut start for the Sounds, opposite Express' RHP Josh Lindblom (8-2, 2.41). The Sounds will wear camouflage uniforms for Piedmont Natural Gas Military Sunday presented by Tennessee 811.
Box Score
Nashville Sounds (51-77) 4, Round Rock Express (66-62) 3
August 17th, 2013
1
2
3
4
5
6
7
8
9
R
H
E
Round Rock Express
0
0
0
0
0
1
0
0
2
3
6
0
Nashville Sounds
0
0
0
0
4
0
0
0
x
4
8
1
BATTING
2B: Buchholz (11, Sanchez, Je).
TB: Bianucci; Adduci; Beltre, E; Buchholz 2; Butler, Jy; Hoying.
RBI: Butler, Jy (46), Bianucci 2 (35).
2-out RBI: Butler, Jy.
Runners left in scoring position, 2 out: Cunningham, A 2.
Team RISP: 2-for-4.
Team LOB: 5.BASERUNNING
SB: Buchholz (2, 3rd base off Sanchez, Je/Diaz, R).FIELDING
DP: 2 (Adduci-Rodriguez, G-Buchholz, Buchholz-Rodriguez, G-Adduci).
BATTING
2B: Morris, H (20, Richmond), Statia (7, Richmond).
TB: Velez; Lalli 2; Diaz, R; Parker, S; Gindl; Morris, H 2; Statia 2.
RBI: Statia (21), Prince (48), Parker, S (33), Davis, Ke (7).
Runners left in scoring position, 2 out: Prince.
GIDP: Davis, Ke, Diaz, R.
Team RISP: 3-for-7.
Team LOB: 5.BASERUNNING
SB: Prince (22, 3rd base off Richmond/Zaneski).FIELDING
E: Diaz, R (7, throw).
Pitches-strikes: Richmond 85-54, Rodebaugh 16-8, Feliz 9-7, Heckathorn 49-32, Dillard 38-25, Molleken 18-11, Leach 11-8, Sanchez, Je 31-21.
Groundouts-flyouts: Richmond 8-4, Rodebaugh 2-1, Feliz 0-1, Heckathorn 5-1, Dillard 2-0, Molleken 2-0, Leach 0-1, Sanchez, Je 2-0.
Batters faced: Richmond 26, Rodebaugh 3, Feliz 4, Heckathorn 10, Dillard 12, Molleken 4, Leach 3, Sanchez, Je 6.
Inherited runners-scored: Molleken 3-0.
Umpires: HP: Spencer Flynn. 1B: Pat Hoberg. 3B: Brandon Misun.
Weather: 79 degrees, overcast.
Wind: 2 mph, In from CF.
T: 2:31.
Att: 9,501.
Venue: Herschel Greer Stadium.
August 17, 2013