Memphis, TN – Another hot start fizzled out as Austin Peay State University's volleyball team won the opening set but fell in four sets (28-26, 18-25, 16-25, 13-25) to host Memphis, September 21st, at the Tiger Invitational in Elma Roane Fieldhouse.
Austin Peay (3-12) began the match with an impressive come-from-behind effort. Memphis broke out to a 16-12 lead in the opening frame. Austin Peay evened the set quickly with a four-point run on senior Lauren Henderson's serve. The two teams played point-for-point until Memphis had its first set-point opportunity at 24-23.
The Lady Govs ultimately staved off three set points before turning the momentum thanks to back-to-back kills by freshman Sammie Ebright. After senior Calyn Hull gave Austin Peay its second set point, sophomore Aubrey Marsellis clinched the set with a block, giving APSU the 28-26 victory.
Austin Peay scored an impressive 22 kills the opening, but could not maintain that momentum the match's remainder. The Lady Govs would post just 23 kills in the final three sets as the momentum slowly seeped Memphis' direction.
Memphis (8-5) claimed the second and third sets early. The Tigers jumped out to a 12-7 lead in the first set and did not look back en route to the 25-18 win. A 14-7 Memphis lead in the third set went similarly unchallenged as it posted a 25-16 win to take the lead in the match.
Austin Peay would challenge early in the fourth set and battled to a 8-8 tie. Memphis would take control with a seven-point burst to build a 15-8 lead and closed with a 9-4 run to claim the match-ending 25-13 victory.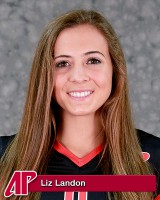 "I thought our first set was the best we have looked offensively," said Lady Govs head coach Taylor Mott. "I also was pleased that we were able to come back and then hold Memphis off to claim the win. However, we continue to battle with our consistency within the match. We have to be able to prevent one bad point from snowballing into several points. Once we do that we will be able to string some wins together."
Hull led Austin Peay with 14 kills. Junior Liz Landon scored a career-high tying 13 kills and posted a team-best .440 attack percentage. Austin Peay finished with 45 kills but saw its attack percentage fall to a match-ending .141 mark. Ebright was named to the Tiger Invitational all-tournament team following the match.
Catlin Lilly led Memphis with 16 kills and a .464 attack percentage off the bench. Three Tigers starters also had more than 10 kills in the win. Memphis finished with 58 kills and a .295 attack percentage.
Liz Landon was named APSU Player of the Match.
Austin Peay continues its season-opening 17-match road trip when it opens Ohio Valley Conference play with a 7:00pm, September 27th contest at Jacksonville State.
Box Score
Austin Peay vs Memphis
(September 21st, 2013 at Memphis, TN)
Austin Peay
ATTACK
SET
SERVE
SRV
DEF
BLOCK
GEN
##
Player
SP
K
E
TA
PCT
A
SA
SE
RE
DIG
BS
BA
BE
BHE
Points

1

FIELDS, Cami

4

0

1

2

-.500

36

0

1

0

7

0

0

0

1

0.0

2

HULL, Calyn

4

14

5

48

.188

0

1

0

4

7

0

1

0

0

15.5

4

EBRIGHT, Sammie

4

7

4

21

.143

2

0

0

1

10

0

2

0

0

8.0

8

LANDON, Liz

4

13

2

25

.440

0

0

1

0

6

0

2

0

0

14.0

10

STROTHER, Samantha

3

1

3

7

-.286

0

0

0

0

0

0

1

0

0

1.5

12

HENDERSON, Lauren

4

9

6

28

.107

1

1

3

0

3

0

3

1

0

11.5

3

ADAMS, April

4

0

0

0

.000

0

0

0

0

15

0

0

0

0

0.0

7

MARSELLIS, Aubrey

3

0

0

1

.000

3

0

0

0

0

1

0

1

0

1.0

13

LITCHFIELD, Syd

4

0

0

0

.000

0

1

2

1

8

0

0

0

0

1.0

15

PLYBON, Hillary

1

1

4

10

-.300

0

0

0

0

1

0

1

1

0

1.5

TEAM

1

Totals

4

45

25

142

.141

42

3

7

7

57

1

10

3

1

54.0

TOTAL TEAM BLOCKS: 6.0
TEAM ATTACK BY SET
Set
K
E
TA
Pct
Sideout
Pct

1

22

6

45

.356

15-26

57%

2

10

2

27

.296

13-25

51%

3

8

8

34

.000

12-24

50%

4

5

9

36

-.111

8-25

31%

48-100

47%

SET SCORES
1
2
3
4
TEAM RECORDS

Austin Peay

(1)

28

18

16

13

3-12

Memphis

(3)

26

25

25

25

8-5
Memphis
ATTACK
SET
SERVE
SRV
DEF
BLOCK
GEN
##
Player
SP
K
E
TA
PCT
A
SA
SE
RE
DIG
BS
BA
BE
BHE
Points

1

HAYES, McKenzie

4

7

0

20

.350

0

0

0

0

2

0

4

0

0

9.0

5

PURVIS, Lindsey

4

0

0

0

.000

0

1

1

0

10

0

0

0

0

1.0

7

WESLEY, Alexis

4

12

2

19

.526

1

0

0

0

2

0

4

0

0

14.0

9

ZIMMERMAN, Veronica

4

1

1

4

.000

51

2

1

0

10

0

1

0

1

3.5

11

HAWKINS, Lauren

4

11

6

26

.192

0

2

3

0

3

0

4

0

0

15.0

12

TEIVANE, Viktorija

4

11

5

38

.158

1

0

1

2

10

0

1

0

0

11.5

3

LILLY, Catlin

4

16

3

28

.464

0

0

0

0

1

0

2

1

0

17.0

4

PULIDO, Megan

1

0

0

0

.000

0

0

0

0

0

0

0

0

0

0.0

6

MOSS, Michaella

4

0

0

4

.000

0

1

0

0

15

0

0

0

0

1.0

16

PETRONIJEVIC, A.

4

0

0

0

.000

2

1

2

0

13

0

0

0

0

1.0

TEAM

1

Totals

4

58

17

139

.295

55

7

8

3

66

0

16

1

1

73.0

TOTAL TEAM BLOCKS: 8.0
TEAM ATTACK BY SET
Set
K
E
TA
Pct
Sideout
Pct

1

16

5

41

.268

15-28

53%

2

15

2

29

.448

13-18

72%

3

13

4

32

.281

13-17

76%

4

14

6

37

.216

8-13

61%

49-76

64%

Site: MEMPHIS, Tenn. (Elma Roane Fieldhous)
Date: Sep 21, 2013 Attend: 285 Time: 1:38
Referees: Danny Humbers, Bob Bayless


| | | | | | |
| --- | --- | --- | --- | --- | --- |
| | 1 | 2 | 3 | 4 | Total |
| Tie scores | 10 | 0 | 2 | 6 | 18 |
| Lead changes | 5 | 0 | 0 | 4 | 9 |