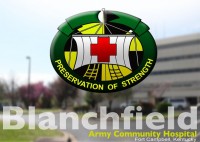 Fort Campbell, KY – Blanchfield Army Community Hospital's (BACH) director of Child and Family Assistance Center Drive Quentin Humberd joined an exclusive list of honorees September 13th at the 2013 Excellence in Pediatrics Reception of The Tennessee Chapter of the American Academy of Pediatrics (TNAAP) in Nashville, TN.
Humberd, a developmental pediatrician, was recognized for with a Lifetime Achievement award for his exceptional contribution to children's health advocacy by the TNAAP.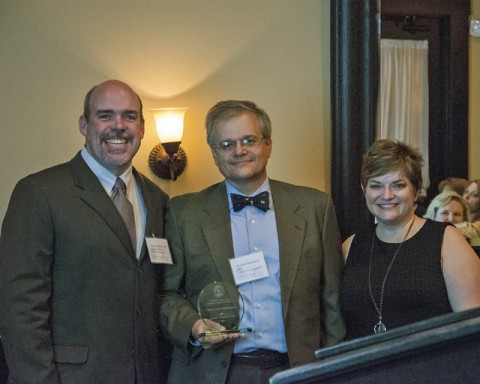 Lifetime achievement awards are presented to chapter pediatricians and community members from across the state who exemplify the following criteria: combining scientific principles with humane practice, committed to the best practice of medicine, advancing the practice of medicine through original research, creative technology application or unique practice structures, displaying imaginative, innovative and inspirational teaching, providing organizational leadership at the local, state or national level, legislative advocacy or public health policy, displaying exemplary personal attributes, social consciousness and community involvement.
Following a 13 year active duty military career, Humberd served as a Clarksville, Tennessee pediatrician from 1992 until 2005, when he became the chief of BACH's Exceptional Family Member program. He now serves as BACH's director of the Child and Family Assistance Center.
The Child and Family Assistance Center helps link community services to better coordinate care for military Families' needs by creating partnerships with on-post and civilian community resources to promote resiliency and wellness for Soldiers, family members and the Army community for long-term sustainability.
"This award is truly humbling to me when I recall the many wonderful teachers, colleagues and families that I have had the privilege to work with in my 30 years of pediatric practice. Anything that I have achieved is really because of what they have taught me," said Dr. Humberd.
According to TNAAP Executive Director Ruth Allen, "Dr. Humberd has set a stunning example of pediatric advocacy, practice, and education. We are thrilled to recognize him this year."
Annually TNAAP sets out to discover the most valuable players in children's health advocacy. "The 2013 honorees are true champions, demonstrating exemplary dedication to the health and well-being of children and families across Tennessee," said Allen.
TNAAP is comprised of more than 1,000 pediatricians and sub-specialists in Tennessee. TNAPP's mission is to promote innovative programs to improve the health, safety, and well-being of Tennessee's children.
"The Tennessee Chapter of the American Academy of Pediatrics continues to be a wonderful organization and sets the standard in advocacy for children and families in Tennessee. The TNAAP staff was instrumental in making our ideas really happen, and they continue this important work with all the members of our Chapter," said Humberd.
A complete listing of award honorees can be found on the TNAAP website: www.tnaap.org/EventsMeetings/annualawards.htm .