Simpsonville, KY – Austin Peay State University men's golf team finds itself in a familiar position heading into the final round of the Cardinal Intercollegiate, being hosted by Louisville.
The Governors, after a second-round 5-under 283, find themselves in second place behind the tourney host. At the Columbia Regional Preview last week, the Govs were in second place to host Missouri after two rounds before settling for third place.
This week the Govs find themselves at 2-under for two rounds (574), seven shots behind Louisville (284-283=567). They are the only two schools under par after two rounds on the par-72 7,036-yard Spencer Holt layout.
Mercer is in third place at 582 followed by Cincinnati (583), Francis Marion (586), McNeese State (586) and Furman (587). The Govs' Ohio Valley Conference foes Murray State (590/8th), Eastern Kentucky (593/9th) and UT Martin (596/11th) are further back.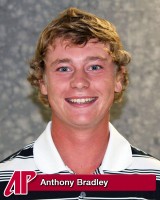 "If you are within eight or nine shots you have a chance on the final day," APSU coach Kirk Kayden said. "We are going to be in that final group again and we just have to go out and play our game.
"Hopefully, we learned from last week. We will talk before we leave the parking lot about relaxing out there, playing one shot at a time. We know we can make birdies out there and we proved all day we could make pars. We know we can play with those guys if we play smart."
In fact, Kayden couldn't have been more proud of his team during Monday's second round. After watching his team struggle on the final four holes (11-14) to finish the morning round that saw the Govs go from minus-4 to plus- three en route to slipping to fourth place, Kayden saw his Govs finish impressively on those same holes to head into Tuesday as a threat to the Cardinals.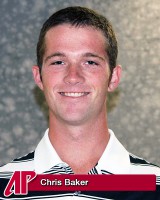 "We learned from the morning round," Kayden said. "Holes 11 to 14 are some of the tougher ones on the course and we didn't back up this afternoon—we finished strong.
"We were fourth best after the first round and then got it back to second in the afternoon. Now we have a chance tomorrow if we play well."
Governors senior Anthony Bradley sits in a fifth-place tie after two rounds with a 2-under 142 (72-70), including three straight birdies in the second round while sophomore Chris Baker is one shot back, tied for 10th at 141 (71-72). Senior Trey Tarpley continues his comeback from a disappointing junior season with a pair of 72s to sit in a 13th-place tie.
Marco Iten, after an uncharacteristic 76 in the morning round, came back with Govs' finest round of the day with a 69 for 1-over 145, good enough for an 18th-place tie.
Sophomore Austin Kramer struggled through a rough day, shooting 77-81 (156) while freshman Oliver Dickson, playing his first tourney,  shot 77-85 (162) as an individual.
"The top four guys really played well," Kayden said. "Trey has given us good rounds in four of five rounds in the fall so far and that is really encouraging.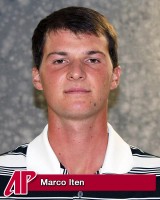 "Austin just had one of those days. But he will bounce back."
The Governors led the tourney field with 132 pars on the day, 11 more than the second highest team. Kayden. APSU tied for second lowest score on the par 3s at 3.17 strokes per hole.
"The pins today I have never seen so close to the edges (of the green)," Kayden said. "It was three or four paces from the edge on every green. What that means you have to be disciplined to hit the middle of the green on the hard holes, lay off the pin and make your two-putt par, moving on to the next hole.
"Our guys did that a lot today and helped get us in front of a lot of teams. That certainly showed their maturity. They do a wonderful job in preparation, helping each other. You hope the young guys are picking up on all that."
Box Score
Cardinal Intercollegiate
September 23-24th, 2013
Par-Yardage: 72-7036
| | | | | |
| --- | --- | --- | --- | --- |
| Finish | School – Players | Round 1 | Round 2 | Totals |
| 2 | Austin Peay State University | 284 | 283 | 567 |
| T 5 | Anthony Bradley | 72 | 70 | 142 |
| T 10 | Chris Baker | 71 | 72 | 143 |
| T 13 | Trey Tarpley | 72 | 72 | 144 |
| T 18 | Marco Iten | 76 | 69 | 145 |
| T 73 | Austin Kramer | 77 | 81 | 158 |
| | | | | |
| 82 | Oliver Dickson | 77 | 85 | 162 |
| | | | | |