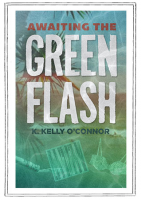 Nashville, TN – For some authors, writing a full-length, debut novel can seem like a daunting task, but this was not the case for K. Kelly O'Connor. In fact, the colorful characters and vivid scenery of her new book, Awaiting The Green Flash, came quite naturally for the first-time author.
"I certainly didn't sit down and decide to write a book," she explains. "This novel was definitely more of a compulsion for me. Much of it was originally sketched out on napkins while sitting in bars, taverns, cafes, and nightclubs. The best environment for me to be creative in is a public place with all types of people around— with lots of sounds, scents, tastes, and sights." And it's certainly O'Connor's penchant for vibrant settings and eclectic people that shines throughout the entirety of Awaiting The Green Flash.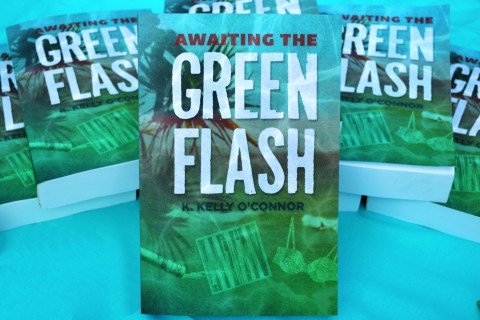 Set in the Virgin Islands amid the excess and decadence of the 1980s, we find the novel's main character, Rine Tyler, living a life of sex, drugs, and backgammon.
The beautiful anti-heroine floats through sun-soaked days of windsurfing in the Caribbean and fun-filled nights of partying perpetuated by her talent for gambling with unsuspecting tourists.
Sifting through a string of lovers, Rine's life is a meaningless blur until she meets the man that changes everything. With the newfound stability of her growing relationship, Rine thinks she finally has everything she's been looking for, but, of course, nothing is as it seems.
"Superficially, it's a fun beach read," O'Connor says, "but on a deeper level, it's about someone who seemingly has it all— looks, popularity, money, and how deceptive appearances can be. It's about achieving that moment in life when everything is perfect, and how fragile that moment is."
Although at its core, Awaiting The Green Flash is a story about love, loss, and the pursuit of happiness, O'Connor paints a broader picture throughout the novel that encapsulates a very wide audience. From the beaches of the Caribbean to hockey in Detroit, the readers get to live vicariously through Rine as they follow along on her quest to catch a glimpse of the elusive green flash.
About The Author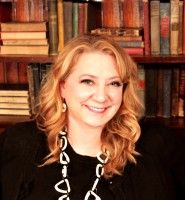 Born and raised in Flint, Michigan, K. Kelly O'Connor spent many years living in the United States Virgin Islands. An avid windsurfer, diver, and hockey fan, she considers both Flint and St. Thomas home.
O'Connor has lived in Nashville, Tennessee since 1995. Awaiting the Green Flash is her debut novel.
Awaiting The Green Flash is now available through Barnes & Noble, Amazon, and fine booksellers everywhere.