Dallas, TX – Austin Peay State University senior offensive tackle Ben Stansfield is one of seven nominees with a perfect 4.0 grade-point for the 2013 National Football Foundation Campbell Trophy, college football's premier scholar-athlete award.
Stansfield is one of 170 nominees, including 46 from the Football Championship Subdivision, who also comprise the list of semifinalists for the Campbell Trophy.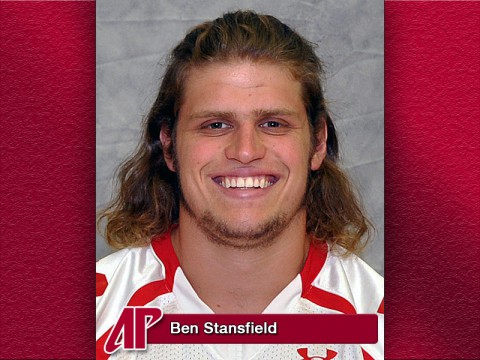 A psychology major with a business minor, Stansfield is a three-time Ohio Valley Conference Medal of Honor recipient for owning the highest grade-point average in a conference-sponsored sport.
He is Austin Peay's male nominee for the OVC Scholar-Athlete Award and was a 2012 Capital One Academic All-District selection.  He also was recipient of the 2013-14 Perkins Freeman Governors Club Academic Achievement Scholarship for owning the highest GPA of a rising APSU senior athlete.
He will graduate after 3 1/2 years in December before beginning his studies for the LSAT.
A two-year-plus offensive line starter, Stansfield was selected to the Preseason All-OVC team by the league coaches and sports information directors.
The NFF Awards Committee will select up to 16 recipients, with the results being announced via a national press release, Thursday, Oct. 31st. Each recipient will receive an $18,000 postgraduate scholarship, and they will vie as finalists for the 2013 William V. Campbell Trophy. Each member of the 2013 National Scholar-Athlete Class will also travel to New York City to be honored Dec. 10th during the 56th NFF Annual Awards Dinner at the Waldorf=Astoria where their accomplishments will be highlighted in front of one of the most powerful audiences in all of sports. One member of the class will also be announced live at the event as the winner of the William V. Campbell Trophy.
Named in honor of Bill Campbell, the chairman of Intuit, former player and head coach at Columbia University and the 2004 recipient of the NFF's Gold Medal, the award comes with a 25-pound bronze trophy and increases the amount of the recipient's grant by $7,000 for a total post-graduate scholarship of $25,000. A total distribution of $300,000 in scholarships will be awarded at the NFF Annual Awards Dinner, pushing the program's all-time distributions to more than $10.4 million.
Launched in 1959, the NFF scholar-athlete program became the first initiative in history to award post-graduate scholarships based on both a player's academic and athletic accomplishments. The William V. Campbell Trophy, first awarded in 1990, adds to the program's mystique, having previously honored two Rhodes Scholars, a Rhodes scholar finalist, two Heisman Trophy winners and five first-round NFL draft picks.