Columbia, MO – Austin Peay State University's volleyball team had few answers to slow a red-hot Missouri squad, falling in three sets (10-25, 12-25, 12-25), Tuesday night, at the Hearnes Center.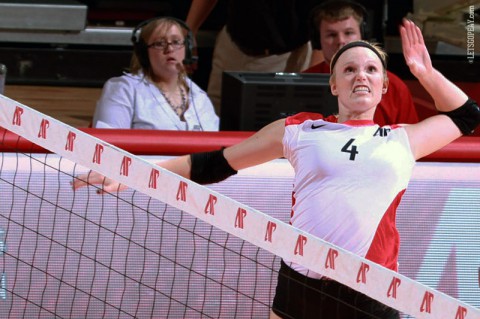 No. 25 Missouri (19-0) won the first two sets in wire-to-wire fashion. The Tigers jumped out to a 6-0 lead in the opening set and used a later 10-0 run to take control en route to the 25-10 win. Missouri started the second set with a 9-2 burst and would close the set with a 12-4 run to win 25-12.
Austin Peay (6-14) responded out the break, scoring four of the first five points. The Lady Govs held that lead until Missouri used a 7-0 run to turn a 9-7 APSU lead into a 14-9 Missouri advantage. The Tigers controlled the final set from there and posted a 25-12 victory.
"Missouri is a very solid team," said Lady Govs head coach Taylor Mott. "Their serve kept us out of system all night as we struggled to pass. Sammie and Liz were our only bright spots on offense as Cami and Aubrey did well with the passes they were given."
Freshman Sammie Ebright led Austin Peay with seven kills, going errorless on the attack until committing her lone error in the third set. Junior Liz Landon added four kills. However, their 12 combined kills accounted for the bulk of the Lady Govs 16-kill outing as they were held to a negative-.026 attack percentage.
Julia Towler and Carly Kan each had eight kills to pace the Missouri offense. The nation's top hitting club finished with 40 kills and a .390 attack percentage.
Austin Peay home and returns to Ohio Valley Conference action when it hosts Southeast Missouri in a 7:00pm, Friday contest at the Dunn Center.
Box Score
Austin Peay vs #25 Mizzou
(October 8th, 2013 at Columbia, MO)
Austin Peay
ATTACK
SET
SERVE
SRV
DEF
BLOCK
GEN
##
Player
SP
K
E
TA
PCT
A
SA
SE
RE
DIG
BS
BA
BE
BHE
Points

1

FIELDS, Cami

3

0

1

1

-1.000

11

0

0

0

4

0

0

0

0

0.0

2

HULL, Calyn

2

1

2

9

-.111

0

0

0

0

0

0

0

0

0

1.0

4

EBRIGHT, Sammie

3

7

1

16

.375

0

0

0

1

1

0

0

0

0

7.0

8

LANDON, Liz

3

4

2

11

.182

1

0

2

0

4

0

1

0

0

4.5

12

HENDERSON, Lauren

3

0

4

11

-.364

0

0

0

0

1

0

1

1

0

0.5

14

STOTTS, Jada

3

2

6

24

-.167

0

0

1

0

3

0

0

0

0

2.0

3

ADAMS, April

3

0

0

0

.000

0

0

0

2

3

0

0

0

0

0.0

5

BALES, Lizzy

3

0

1

1

-1.000

0

0

0

1

4

0

0

0

0

0.0

7

MARSELLIS, Aubrey

3

0

0

0

.000

4

0

0

0

0

0

0

0

0

0.0

10

STROTHER, Samantha

1

0

0

0

.000

0

0

1

0

0

0

0

0

0

0.0

13

LITCHFIELD, Syd

3

0

0

0

.000

0

0

1

5

0

0

0

0

0

0.0

15

PLYBON, Hillary

2

2

1

5

.200

0

0

0

1

2

1

0

1

0

3.0

TEAM

1

Totals

3

16

18

78

-.026

16

0

5

11

22

1

2

2

0

18.0

TOTAL TEAM BLOCKS: 2.0
TEAM ATTACK BY SET
Set
K
E
TA
Pct
Sideout
Pct

1

3

4

24

-.042

7-25

28%

2

8

5

27

.111

8-24

33%

3

5

9

27

-.148

9-25

36%

24-74

32%

SET SCORES
1
2
3
TEAM RECORDS

Austin Peay

(0)

10

12

12

6-14, 3-1

Mizzou

(3)

25

25

25

19-0, 3-0
Mizzou
ATTACK
SET
SERVE
SRV
DEF
BLOCK
GEN
##
Player
SP
K
E
TA
PCT
A
SA
SE
RE
DIG
BS
BA
BE
BHE
Points

1

Molly Kreklow

3

0

0

0

.000

32

3

3

0

11

0

1

1

0

3.5

2

Emily Thater

2

3

1

5

.400

0

0

0

0

0

0

2

0

0

4.0

3

Loxley Keala

3

0

0

0

.000

1

4

0

0

3

0

0

0

0

4.0

5

Lisa Henning

3

6

5

17

.059

1

0

1

0

0

0

2

0

0

7.0

8

Whitney Little

2

5

1

8

.500

0

0

0

0

1

0

1

0

0

5.5

9

Carly Kan

3

8

0

12

.667

0

3

2

0

7

0

2

0

0

12.0

4

Sarah Meister

3

0

0

1

.000

2

0

1

0

13

0

0

0

0

0.0

6

Linda Steinhardt

1

0

0

0

.000

0

0

0

0

0

0

0

0

0

0.0

7

Julia Towler

2

8

2

11

.545

0

0

0

0

0

1

5

0

0

11.5

10

Lydia Ely

2

1

1

5

.000

0

1

0

0

0

1

1

1

0

3.5

11

Regan Peltier

3

7

0

15

.467

0

0

0

0

1

2

2

0

0

10.0

12

Courtney Meek

1

0

0

0

.000

0

0

0

0

1

0

0

0

0

0.0

13

Emily Wilson

1

2

0

3

.667

0

0

0

0

0

0

0

0

0

2.0

Totals

3

40

10

77

.390

36

11

7

0

37

4

16

2

0

63.0

TOTAL TEAM BLOCKS: 12.0
TEAM ATTACK BY SET
Set
K
E
TA
Pct
Sideout
Pct

1

15

4

24

.458

7-10

69%

2

16

1

29

.517

9-13

69%

3

9

5

24

.167

9-12

75%

25-35

71%

Site: Columbia, Mo. (Hearnes Center)
Date: Oct 08, 2013 Attend: 1387 Time: 1:13
Referees: Nicki Fisaga, Steve Thomas


| | | | | |
| --- | --- | --- | --- | --- |
| | 1 | 2 | 3 | Total |
| Tie scores | 0 | 0 | 5 | 5 |
| Lead changes | 0 | 0 | 1 | 1 |