Clarksville, TN – On Saturday the City of Clarksville held the official lighting of the city's Christmas tree on public square. Normally the lighting is held in conjunction with the city's Christmas parade, however with inclement weather forcing the cancellation of the Christmas parade, that was not possible this year.
Clarksville Mayor Kim McMillan officiated short ceremony before lighting the city's tree with Santa and Mrs. Claus.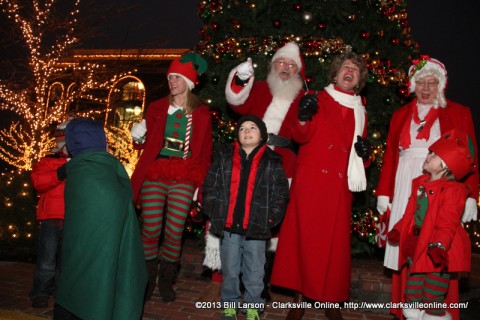 Around 40 people gathered on public square drinking hot chocolate and eating Christmas cookies as they waited for the ceremony to begin. Clarksville Mayor Kim McMillan circulated among the crowd greeting the attendees personally.
"Oh I think the turnout is fantastic!" said Clarksville Mayor Kim McMillan. "What a wonderful opportunity for all of us in Clarksville to come together and celebrate a wonderful holiday and the ability to really see something magical as the City's Christmas tree lights up."
Hard-working members of the Clarksville Department of Parks and Recreation staff continued to serve refreshments tables as we spoke.
"I was so disappointing to have to cancel the Christmas parade, but with the weather forecasts we had received it was the right thing to do!" she said.
Mayor McMillan continued, "I am so glad that we are able come together here tonight on public square to light the Christmas tree, beat together, have hot chocolate, listen to Christmas carols. While I won't be the same, hopefully it will be as good."
The cancellation had one positive effect it allowed Santa Claus to attend the ceremony.
"It feels very good to be here to light the city of Clarksville's Christmas tree tonight," said Santa Claus. "I was unable to take part in the Christmas tree lighting ceremony last year as I was participating in the Christmas parade. And While we are  all disappointed that the Christmas parade had to be canceled at least it gave me the opportunity to be here to help Clarksvillians to celebrate the Holiday Season."
Mayor McMillan also pointed out the Christmas on the Cumberland is ongoing, "Christmas on the Cumberland is still up and running, and it is lit up tonight, so any of the crowd when they get there with this will be able to go down there and see all the beautiful lights."
Christmas on the Cumberland, and features over 1 million lights along Riverside drive and the banks of the Cumberland River.  If you haven't been down to see it yet this year, you and the family should certainly do so!
Photo Gallery
Default Gallery Type Template
This is the default gallery type template, located in:
/home/clarksville/public_html/wp-content/plugins/nextgen-gallery/products/photocrati_nextgen/modules/nextgen_gallery_display/templates/index.php.
If you're seeing this, it's because the gallery type you selected has not provided a template of it's own.