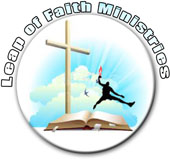 Clarksville, TN – Love is something we Christians talk a lot about. "God is love, Jesus loves you, I love you." But we sometimes fall short of really loving each other. Jesus said, "This is My commandment, that you love one another as I have loved you." (John 15:12 NKJV)
Love means more to us than anything else in the world. We were created to love God and to love one another. When we don't love or feel loved, fearful things happen to us. We become hurt, resentful, afraid of each other, hateful, and guilt ridden. These are all a result of lack of love. A love that accepts, approves of, and believes in others, is patient and kind, never selfish or envious, never proud or seeking its own reward or way. It doesn't hold grudges and doesn't get upset when it must suffer wrong. Such a love endures without weakening in all circumstances.
This is the kind of love God has for us, and the kind of love He commands that we have for each other. This is the love the Greek's called "agape", deliberate, reasoning, intentional, spiritual devotion.
God's message to the world is one of love and we are to be His messengers, the channels for His love. In order to accomplish this, His plan is to make us loving too.
Love is a fruit of the spirit, and God's Word says that the Holy Spirit dwells in us, therefore we can expect love to be present in our lives. We have all been given the ability to love, but we must step out in faith and choose to practice it. Remember, "agape" is a deliberate, intentional love.
We are told to love each other, even if we don't feel loving. When we step out in faith, choosing to act on God's Word, His supernatural power of love is released and begins to transform us, making us more loving, while the power also flows through us to the person we've deliberately willed to love.
We as Christians can't try to make ourselves more loving by trying to change our attitudes toward each other. God has to do the changing. Our part is to admit and confess our own lack of love, then submit in faith to God's transforming power. The harder we try to change ourselves, the more frustrated we become, and the guiltier we feel about our own short comings.
God brings certain people into our lives just to show us how incapable we are of loving others in our own strength. He doesn't do it to make us feel bad, He does it to give us an opportunity to experience His transforming love in our life and in the lives of the people He has called us to love.
Love one another, Jesus said. Accept one another, thank God for one another. It isn't easy to thank God for an alcoholic husband or for an indifferent, rebellious child. It isn't easy to love someone who says they don't want our love. It also isn't easy to admit that beam in our eye, the self-righteousness, the self-pity, the role we've played as a long suffering martyr.
Can we thank God for bringing those hard to love people in our lives to show us the beam in our eye? Can we thank God for them just as they are, especially for the things that make them hard to love? Can we confess our inability to love them for their irritating habits? Can we tell God we want to love them and then submit ourselves to Him to be remolded, so that we can love them, according to His Will for us?
If we can do these things we can confidently expect God to work a miracle in us. To love deliberately and intentionally as Christ loves us, always requires the setting of our will. Whether or not we feel any love doesn't change the fact that we do love. God will show us practical and specific ways to communicate that love to the person He has placed in our life, and soon we will experience a deeper love than any we've ever felt before.
Our love will be stable and consistent, because it flows from a source beyond our own limited resources. It is God's love filling us to overflowing, spilling over to others through us. This is what it means to be rooted in God's love, and in that fertile soil, our own ability to love will grow and grow. That's how the Holy Spirit bears fruit in our lives.
God's commandments to us "You should love the Lord your God with all your heart, with all your soul, and with all your mind. This is the first and great commandment. And second is like it, you shall love your neighbor as yourself." (Matthew 22:37-39 NKJV) The love Jesus spoke of was a deliberate love, one that required the setting of our will to love, a love exercised in faith. The nature of this love Jesus described in (John 15:12) "…Love one another as I have loved you."