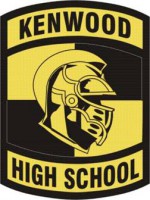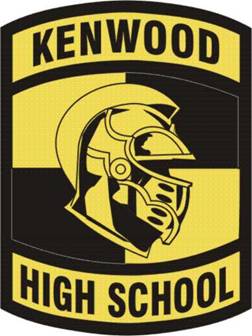 Clarksville, TN – Scoring the final six points of the second overtime period, January 24th, the Kenwood High School Lady Knights outlasted the Clarksville High School Lady Wildcats, 52-48, in a key seeding game in District 10-AAA.
Kenwood (9-11, 6-3 District 10-AAA) trailed CHS 48-46, with 1:43 left in the second overtime, following the seconds of back-to-back field goals by Clarksville High's TaTayana Outlaw.
The Lady Knights made it a one-point game, with 1:07 left, after Samone James knocked down one-of-two free throws.
Clarksville High (9-11, 5-5 District 10-AAA) had a chance to extend its lead out to three, when Outlaw was fouled with 61 seconds left, but she missed both free throw attempts.
In fact, Outlaw and the Lady Wildcats struggled at the free throw line all night, with Outlaw missing all six or her free throw attempts in the second overtime – while as a team they only hit three of 19 attempts for the game.
The Lady Knights would take the lead for good following the second miss by Outlaw, as Alonja Thomas grabbed the rebound and found a streaking Katie Robards for a breakaway layup and a 48-48 lead, with 53 seconds left.
Clarksville High would turnover ball over on its next possession and were forced to foul.
Jasmine Johnson hit one of two of her free throw attempts to make it 50-48, with 16.3 seconds left, and leaving the door open for CHS to tie or go ahead with a last-second three.
But CHS lost control of the ball driving to the basket and were called on an intention foul after Kenwood came up with the ball, with 3.1 seconds left.
Thomas would make both of her free throw attempts to seal away the victory, 52-48.
With the win, Kenwood is almost assured of at least the number three seed in the district tournament – with second place still within reach – while Clarksville High drops into a tie with Henry County High School for the fourth spot in the district standings.
Mikaela Smith had forced the second overtime for Kenwood after hitting one-of-two free throws, with 20.2 seconds left in the first OT, tying the game at 44-44.
Kenwood had opened the overtime with back-to-back baskets by James and Robards to take a 41-37 lead, but Clarksville High responded by scoring seven of the next nine points in the period to go up 44-43.
After leading for most of the game, Clarksville High was the one to force the first overtime period by scoring two baskets in the final 8.4 to tie the game 37-37 – after Kenwood had gone on a 10-0 run to rally back from a 33-27 deficit, with three minutes to go in regulation.
In the first half Clarksville High got off to a quick start by scoring the game's first 11 points, over the first 4:40 – including six straight by Outlaw.
Kenwood ended the Lady Wildcats game-opening run with a free throw by Smith, with 2:31 left in the first quarter.
Smith would follow the free throw with a basket to cut the Lady Wildcats lead back to eight points, 11-3, with 1:15 left, but Clarksville High responded with buckets from Outlaw and Summer Morales-Torres in the final 1:09 to take a 15-3 lead after the first eight minutes of play.
The Lady Knights would open the second quarter with a three-point field goal from Johnson, followed by a bucket by Thomas to cut the CHS advantage to seven points, 15-8, just a minute into the second stanza.
Clarksville High would respond once again, this time scoring six straight points, to go by their largest margin of the game, 13 points, at 21-8, with 5:13 left in the opening half.
Kenwood would then put together its best run of the opening half, scoring six straight points, to make it 21-14 Clarksville High, with 3:14 left.
But the Lady Knights wouldn't score against in the first half, while Clarksville High only added two more points for a 23-14 advantage at intermission.
The third quarter would see both teams struggle to put points on the board, as the two combined for 14 total points, but the Lady Knights did get a little bit closer by outscoring the Lady Wildcats 8-6 to head into the fourth quarter down seven, 29-22.
Photo Gallery
Box Score
Kenwood 52, Clarksville High 48    2OT
| | | | | | | | |
| --- | --- | --- | --- | --- | --- | --- | --- |
| | 1 | 2 | 3 | 4 | OT | 2 OT | Final |
| Clarksville High Lady Wildcats | 15 | 8 | 6 | 8 | 7 | 4 | 48 |
| Kenwood High Lady Knights | 3 | 11 | 8 | 15 | 7 | 8 | 52 |
Clarksville High: Melia Correa 2, J.K. Cummings 2, Nyasia Saines 5, Summer Morales-Torres 2, LaPrasha Fair 2, Aliyah Miller 3, Hannah Goins 8, Lainey Persinger 2, TaTayana Outlaw 20, Chrislin Brown 2. Team totals 22 3-19 48.
Kenwood: Jasmine Johnson 19, Alonja Thomas 8, Katie Robards 6, Samone James 5, Jimesia Rivers 4, Mikaela Smith 6, Kyra Brown 4. Team totals 17 16-27 52.
3-point field goals: Clarksville High 1 (Miller 1), Kenwood 2 (Johnson 2).
Records: Clarksville High 9-11, 5-5 District 10-AAA; Kenwood 9-11, 6-3 District 10-AAA.