Austin Peay Sports Information

Jackson, TN – A trio of Austin Peay State University baseball freshmen received postseason honors at the Ohio Valley Conference baseball banquet, Tuesday night, prior to the start of the OVC Baseball Championship.

Alex Robles was named the Ohio Valley Conference's Rookie of the Year and was tapped as a second-team All-OVC pick as a starting pitcher and selected to the league's All-Freshman team.

Ridge Smith got the nod as a first-team All-OVC pick as a utility player and was selected to the All-Freshman squad. Cayce Bredlau joined his freshmen teammates on the league's All-Freshman team.

Robles, of Tuscon, AZ, becomes the Govs second Rookie of the Year selection, joining 2004 pick Rowdy Hardy. A two-way player, he played in 55 games and made 35 infield starts (29 at third base) and 14 starts in the dual role of pitcher and his own designated hitter.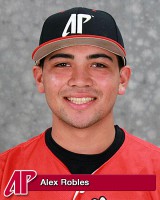 Robles finished his rookie campaign by leading the Govs with a .349 batting average and 73 hits while his 39 RBI were second most on the team. On the mound, Robles was just as dominant with a 6-2 record and 3.63 ERA while striking out 56 in 84.1 innings.

"Alex is very deserving of this honor," said Austin Peay head coach Gary McClure. "He made the largest impact in the league not only among all freshmen, but probably of any player in the league. For him to make the kind of impact he made on our team at this level as a true freshman is extraordinary."

In OVC play, Robles batted .328 with 10 doubles and 24 RBI. However, as the Govs No. 1 weekend pitcher each week of league play, he went 5-1 with a 3.29 ERA and struck out 48 in 63 innings. He had back-to-back impressive starts near the OVC schedule's midpoint. Robles tossed a one-hit shutout at Belmont, April 17th, and garnered adidas® OVC Player of the Week honors and his performance was selected as one of the nation's best by NCAA.com. One week later, he struck out 13 batters – tying the OVC season best – against Eastern Kentucky, April 25th.

Robles' pitching performances when the Govs were on the road added to his resume. He was the first Govs pitcher to record a win on the road, which he did at Jacksonville State, March 21st. Robles' next road win was at Tennessee Tech, April 4th, followed by the win at Belmont.

In seven road starts he amassed a 3-1 record (the Govs were 8-16 on the road) and posted a 3.15 ERA. In addition, he had a win against regular-season champion Southeast Missouri, giving him a win against each of the league's top three finishers (Southeast Missouri, Tennessee Tech and Jacksonville State).

"Alex was as consistent as one could be both as a hitter and pitcher," said McClure. "He is a great player who has a great feel for the game, loves to play and plays hard every day. We are extremely happy to have him in our program and look forward to seeing him continue to develop both on and off the field."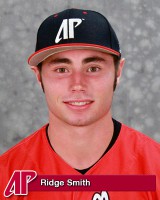 Smith, of Memphis, became the third Austin Peay freshman to earn first team honors since 2000, joining catcher A.J. Ellis (2000) and utility man Ryan Gilboy (2006). He made 55 starts for the Govs at four different positions – left field, third base, catcher and designated hitter.
Smith, who reached base safely in 28 consecutive games early in the year, finished the season batting .310 overall with 15 doubles, six home runs and a team-best 44 RBI. In addition, he was among the nation's leaders in outfield assists, amassing 10 helpers from his left field position.
"We knew when we recruited Ridge he was going to be a very good player and have the tools to turn into possibly as good of player as we have ever had in our program," McClure said. "He had a very good year and played a huge role on our team as a true freshman. Ridge is a very good athlete who is versatile enough to play a number of positions and also put together good offensive numbers both from his batting average to his power numbers. Ridge will continue to get better and I look forward to what he will do for us in the future."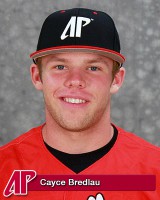 A Clarksville product, Bredlau joined his freshmen teammates on the All-Freshman squad after making a late-season charge to lead the Govs in batting with a week to go and finishing the year with a .331 batting average while spending most of the season batting second in the order.

The bulk of his damage came in OVC action where he led the Govs in both batting average (.371) and on-base percentage (.468) in the 30-game campaign.

"Cayce was impressive as a freshman who was able to work his way into the lineup and be an everyday player," said McClure. "He is without a doubt one of the best freshman in the league and he put up the numbers offensively to show it. Cayce was a steady player offensively who hit at the top of our order and made a lot happen both at the plate and on the bases. He is well deserving of this honor and it going to be a great player for us in the future."

It is the second consecutive year an Austin Peay player received one of the league's three major awards, following a sweep of the Pitcher (Tyler Rogers) and Player (Craig Massoni) of the Year awards last season.

The three All-Freshmen picks equals the program record set by the 2011 rookie class which saw Matt Wollenzin, Rolando Gautier and Jordan Hankins named to the team.

Southeast Missouri, the regular-season champion, dominated the league's postseason awards with first baseman Matt Tellor earning OVC Player of the Year honors, starting pitcher Travis Hayes earning a share the Pitcher of the Year nod and head coach Steve Bieser being named the league's Coach of the Year.

Murray State starting pitcher Brock Downey shared the league Pitcher of the Year award with Hayes



Sections
Sports
Topics
A.J. Ellis, Alex Robles, APSU, APSU Athletics, APSU Baseball, APSU Men's Baseball, APSU Sports, Austin Peay State University, Belmont, Brock Downey, Cayce Bredlau, Clarksville, Clarksville TN, Craig Massoni, Eastern Kentucky, Gary McClure, Governors, Govs, Jackson TN, Jacksonville State, Jordan Hankins, Matt Tellor, Matt Wollenzin, memphis tn, Murray State, Ohio Valley Conference, OVC, OVC All Freshman team, OVC Baseball Championship, OVC Rookie of the Year, Ridge Smith, Rolando Gautier, Rowdy Hardy, Ryan Gilboy, Southeast Missouri, Steve Bieser, Tennessee Tech, Travis Hayes, Tuscon AZ, Tyler Rogers