By David Hudson, The White House
Washington, DC –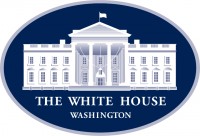 This afternoon, President Barack Obama released a statement on the passing of Dr. Maya Angelou – one of the most prolific writers and activists of our time. Through timeless works such as I Know Why the Caged Bird Sings, Dr. Angelou encouraged and stirred the souls of millions of readers.
As President Obama said when he presented her with the Presidential Medal of Freedom in 2010, "By holding on even amid cruelty and loss, and then expanding to a sense of compassion, an ability to love – by holding on to her humanity, she has inspired countless others who have known injustice and misfortune in their own lives."
President Obama said:
When her friend Nelson Mandela passed away last year, Maya Angelou wrote that "No sun outlasts its sunset, but will rise again, and bring the dawn."

Today, Michelle and I join millions around the world in remembering one of the brightest lights of our time – a brilliant writer, a fierce friend, and a truly phenomenal woman. Over the course of her remarkable life, Maya was many things – an author, poet, civil rights activist, playwright, actress, director, composer, singer and dancer. But above all, she was a storyteller – and her greatest stories were true. A childhood of suffering and abuse actually drove her to stop speaking – but the voice she found helped generations of Americans find their rainbow amidst the clouds, and inspired the rest of us to be our best selves. In fact, she inspired my own mother to name my sister Maya.

Like so many others, Michelle and I will always cherish the time we were privileged to spend with Maya. With a kind word and a strong embrace, she had the ability to remind us that we are all God's children; that we all have something to offer. And while Maya's day may be done, we take comfort in knowing that her song will continue, "flung up to heaven" – and we celebrate the dawn that Maya Angelou helped bring.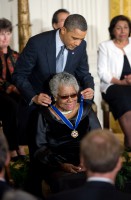 Dr. Angelou also received the Presidential Medal for the Arts in 2000 and the Lincoln Medal in 2008. And in 2012, First Lady Michelle Obama had the opportunity to present her with the Literary Arts Award at the BET Honors ceremony in Washington, D.C.
Calling Dr. Angelou one of her "she-roes," the First Lady reflected on how she was "spellbound" when reading her stories, and – in an ask that rings especially true today – urged the crowd to honor Dr. Angelou through their own lives:
Maya Angelou teaches us that it's not enough merely to seek greatness for ourselves. We must help others discover the greatness within themselves. We need to reach down and reach out, and give back, and lift others the way Maya has lifted us.

That is how we can most truly honor our friend Maya Angelou – by how we live our lives … by striving every day to embody the wisdom, and generosity, and radiant love with which she has graced our world.