Hospital staff to build esprit de corps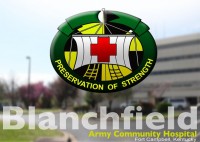 Fort Campbell, KY – Blanchfield Army Community Hospital (BACH) staff will offer limited services Friday, May 30th to allow staff members to observe Organization Day.
This day has been set aside for staff to build esprit de corps and celebrate their roles to help promote health and wellness in the Fort Campbell community.
Patients with previously scheduled appointments will be seen during the morning hours Friday, May 30th.
Soldier and Patient-Centered Medical Homes will offer services to patients for acute needs on a walk-in basis Friday afternoon. Any urgent care needs should be seen in the Emergency Center.
The main hospital pharmacy as well as the Byrd and LaPointe pharmacies will close at noon during BACH's Organization Day. The Town Center Pharmacy, located on Michigan Avenue adjacent to Clothing and Sales, will be open regular hours from 8:00am to 6:00pm.
With the staff engaged in Organizational Day activities, the Town Center wait times may increase due to the consolidation of pharmacy services and limited staffing that afternoon.
To schedule appointments, patients may call the Appointment Line at 270.798.4677 or 931.431.4677, visit www.TRICAREonline.com or send a secure message to their care team through Relay Health. The Appointment Line will maintain regular business hours from 6:00am to 4:30pm.
In case of inclement weather, BACH's Organization Day will be postponed and all medical services will proceed with normal operating hours.