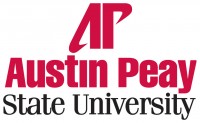 Clarksville, TN – In August 2013, the federal government developed the "8 Keys to Veterans' Success" initiative to help veterans succeed on college campuses.

Austin Peay State University, which has a long history of supporting veterans and military personnel, immediately endorsed the program, and one year later, APSU remains the only school in Tennessee committed to implementing the veteran-friendly practices on its campus.

"Austin Peay attracts more veterans than any other public university in the state, and we want them to be confident they made the right choice in coming here," APSU President Alisa White said. "We appreciate the sacrifices they have made while serving our country, and it is an honor and a great responsibility to serve them as they work to earn a college education."

The year-old federal initiative, which is a joint effort between the U.S. Department of Education and the U.S. Department of Veterans Affairs, encourages institutions of higher learning to support veterans as they enter the college environment.
The "8 Keys to Veterans' Success" developed to achieve this goal include the following:
Create a culture of trust and connectedness across the campus community to promote well-being and success for veterans.
Ensure consistent and sustained support from campus leadership.
Implement an early alert system to ensure all veterans receive academic, career and financial advice before challenges become overwhelming.
Coordinate and centralize campus efforts for all veterans, together with the creation of a designated space (even if limited in size).
Collaborate with local communities and organizations, including government agencies, to align and coordinate various services for veterans.
Utilize a uniform set of data tools to collect and track information on veterans, including demographics, retention and degree completion.
Provide comprehensive professional development for faculty and staff on issues and challenges unique to veterans.
Develop systems that ensure sustainability of effective practices for veterans.
APSU meets those "keys" through a variety of services, including the APSU Center @ Fort Campbell, the University's Military Educational Task Force, the Student Veteran Organization and the APSU Military Student Center. Other APSU offices, such as Academic Affairs and Career Services, have spent years developing methods to assist veterans entering the University.

APSU student Donald Koenes, a U.S. Marine Corps veteran, said he appreciates having a Military Student Center on campus because it allows him to socialize with like-minded veterans.

"You have a place to go and do your homework where you're away from other students," he said. "We all speak the same jargon here. If you say something, people understand what you're talking about."

Kat Scarber, a U.S. Army veteran, said the Student Veteran Organization has helped her succeed as a college student because of the support the club provides.

"They just brought in so much, saying 'we want to help you, we want you to succeed and get you to the next step,'" she said.

In addition to these services, APSU hosts a Military and Veterans Graduate Recognition Ceremony three times a year. During the ceremony, veterans, reservists and active duty military personnel are given a red, white and blue cord to wear with their cap and gown during commencement. The students are also presented with a special APSU Military Coin. The University created the coin in 2011 as a way to honor these individuals.

A listing of all the schools committed to the "8 Keys to Veterans Success" initiative is available online at www.ed.gov/veterans-and-military-families/8-keys-success-sites



Sections
Education
Topics
8 Keys to Veteran Success, Alisa White, APSU, APSU Academic Affairs, APSU Career Services, APSU Center at Fort Campbell, APSU Military Coin, APSU Military Educational Task Force, APSU Military Student Center, APSU Student Veteran Organization, Austin Peay State University, Clarksville, Clarksville TN, Donald Koenes, Kat Scarber, Military and Veterans Graduate Recognition Ceremony, Tennessee, U.S Department of Education, U.S. Department of Veterans Affairs