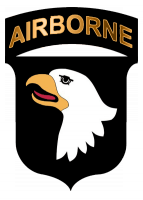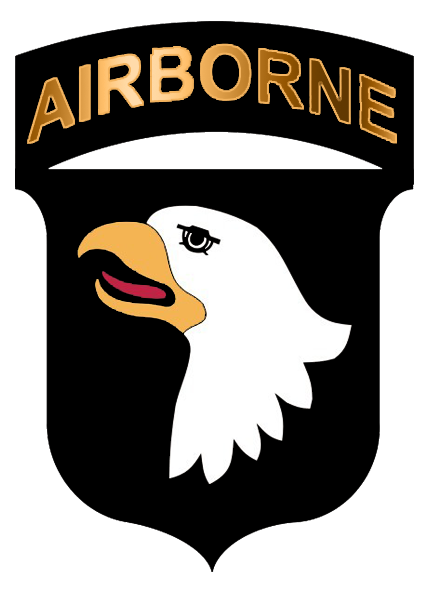 Fort Campbell, KY – Soldiers from the 101st Airborne Division (Air Assault) and Fort Campbell officially welcomed the new deputy commanding general for support at an Honor Eagle ceremony held August 8th, 2014 in front of the division headquarters building.
Colonel Frank W. Tate and his wife, Beverly, were received by Maj. Gen. Gary J. Volesky, the commanding general of the 101st, who was happy to have them join the Screaming Eagle team, he said during the ceremony.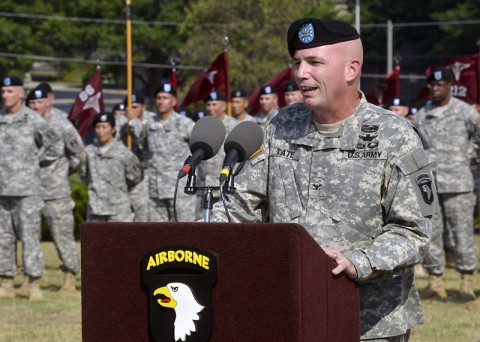 "Frank Tate and his wife, Beverly, are exactly the right people at the right time to come to the team," said Volesky. "He's a proven tactical warrior who's commanded at all levels … including three combat deployments to Iraq and Afghanistan. We're fortunate and proud to have them on the team and know that they will make our division stronger."
Volesky also touched on the demanding position that Tate is stepping into and the numerous responsibilities that come with it.
"As the deputy commanding general for support, Col. Tate will be responsible for sustaining our great division," said Volesky. "Personnel, logistics readiness, budget processes and maintenance will be some of his specific responsibilities."
However, Tate is excited to be part of the 101st team and looks forward to his time here, including taking on those responsibilities, he said.
"It is an outstanding day to become a member of this historic, battle-proven, Air Assault division," said Tate. "Putting Old Abe on my left sleeve is a tremendous honor, and it is something that I'll wear with extreme pride."
Tate also remarked on the warm he and his wife received after arriving here from Washington, D.C.
"Not only am I excited to join this division, but I'm also looking forward to building relationships with the legendary Fort Campbell community, about which I've heard nothing but praise – praise which has been validated with the way that Beverly and I have been received here since arriving last week," said Tate.
Now that Tate is an Eagle for life, he recognizes he's part of a historic division, he said.
"Next week we'll celebrate the 101st Airborne Division's 72nd birthday. There are few organizations in the world that have achieved and accomplished so much in that time," said Tate. "Each victory begins with strong Soldiers and good leadership. And I know that the unmatched Soldiers that serve with us today will lead this unit to glory 72 more years and beyond."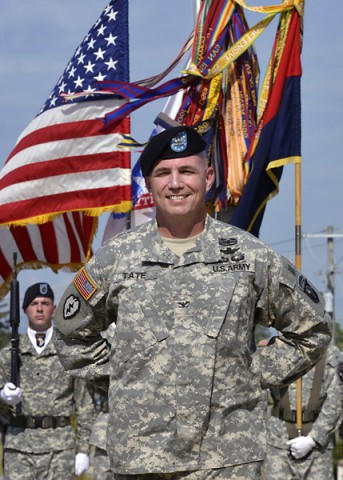 Volesky is confident Tate will thrive as the new DCG-S, as he brings a vast amount of experience from all over the Army.
"With duty assignments in Fort Bragg, Fort Benning and Hawaii, he'll bring to Fort Campbell the best from some of the Army's premiere units," said Volesky. "I am confident he's going to continue in the great tradition of excellence that all the DCG-S's of the 101st have made."
Before coming to Fort Campbell, Tate was the chief of the Aviation Division, Force Development Directorate, Office of the Deputy Chief of Staff, G-8, U.S. Army in Washington, D.C. He also recently returned from a deployment to Afghanistan in support of Operation Enduring Freedom, where he commanded the 25th Combat Aviation Brigade, 25th Infantry Division out of Schofield Barracks, Hawaii.