Montgomery County, TN – The 19th Judicial District Drug Task Force is investigating two early-morning meth labs that were reported to the agency by Clarksville Police Department and Clarksville Fire Rescue.
Around 2:30am, CPD officers responded to a Madison Street hotel after receiving a complaint about possible meth-cooking activity at the hotel. When officers responded, the suspect ran towards Walgreens.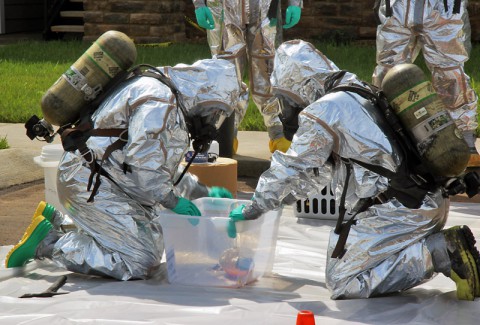 Officers found the suspect in possession of meth lab components, and the DTF took over the investigation.
CFR extinguished two one-pot meth labs that exploded.
Agents searched several rooms for evidence while Clarksville Fire Rescue and Montgomery County EMS assisted at the scene.
One suspect was apprehended.
A few hours later, agents responded to South Hampton place after CFR responded to a sprinkler system being set off inside an apartment building. CFR located remnants of meth lab components that had exploded inside one of the apartments.
The entire building was flooded by the sprinkler system, and the building was evacuated.
"These two incidents not only highlight the safety concerns for first responders and the public, they also leave a financial burden and inconvenience on the community," said Montgomery County Sheriff John Fuson. "The 19th JDDTF has worked tirelessly to render each of these meth lab sites safe.
"The 19th JDDTF is the only agency in Montgomery County that can respond and render these labs safe," Fuson added. "The increasing number of meth labs has become a burden on manpower and resources for the 19th JDDTF. District Attorney General Carney and I have reached out to get other agencies involved with this burden and look forward finding solutions to this growing community issue".
The investigation is ongoing.
Photo Gallery