Austin Peay Sports Information Office

Clarksville, TN – After a brief day off, Austin Peay State University's volleyball team returns to action for its final nonconference tune up at the DISH Lady Vol Classic, Thursday-Saturday, in Knoxville, TN.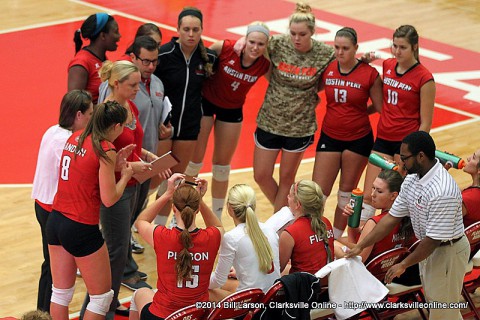 Austin Peay (3-9) will face host Tennessee in a 6:00pm (CT), Thursday contest that will start the tournament.
The Lady Govs then face Montana State in a 9:00am contest followed by a meeting with Mercer at 4:00pm, Friday. Austin Peay concludes its tournament schedule with a 3:30pm, Saturday contest against Memphis.
The Lady Govs travel to Tennessee seeking an end to a five-match losing streak. Austin Peay opened its home schedule, Tuesday, with a four-set loss to Chattanooga. It was the fourth straight match APSU pushed to four sets and they stand 2-4 in four-set affairs this season.
In Tuesday's contest against Chattanooga, a pair of players came off the bench to make an impact. Junior Samantha Strother posted a career-best 16 kills to lead the Lady Govs. In addition, freshman Ashley Slay played the match's final three sets and finished with 11 kills and a match-best .562 attack percentage.
"I was pleased to see Samantha and Ashley come off the bench ready to play," said Lady Govs head coach Taylor Mott. "They provided a lift off the bench, particularly offensively, we needed. Again the match Tuesday came down to our own lack of consistency on offense. We have to find a way to stay focused during every point."
As a team, Austin Peay's 66-kill effort against Chattanooga was its best mark this season while its .239 attack percentage was its third best mark. The Lady Govs also posted season bests in service aces (nine) and digs (75) in the contest. However, their 27 attack errors were their third-most in 2014 while their one total block was its second-fewest in that category.
"Overall there were a lot of positives from the Chattanooga match," said Mott. "I believe we're very close to flipping the switch and putting together a run. Again, it's all about consistency when the ball is on our side of the court. When we figure that out I believe we will take off."
Scouting the Opposition
Tennessee (5-5)
Thursday's match will be the home opener for the Lady Vols, who stand at .500 on the season. UT went 1-2 at the Coastal Carolina tournament last weekend, downing Kennesaw State and Loyola (MD) before falling to host Coastal Carolina. Tennessee owns a three-set win against Ohio Valley Conference member Tennessee Tech and a four-set win against common-opponent Evansville.
Sophomore Jamie Lea leads the Lady Vols offense with 104 kills (3.06 per set). UT's defense is spearheaded by its block, which is averaging 2.29 blocks per set. Freshman Iesha Bryant leads that effort with 40 blocks (1.25 per set) this season.
---
Montana State (3-6)
The Bobcats continue a season-opening road trip with its visit to Knoxville. MSU went 1-2 at the New Mexico Invitational last weekend with three-set losses at the hands of both New Mexico and UC Irvine before winning a four-set decision against Bethune Cookman to close the tournament.
The Bobcats got a lift last weekend when sophomore Kennadie Clute – the team's leading scorer in 2013 – saw her first action of 2014 and recorded 23 kills (3.83 kills per set), including a 19-kill performance against Bethune Cookman.
---
Mercer (3-6)
The Bears bring a three-game losing streak into this weekend's action after posting an 0-3 mark at the Mississippi Tournament last weekend with losses to Mississippi, UAB and Jacksonville State. Mercer has twice faced OVC member Jacksonville State this season, losing in three sets and four sets.
Junior Molly Locke leads the Bears with 114 kills (3.56 per set) while posting a .218 attack percentage. Three Mercer players have 20-plus blocks this season and they have 67 blocks (2.09 per set) as a team this season.
---
Memphis (6-4)
The Tigers are the hottest team entering the tournament, with a four-match win streak. Memphis swept through the Mississippi State tournament last weekend, with three-set wins against Nicholls State, Northwestern State and South Alabama while outlasting host Mississippi State in five sets.
Memphis is 1-1 against OVC teams this season, losing to Southeast Missouri in four sets and sweeping UT Martin in three sets. Freshman Kate Gibson leads Memphis' offense with 116 kills (2.97 per set). Meanwhile, junior Alexis Wesley leads the UM defense with 42 blocks (1.05 per set).
Team Comparison
Team
APSU
UT
MSU
MER
UM
Record
3-9
5-5
3-6
3-6
6-4
Kills*
12.71
11.37
10.42
12.97
12.60
Pct.
.172
.168
.168
.198
.199
Aces*
1.31
0.86
0.88
1.31
1.58
Digs*
15.12
15.74
12.45
15.56
18.60
Blocks*
1.07
2.29
1.50
2.09
2.10
*-per set