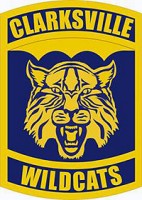 Clarksville, TN – Clarksville High School's volleyball team strengthened its hold on second place in the District 10-AAA standings, September 18th, with a 3-1 victory over Rossview High School, by scores of 18-25, 25-23, 25-16 and 25-22.
But it didn't look it would go that way early-on for Clarksville High (12-3, 9-2 District 10-AAA), with Rossview jumping out to a 13-3 advantage in Game 1 and were never really challenged in getting out to a 1-0 advantage.
"Our goal tonight was to come out as the team we know we can be because we didn't play well against Henry County High School earlier in the week," Rossview coach Krystal Weber said. "We came out and knew what our game plan was and knew what to expect from Clarksville High.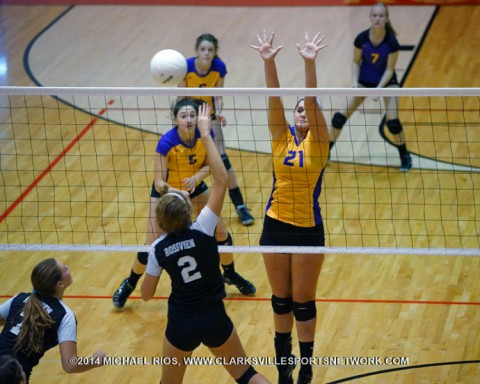 "We just came out on fire in that first set and then we stopped talking in the next two sets and had some passing errors and some hitting errors that really drug us down."
Those mistakes started right from the start in Game 2 for Rossview (13-12, 6-4 District 10-AAA), with the Lady Wildcats getting out to a 9-4 lead, before the Lady Hawks rallied back to tie the game at 10-10.
The game would go down to the wire, with nine lead changes and 10 ties – including for the final time at 23-23 – before the Lady Wildcats would level the match at 1-1 by scoring the final two points for a 25-23 win.
"We came out and kind of struggled in the beginning," Clarksville High coach Johnna Connors said. "But we picked it up when I told the girls that no one could beat us if we're playing together and that's what we did in the end."
That win seemed to turn the momentum for the Lady Wildcats, as they rode the wave of winning the second game into an early 8-3 lead in Game 3.
Rossview would inch back into the game, getting as close as 15-11, but Brea Crutchfield spearheaded a 5-1 run by Clarksville High with four of her five total kills on the night to extend the Lady Wildcats lead back to a comfortable 20-12 advantage before going up 2-1 with a 25-16 Game 2 victory.
"Brea really stepped up in a big situation for us," Connors said. "She's played big in the past on the outside, but tonight she stepped up as a middle and helped turn the game around for us."
The fourth and final game came down to one big run for Clarksville High, with Rossview holding a slim one-point lead 8-7, early-on, before the Lady Wildcats took control with a 11-1 run to go up 18-9.
But Rossview wouldn't go down without a fight, as the Lady Hawks clawed their way back to trail 23-22 — but they could never level the game – with Clarksville High closing out the game and the match by scoring the final two points for the Game 4 win.
Statistically, Jessica Mattson and Keili Keoho would lead Rossview with 12 kills each, while Sarah Lindsay and Abby Anderson topped CHS with eight kills.
Both teams returns to action on September 22nd, as they step out of district play, with Rossview hosting Heritage Christian Academy and Clarksville High traveling to Sycamore High School.