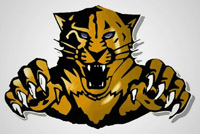 Clarksville, TN – Last year Clarksville Academy's volleyball team defeated East Robertson High School to hand them their first loss in district play, but there was no repeat of the upset September 23rd, with the Lady Cougars falling to the Lady Indians in three straight games by scores of 25-16, 25-16 and 25-22.
Trouble handing the East Robertson (19-9, 8-0 District 10-A) service hampered the Lady Cougars, who currently sit in third-place in the district standing having suffered all of its district losses to East Robertson and Nashville Christian School – the top two teams in the district standings.
"We just had too many miscommunications that allowed ball to fall into the gaps," Clarksville Academy coach Lori Tooley said. "Once we started passing better we were able to get into our offense and get our hitting going.
"When we run our offence we're a strong hitting team, but today we just didn't pass as well as we needed too."
Right from the beginning, the Lady Cougars struggled with the serve receive with East Robertson jumping out to an 8-3 lead – which included three aces from Bonnie Jones.
"We served the ball pretty well today and that helped offset our slow start with our offense," East Robertson coach Clifton Horn said. "I think we had around 10 hitting errors in that first set, but we cleaned a lot of that up in the final two sets – even if the scored didn't show it."
Clarksville Academy would claw its way back into the game, getting as close as 13-10, but a 7-0 run that included three aces by Jones extended the Lady Indians lead out to 20-10.
Jones would finish the match with 10 of East Robertson's 19 total aces.
Clarksville Academy would never get any closer than seven points the rest of the way in Game 1 before falling 25-16.
Game 2 would see East Robertson score the first three points, but Clarksville Academy would keep it a one to two point game as late as 13-11.
But much like the first game, the Lady Indians would go on a big run – this time a 9-2 run –including six in a row at one point to take a 22-13 advantage on the way to a 25-16 win.
"Even though the score was similar, we played better in the second game," Horn said. "Clarksville Academy is a very good team and is in third place in the district with the same number of wins (7) as we had coming into the match, so this was a big match for us and we're glad to get away with a win".
Despite being down 0-2, Clarksville Academy wouldn't go down without a fight with the Lady Cougars breaking am early 5-5 tie by going on one of their best runs of the match in scoring five straight points – including two aces by Meg Askew and a kill by Sara Cook – to lead 10-5.
"The girls never quit and played right to the end," Tooley said. "This is a great group that works hard and is still young with no seniors on the varsity team, so I'm looking forward to the rest of this year and next with everyone returning. I think we're an up and coming program."
Clarksville Academy would lead by five points as late as 15-10, but 7-0 run by East Robertson gave the Lady Indians their first lead of the game, 17-15.
After that is was a dogfight after that, with Clarksville Academy tying the game twice at 19-19 and 20-20 on kills by Askew and still only trailed by one point as late as 23-22.
Askew would finish with five kills, while Sedona Tooley the Lady Cougars with 12 kills.
But East Robertson would close out the game by scoring the final two points for a 25-22 win and a three-game sweep of the Lady Cougars.
Clarksville Academy returns to action on September 29th, as they host Northeast High School on Senior Night for the Lady Cougars.