Austin Peay Sports Information Office

Clarksville, TN – If Austin Peay State University men's basketball fans want to catch a glimpse of Governors practice, they will need to bring their coffee and donuts to the Dunn Center this fall.
The Governors will have early practice—no, real early practice time from 7:00am-9:00am—during week days these next few months.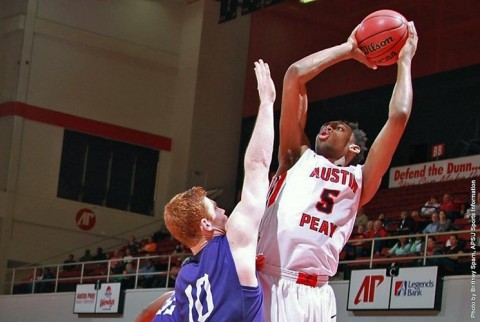 And if fans choose to come that early they will see a staff working to blend seven veterans with six newcomers.
Technically, the Govs officially will start practice, 8:00am, Saturday, but the Govs will use their NCAA-allotted two team-hour activities Friday morning to get an early start. With so many new faces, the quicker the team develops chemistry the quicker the Governors can build towards this upcoming season.
"I really like our new guys and I really like our returning guys," APSU coach Dave Loos said. "But I don't think you can really begin developing the real chemistry until you face some adversity. These guys have begun that with our conditioning program, where they have to struggle together and now they will have to play together.  A big part of that will continue to develop with the start of our practices.
"They are going to go through a lot together these next few weeks. We are giving them off most of the fall break and a few days off at Christmas, but after that they really won't have any time off until the season is over. So they are going to be spending a lot of time together so the chemistry is extremely important."
Entering his 25th APSU season, Loos approaches 2014-15 with the same enthusiasm he had in his first Govs season—1990-91. He is anxious to start with the basics—foot work, post play, passing, blocking out, defensive positioning and offensive concepts.
"I am excited about this season," Loos said. "We are going into practice very well prepared from a conditioning standpoint. We have really focused on that since school started. Guys have worked hard in the weight room; we have had distance running, interval training and sprints. They have worked hard to prepare themselves to begin practice.
"In addition to the conditioning, we have had those two hours per week the NCAA allots. What it does is just build an appetite for the start of practice. You want to do more but you can't. That is why we are anxious to get this started."
The Govs will build around 6-8 junior center Chris Horton, who arguably was the Ohio Valley Conference's most improved player a year ago.  After averaging 8.2 points and 6.6 rebounds per game as a freshman, Horton numbers improved to 13.2 points and 9.5 rebounds—that rebound number ranked 25th nationally. In fact, Horton also ranked 11th nationally in field-goal percentage (59.5 percent) and 11th in blocks (3.07 bpg).
Also returning is 6-4 senior guard/forward Ed Dyson, who averaged 9.9 ppg, but 11.7 ppg in league play. He scored in double figures in eight of his final nine 2013-14 games.
With 1,000-point scorers, guard Travis Betran and forward Will Triggs, graduating, the Govs are seeking replacements. Up front 6-6 Chris Freeman (3.5 ppg) and 6-8 Serigne Mboup (1.9 ppg) will get long looks at forward while Zavion Williams (8.3 ppg) proved effective at the two-guard spot while also serving in a back-up point guard role.
In fact, Williams will be one of a trio of point-guard candidates at practice start. With Damarius Smith out the season's first half, the Govs will look to Williams and Jeremy Purvis, who played in 2012-13 but redshirted a year ago.
The Govs also will count on a pair of junior college transfers, 6-5 guard Khalil Davis, the Alabama Junior College Player of the Year and third-team All-American, and 6-8 forward Assane Diop, who will have three seasons of eligibility remaining. Diop and Mboup both are from Dakar, Senegal.
The Govs also have four freshmen who have opportunities to contribute; 6-2 guard Josh Robinson was the St. Louis area's top scorer (35.8 ppg); point guard Tre' Ivory is the son of former Gov Willie Ivory and led his Louisville Trinity team to the state championship game; Chris Porter-Bunton was a former two-sport prep star in Bowling Green who averaged 16 points and 7.0 rebounds per game as a senior, and Domas Budrys, a sharpshooter who averaged 11 points per game in his final year in Lithuania.